Cat Destroys 'Irreplaceable' Art Deco Bathroom Sink in 19th-Century House
A man has shared how he was rudely awoken when his cat broke his one-of-a-kind art deco basin.
In a post with more than 14,000 upvotes, Grant Forrester, who lives in a 19th-century house in Somerset, U.K, shared a picture of his once beautiful bathroom sink on Reddit's r/WellThatSucks forum.
He explained: "So at 6am I was very rudely awakened to the sound of my beautiful reclaimed, but as yet unsecured, art deco basin crashing onto my newly tiled floor. Barbara the cat scarpering out as I reach the bathroom."
In the midst of giving the bathroom an update, Forrester was just days away from finishing the job when 2-year-old Barbara the cat got involved.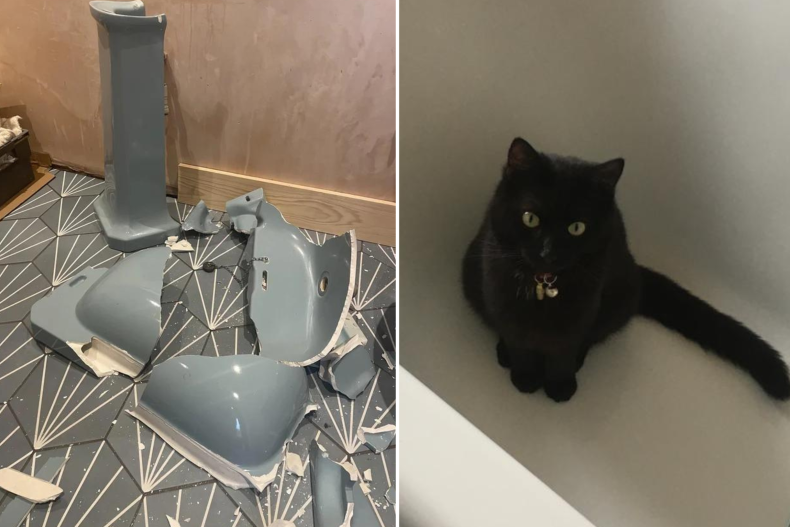 Forrester told Newsweek: "We got the basin from a reclamation yard, chose it for its unique beauty, art deco shape and unusual color. Themed the whole bathroom refit around it.
"Everything was in place to see how the layout looks after the floor had been just been tiled, with strict instructions not to walk on the floor yet. Apparently the cat didn't get the message."
When a loud crash woke the whole house on Saturday morning, Forrester immediately headed to the bathroom to see what was happening.
"There were even paw prints on the floor. Barbara is very inquisitive and is known as the princess of darkness as she's a little black cat who likes to lurk in the shadows," said Forrester.
In hundreds of comments on the post, Redditor shared their reactions to the sink accident.
"I understand wanting to set your stuff up to see what it's going to look like, but you basically set up a booby trap for Barbara lol," said one Redditor. Another wrote: "Buddy, as a cat owner you 100 percent should've known better."
"Never. I mean NEVER put something unsecured and valuable around a cat," said another commenter. "This was tempting fate the moment you set it up."
This isn't the first time an old-fashioned sink has sparked interest online. In January a classic shell sink gained viral attention after the owner ripped it out to be replaced—causing widespread outrage.
As the art deco basin was picked up from a vintage supplier, it would not be easy to replace.
"Its irreplaceable. [We can't get] one that will match the pedestal so we're now going to have a half-finished bathroom until we make a decision," said Forrester.
He explained that he shared the picture on Reddit to shed some light on a frustrating situation: "I put it on Reddit purely for everyone else's entertainment and simply because it absolutely sucks," he said.
Do you have funny and adorable videos or pictures of your pet you want to share? Send them to life@newsweek.com with some details about your best friend and they could appear in our Pet of the Week lineup.