Cat Dubbed 'Vampcat' Online After Biting Bemused Golden Retriever
A cat hilariously hanging onto her canine friend has captured viral attention this week after a video was shared on TikTok.
Posted on Saturday, the video has received over 8 million views on the video-sharing app as adopted cat Berinjela latches on to 3-year-old Luna the dog.
Owner Carolina, who lives in Portugal, shared the video of their "favorite game" with delighted internet users who have dubbed the black and white feline "vampcat."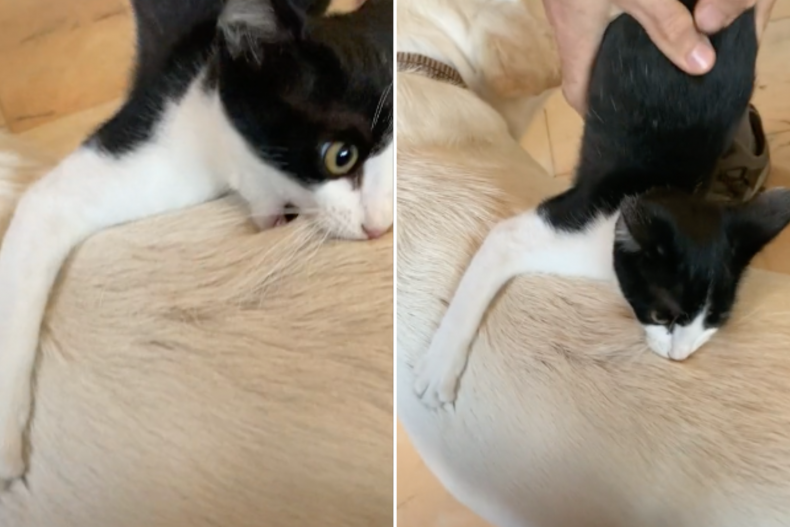 Carolina told Newsweek: "Their favorite game is the cat jumping on the dog, waiting for her to react and running after her. This time, she managed to get on top."
When the owners grabbed the cat, she held onto the fur, not willing to move and resulting in the hilarious footage.
"Vampcat attempts again," joked one commenter. While another said: "I want this chaos in my life."
"They love each other, they play all day," said Carolina: "We found it funny, so I started recording."
Despite the well-held belief that cats and dogs are mortal enemies, the 2021-2022 American Pet Products Association (APPA) National Pet Owners Survey reports that almost a third of all U.S. households (29 percent) are multi-pet homes that own both cats and dogs.
Julie Burgess, certified dog trainer at SeniorTailWaggers.com, told Newsweek that when it comes to keeping the peace in multi-pet households, it's important to follow a few simple steps.
"Everyone must have their own space where they can be left alone," said Burgess: "Use things like crates, cat doors, multiple beds, or baby gates to separate. Ensure everyone has their own toys to play with and different food bowls.
"It is also important to make sure everyone gets an equal amount of human attention," she said.
With more than 1.4 million likes and over 8,000 comments, TikTok users jumped to the comments to share their reactions to the video.
"Ticks are kinda wild this year," joked one viewer, while another said: "That cat is demonic."
One commenter said it was like: "Me with my boyfriend when I want to show him affection."
"I am CATacula," wrote another TikToker.
One commenter joked: "Where can I buy a dog leash like that?"
The young black and white kitten Berinjela was only adopted a month ago, but Luna and her other canine companion Yamaa have been together for a few years and have taken well to the new feline addition to their family.
"They love each other," said Carolina: "They were friends since the beginning."
Far from the only cat and dog duo to find friendship and viral attention online, in June another pair of pets delighted the internet when a video resurfaced of a Golden retriever and cat hugging.
Do you have funny and adorable videos or pictures of your pet you want to share? We want to see the best ones! Send them in to life@newsweek.com and they could appear on our site.