Family Finds Cat Missing for Months After Hearing It Meowing in Background of Phone Call
A cat owner miraculously found her missing pet after hearing his meows in the background of a phone call.
Barnaby had been missing for eight months before the unbelievable happened. Rachael Lawrence, from Essex in England, was on a call with a vet about her other cat, only to hear some recognizable noises in the background. After initially asking, she was told it was simply a stray cat.
Bugged by the feeling that she recognized the cries, she called back and inquired more about the stray cat. Lawrence gave a description of Barnaby, who is black with a white patch on one of his feet and was told that the "stray" cat did indeed match the description.
The cat owner told the BBC that she "knew it was him" as soon as she saw him in the room, after bringing in photographs of Barnaby to show the veterinarian staff.
"I cried," she told the publication. "I'm talking snot bubble cries. I was howling. We hadn't seen him for eight months."
Barnaby was microchipped, the family said, but they fear it may not have been "done properly" seeing as it wasn't successfully used to track them down.
Lawrence told the BBC that when they reunited, Barnaby had "loads of scabs" and was "all skinny and missing fur," despite previously being nicknamed "Fatman" lovingly by her three children.
"We just need to fatten him up to get him back to Fatman," she said, adding that he was "more than happy to be picked up and cuddled."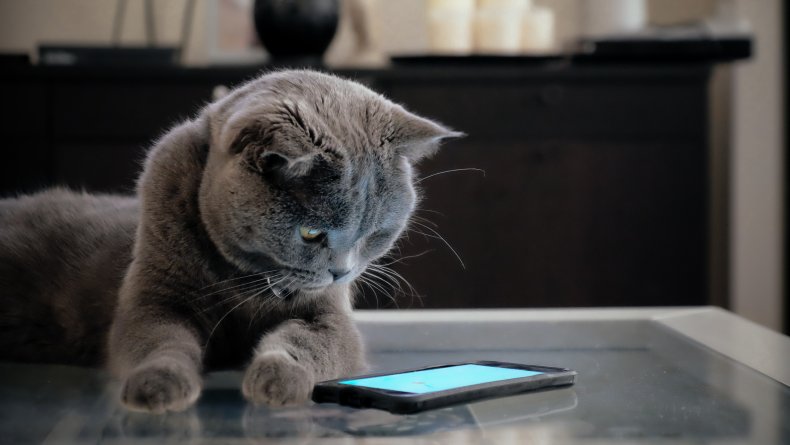 In a similar story on home turf, a Massachusetts family was reunited with their missing cat all the way in Connecticut, five months after she disappeared in August 2021.
During their move from Virginia to Massachusetts, the family stopped at a rest stop to let Macy the cat pee but that resulted in her going missing.
"I'm gonna blame it on the fact that I was just exhausted with being with the kids and making the trip and it being super long," said mom Heather in a TikTok video, detailing that it was 11 o'clock at night and she had a newborn in the car when they passed into Connecticut.
"I made the stupid decision to let Macy out to pee. I had her on a harness, and a leash but she wriggled out and ran off," she said. "It was a terrible, terrible decision but it was one I made."
After searching for over an hour and a half, the family had no choice but to continue their drive, leaving their cell number with the rest stop.
Last week, the family received a phone call from a vet in Connecticut. A "hero" woman had been feeding the missing cat in her yard, not knowing if she had an owner since August 2021 when she first went missing.
As temperatures dropped, the woman took Macy to a vet before deciding to take her inside the home. It was then that they were able to scan her chip and track her back to her family.