An unlikely pair of furry friends who stuck together during their stay at a North Carolina animal shelter was adopted last weekend.
Halo the guinea pig and Angel the cat have a longstanding friendship, having lived together before their owner had to give them both up in late September. When the owner surrendered the two to the shelter, they requested that the pair be adopted together, People reported.
Julia Conner, human education officer at CMPD Animal Care and Control in Charlotte, North Carolina, told Newsweek that staff reported sometimes observing the pair sit at the front of their cage nose to nose. She said it was almost like Halo was reassuring Angel that they were OK, despite the circumstance.
"We get bonded pairs here at the shelter often, but it's usually like cats and dogs — most of the time— a cat and a guinea pig that's usually a prey situation, Conner told People. The cat would normally be chasing the guinea pig, so to see them together as best friends is very rare."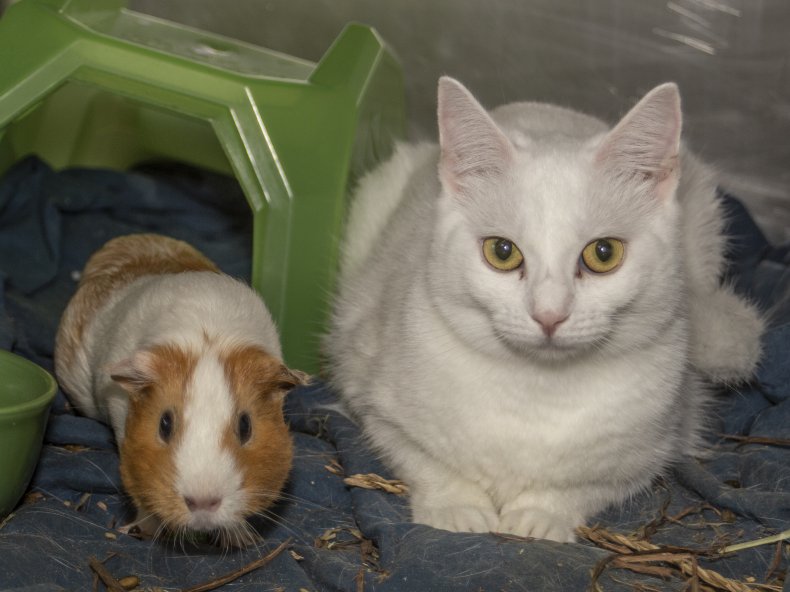 In the last three months, Conner tells Newsweek there have been at least three bonded pairs come through their doors.
Halo and Angel were surrendered to the shelter on September 30 and adopted on October 8. Conner says that it was a shorter stay than she initially expected given that they were a package deal. She said their new owner was prepared and had done her homework on caring for the two species.
Right now, they have about 200 animals varying from dogs and cats to rabbits.
"If you see it in a pet store, it comes through here at any given time," Conner said about the variety of pets in their care.
After posting about Halo and Angel on their Facebook page, Conner said they received lots of responses expressing hope that the two would find a home together.
"Luckily there was a mom and her son who came in on Saturday and adopted them," Conner told Newsweek.
The mother shared with Conner that they had been following Halo and Angel on Facebook and even commenting inquiring about the adoption before they came in. Her son had recently made the Honor Roll and this was his reward.
The new owner said she'd keep in touch with the shelter to tell them how they were doing. She even expressed interest in creating social media accounts for the pairs to help share their story.