Cat Hilariously Spoofs 'Jurassic Park' T-Rex in Video Shared Over 800,000 Times
A black 4-year-old cat who goes by the stage name "Owl Kitty" is natural performer. In a dramatic video that garnered over 800,000 shares on Instagram alone, the cat — whose real name is "Lizzy" — took on the role of a lifetime in a hilarious Jurassic Park spoof that took the internet by storm.
The minute-long clip showed the curious cat in super-sized form, standing in as the terrifying T-rex in an iconic scene from the 1993 Steven Spielberg-directed film. "Life...uh...finds a way," the caption accompanying the video read.
Owl Kitty appeared through the night rain and curled her body around the park vehicles while the passengers watched with fright. The words, "when it's time to feed the cat" flashed across the screen to set the stage.
Her tail flipped the moment she saw Sam O'Neil's character Alan Grant. Their eyes met, and Owl Kitty became noticeably interested. "Keep absolutely still," he told Jeff Goldblum's character Ian Malcom. Owl Kitty moved around the car and snapped to attention when Tim (played by Joseph Mazzello) slammed the door shut with a loud "bang."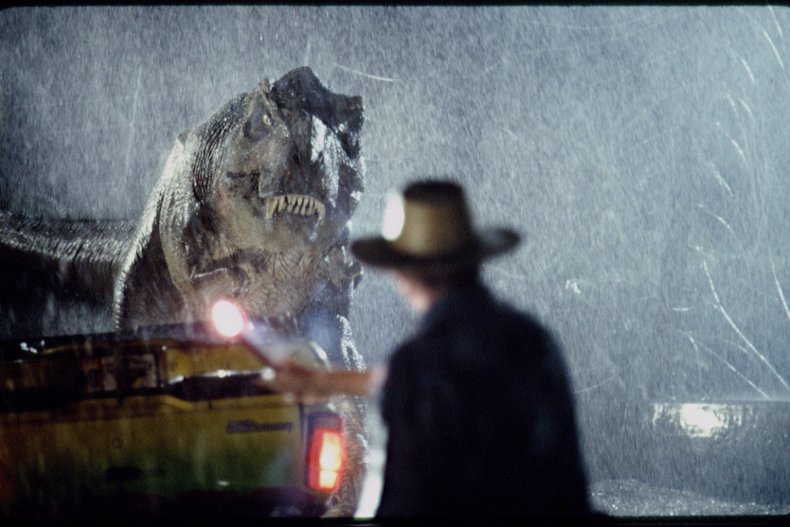 Ariana Richards' character Lex then opened a can of cat food — which is a happy trigger for nearly all cats — and Owl Kitty pressed through the roof to try to get the food. Happy and purring after getting her "kill," she rolled to her side, and shook the vehicle around just as the T-rex did in the film. To end it all, Alan grabbed a new can of food from a pile in the backseat and taunted the big cat. When he caught her interest, he tossed the can into the woods distract her away from the kids.
"Omgggg you guys killed it! Love it!!!" @sophialovestuna commented.
"I think this is the best yet!!!!" @josephgattofficial wrote.
"Whoever makes these- thank you," @breeannemarie added.
The viral cat is owned by filmmaker and SCLU video editor Thibault (Tibo) Charroppin along with Neighbors Realty marketing director Olivia Boone. Their 10-year-old tabby cat Juliette adopted Owl Kitty, and acts as her "manager and agent," according to the Owl Kitty website.
The Portland Oregon feline got her name thanks to her big owl-like eyes, and her humans have created dozens of spoofs including The Office, Romeo and Juliet, Indiana Jones, Pulp Fiction, Breaking Bad, and more. Charroppin also posts behind-the-scenes videos that show how he gets Owl Kitty to cooperate.