Cat Loses Eye After Someone Deliberately Shot It in the Face With a Pellet Says Owner
A cat lost an eye and has been left with a pellet permanently lodged in its head after its owner said someone had deliberately shot it in the face.
Emily Benton said her mother discovered their rescue cat, named Herbie, in a dire state at the back door of their house in Walsall in Birmingham, U.K., on Friday.
She rushed Herbie to the vet, where the family were stunned to discover what had caused Herbie's injury. The vet said they were unable to remove the pellet during surgery as it is too close to Herbie's brain—and the family were left with a bill for $900 (£700).
"My mother had let him out and he sat on a neighboring house shed in the back garden, my dad witnessed what he thought was Herbie stumble and make his way back to the house," she told Newsweek.
"My mother heard him meowing and saw blood and thought he scratched himself, when she leaned down to clean him up she saw that his eye was actually protruding from his head and wasn't following anything like his other eye was, and it was dilating and swelling the more time went by."
On a GoFundMe page set up to raise funds to cover the cost of the bill, Benton said she believed the culprit must have "hung out of their top floor window" to shoot Herbie right between the eyes.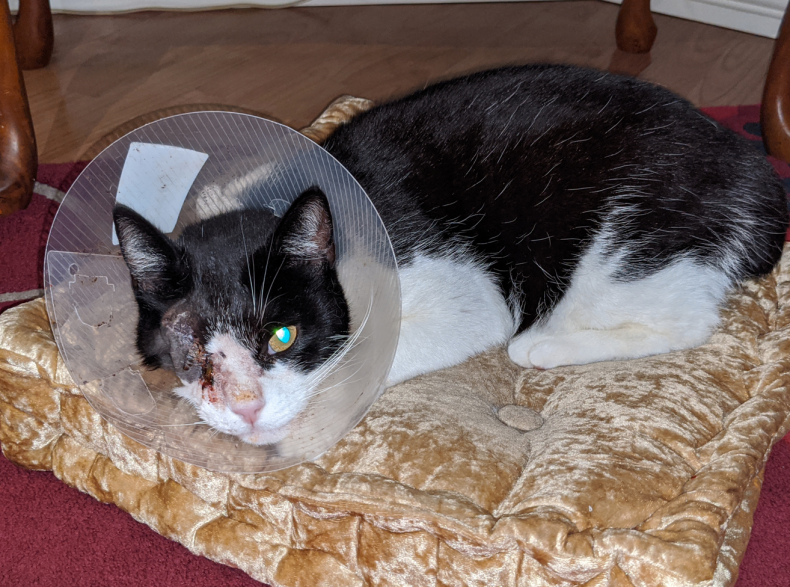 "When [my mother] saw him properly, up close she screamed and practically sobbed... we instantly knew someone had done this deliberately," she wrote.
Benton said she believed someone had deliberately attacked Herbie close to her family's home. "Someone had hung out of their top floor window, aimed at him, right between the eyes and shot him, clearly aiming to kill him," she wrote.
She added that she set up the fundraising page because the family had used up the money set aside for Christmas to pay the vet bill. She told Newsweek: "The surgery had cost £700 and it was literally all my mother had for her Christmas money. She was distraught but we had to save him.
"He is a part of our family and we love and care for him. We just hope that we find the person who did this to him and he gets the punishment they deserve."
By Monday, donations had far exceeded the target and Benton said any remaining funds would be used for future visits to the vet for Herbie. She said some of the money would also be donated to the animal charity RSPCA, where Herbie had been adopted from five years ago.
Benton added that Herbie is doing much better. "He is still quite sore & is just barely being able to use the litter tray but is eating and drinking well, which is a good sign!" she wrote in an update on Monday.
A Walsall Police spokesperson confirmed the incident occurred between 12.30 p.m. and 1 p.m. on Friday. "A vet has confirmed the cat was shot in the face with a pellet gun causing it serious injuries. It's totally unacceptable for anyone to fire air weapons in public," Walsall Police Inspector Tony Eustace said.
He urged anyone with information about the incident or who knows anyone in the area with access ti a pellet gun or rifle to contact police.
In a statement to Newsweek, an RSPCA spokesperson warned that anyone caught deliberately using an air gun to injure an animal can face up to six months in prison.
"Every year the RSPCA receives almost 1,000 calls to investigate cases and help hundreds of animals that are the defenseless victims of air gun attacks," the spokesman said.
"It is very distressing to think that people take pleasure in causing such horrific injuries to defenceless animals. These are deliberate and brutal acts of cruelty.
"Cats and wildlife are normally the animals that are more susceptible to these incidents simply because they are out in the open with no one to protect them. Unfortunately, air rifle attacks are not as rare as we would like. The injuries caused by such attacks are horrific and often fatal."
The spokesman added that the RSPCA is calling for tighter controls on air weapons. "This, along with better education and explanation of the law when buying an air gun, and requirements that everyone must receive basic safety training before being allowed to walk out of the shop could help relieve the problem," the spokesman said. "These weapons cause horrific pain and suffering and it is illegal."
The RSPCA is urging anyone with information about who is responsible for the attack on Herbie to call them on +44 300 123 8018.
Update: This article has been updated to include a comment from Walsall Police and additional comments from Benton.