Cat With Fur So Matted It Looks Like '10 Kittens' Finds Forever Home
One cat in Oregon finally found a forever home after being found with fur so matted it had to be sedated just to shave it off.
Veterinarian Jessica Thompson took to her TikTok account to show the transformation of former stray cat Marley, who was caught by a local cat trapper. Marley had matted fur so thick and heavy that it appeared to many he was carrying kittens on his back.
"She brought him into the clinic and he was covered in matted fur and dreadlocks," said Thompson in a video with over 700,000 views. It can be viewed here.
Thompson told Newsweek: "Marley was a stray cat, actually most likely a cat that was dumped in a heavily populated area of town. My friend Karen is a cat trapper, who takes cats in for trap, neuter and release programs. She was out trapping and noticed him. The people that feed strays in the area noted that he'd be around for quite a while, years, most likely 9 or more. He looked terrible and Karen contacted me to see if I would help him if she could trap him. I of course said 'yes.' He was trapped that same day and she brought him right in."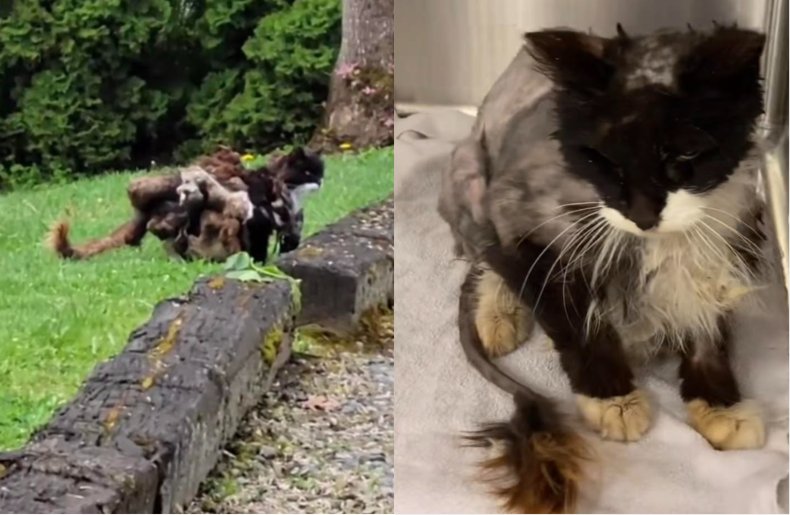 The brown cat was thick with heavy matted fur, visibly weighing down his body. It took multiple veterinarians to free him of the fur using shavers, taking one bit at a time over the course of two days.
"He looked like his fur had been matting for years," Thompson told Newsweek. "The matting was so severe that we had to give him some sedation to complete it. It's very uncomfortable to carry around 3lbs of matted fur that is tightly adhered to your body.
"I also performed a physical exam (turns out he had no teeth), checked for feline diseases and vaccinated him that same day. He didn't let us complete the shave that first day so we set him up in a large kennel with all the essentials. We completed the shave the next day."
The final clip showed mounds of shaved fur, thickened into huge clumps. Marley looked unrecognizable after the makeover, with short hair and looking far more healthy.
In a heartwarming update online, Thompson revealed that Marley has found his happy ending in the shape of a cat sanctuary just one month later. Marley could be seen spending time with other cats outside—a far happier environment than what he's used to.
"We let him recover at the veterinary hospital I work at for about a week to assess his temperament. Initially, we thought he was friendly, but after years of neglect he really didn't want human touch," said Thompson.
"Karen worked hard to find him a safe place to live and she found a place called Feral Cat Sanctuary in Washington. Marley adjusted well to life there and is enjoying the human caretakers and cat community."
"Poor thing. I bet it felt so much better having all that cut off," wrote one TikTok viewer.
"I thought that was a mama with 10 kittens on her back," noted another on the appearance of Marley when he was first found.
"How uncomfortable he must have been and how amazing he must have felt once all this matter fur was gone
Becoming unrecognizable from matted fur is unfortunately somewhat of a universal experience for stray or neglected animals. In 2021, another cat went viral online after her fur was shaved despite initial beliefs she would need to be euthanized because of it.
Instead, the team of experts worked hard to slowly shave away each tough layer of fur on the feline, making up almost one pound of removed fur.
It's not just cats either, a dog also went viral last year after going from 20 pounds to 13.5 pounds when his matted fur was shaved.
Do you have funny and adorable videos or pictures of your pet you want to share? We want to see the best ones! Send them in to life@newsweek.com and they could appear on our site.