Cat Obsessed With Watching Owner Shower Has Internet in Uproar: 'Concerned'
A viral video showing a cat obsessed with its owner showering and running water has left the internet in stitches.
Cats are known for a supposed fear of water, but a TikTok video, uploaded by user winstonandspooky, shows one feline's odd fascination with running water in the bathtub.
In the clip, which has 2.4 million views, the TikTok user could be seen focusing on the cat, which appeared to be relaxing in the living room and not minding anything else going on.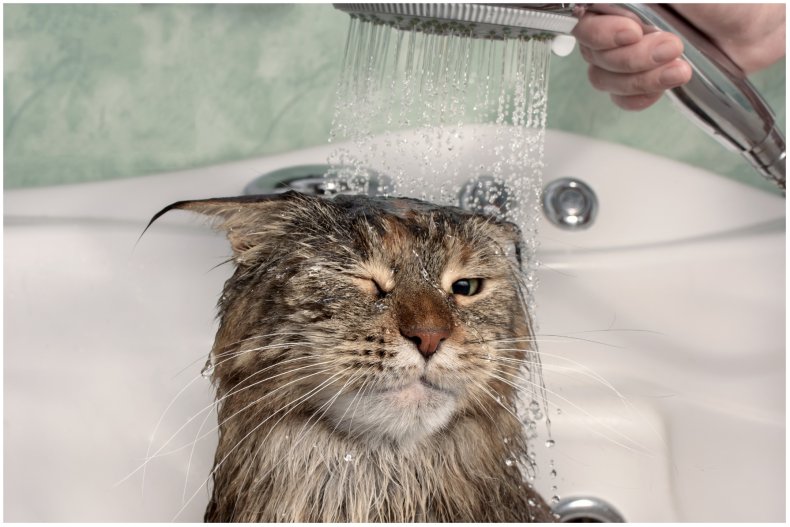 However, as soon as the TikTok user went to turn the bath faucet, letting out water into the bathtub, the cat came running.
The cat could then be seen perched on one of the corners of the bathtub and focused on the running water.
A caption on the video reads: "My cat is obsessed with watching me shower and has been conditioned to this sound. I'm not sure what to make of this."
Anna Ewers Clark, a veterinary research and standards lead at the U.K.-based charity Blue Cross, previously told Newsweek that cats did not adapt to spending time in the water.
She said: "Historically, cats lived in dry, desert environments, which means they weren't adapted to swim or spend time in water, and this trait has passed down to many of our domestic cats."
Cats and Water
According to the pet information website PetMD, there are numerous reasons why cats might not drink a lot of water. These include:
They have sufficient hydration.
The water bowl is not clean enough.
The water bowl is not in a cat-friendly place, such as near loud machines or other pets.
Because they have a dental disease.
They might suffer from a condition that causes gastrointestinal upset.
Online Reaction
Since being shared on Tuesday, February 21, the video has been seen more than 2.4 million times.
Many of those who commented on the post shared their experiences with their cat's fascination or fear of water.
TikTok user Brooke wrote: "My rescue does this except she stands outside and howls. I think she thinks I'm going to die in there."
Astro added: "My old cat would meow if I didn't take her in the bathroom with me when I showered, she loved laying on my clothes."
CorpeV commented: "My cat runs to the bathroom when I flush because he likes watching the water go down, he watches for about 5 mins after too."
User Munchkin&Mae posted: "Both my cats are scared of the sound. Sometimes I catch them peeking in the door then instantly running away in terror."
Newsweek has contacted winstonandspooky for comment.