Cat Osterman: Sporting Career, Husband and Family of the Olympic Softball Pitcher
Olympic gold medalist Cat Osterman will be back on the pitch with the U.S. softball team this week, marking the sport's return to the Olympic stage for the first time since it was scrapped in 2008.
The two-time medal winning pitcher will join her teammates to pitch for victory on July 21.
It will be Osterman's third Olympic appearance after winning gold at the 2004 Summer Olympics and silver in the 2008 Summer Olympics.
This year, the U.S women's softball team is pegged to be a medal favorite.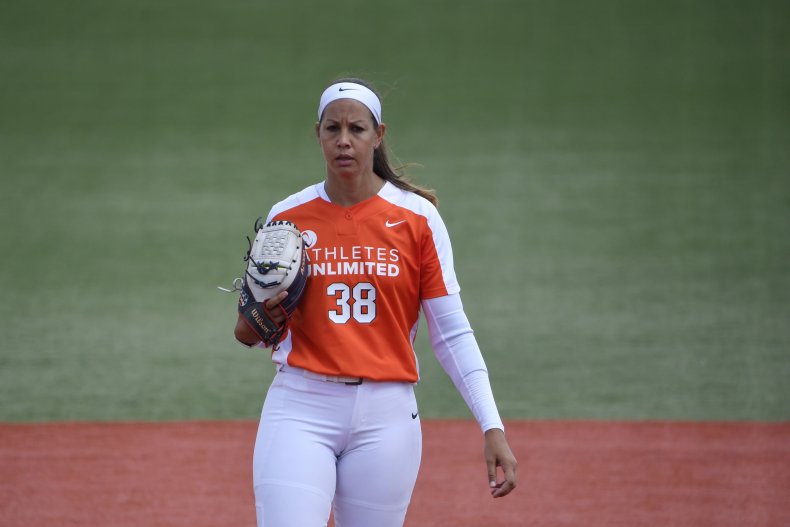 Who Is Cat Osterman?
Catherine Leigh Osterman was born in Houston, Texas, in April of 1983.
The talented left-handed pitcher is a member of Team USA softball and will compete at the Tokyo Olympic Games this month.
The 38-year-old has said she has played sports since she was old enough to "dribble a basketball" and credits sport for giving her "a place to escape any other stresses."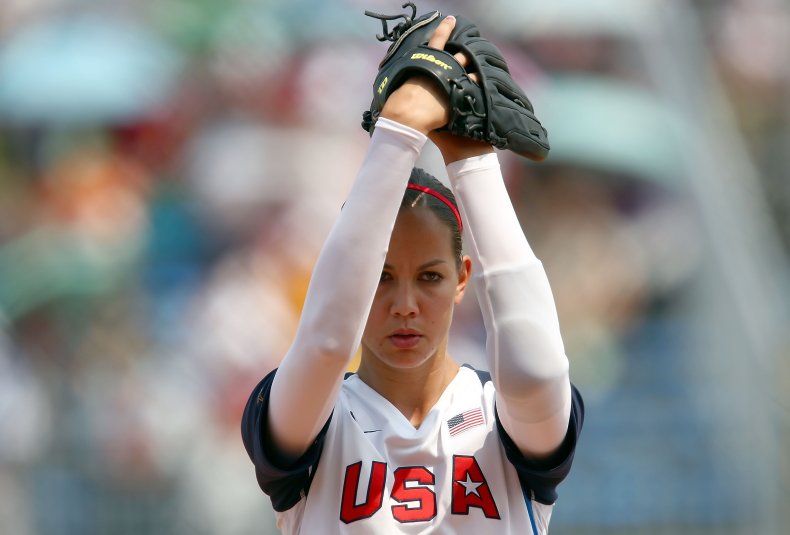 Osterman pitched for the USA National Team from 2001 to 2010, appearing in the 2004 and 2008 Olympics. Team USA took home the gold in 2004 and finished with the silver medal in 2008. However, softball was dropped from the Olympics after 2008 due to lack of popularity. In her 10-year career with Team USA, Osterman held a 59-4 record with 0.38 ERA. She struck out 832 batters in 425.2 innings.
In 2016, the IOC announced softball was returning to the Tokyo Olympics, as the game is extremely popular in host country Japan. Osterman had retired from playing professionally the year before and was coaching at Texas State University when she heard the news, meaning she left retirement to participate in the Games.
As softball is unlikely to be an Olympic sport at the Paris 2024 Olympics, this may be Osterman's last hurrah.
At 6'2'', Osterman is a three-time National Player of the Year and is regarded as one of the best pitchers of all time.
She has tallied an impressive 2,265 strikeouts in her NCAA Division I career, and holds the record for the best strikeout ratio record in the NCAA.
In 2015 Osterman completed her last season in the National Pro Fastpitch (NPF) League. She played for the Rockford Thunder in 2007 and 2009 and the USSSA Pride for six seasons, winning four league titles in the process as well as a championship series MVP. She was also named Pitcher of the Year in 2013 and 2014.
Cat Osterman's Husband & Family
Osterman and her husband, Joey Ashley, along with his daughter, Bracken, live in San Antonio, Texas, according to her website.
The couple married in September of 2016, according to a tribute Osterman made on their wedding anniversary.
Osterman has described Ashley as an "amazing father and devoted husband" and credits him for his ongoing support.
"He and my stepdaughter are extremely supportive," she told People magazine earlier this month.
"Happy Valentine's Day my love. My vow to you, today and every day is to pour love into you, and to open my soul to accept yours," the athlete wrote in a sweet post in February this year. "To be your best friend. To support you. To do fun things with you. To continue to make our life the one of our dreams. You are an incredible man, and I'm lucky to be loved by you, today and every day."
The pair reportedly dated during college but broke up before Osterman's softball career took off.
"Four years ago today he invited me to 'go out with him and some friends'," the softballer wrote in an Instagram post in November of 2018. "This was 9+ years after I broke up with him once college was over and my softball career awaited me. I drove down to San Antonio to go out with him and 1 friend! I can't say I was disappointed because the second I saw him my heart raced and I knew this was it... 11 months later we were engaged... and he is my happily ever after."
Softball Pitcher
Although Osterman admits basketball was her "first love," the talented athlete quickly fell in love with softball.
In a series of social media posts, the Olympian recalled : "I was going to play in the WNBA, but then pitching stole my heart, and my dreams were changed."
"At 11, I asked for pitching lessons for my birthday present," she wrote alongside a childhood snap uploaded to Instagram in April 2019. "When I told my dad pitching was what I wanted to do, the man made our driveway my pitching haven. After denting the garage, he found tarps to cover it.... when I got into Jr High and sports made us have to pitch at night, he installed flood lights to allow us to see."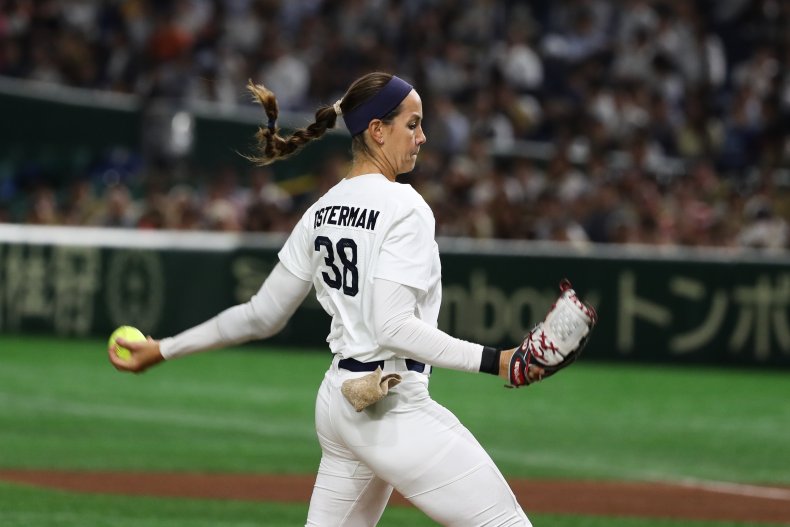 Osterman remains grateful for the opportunities sport and softball has afforded her, noting she "could never have fathomed what sport would do to me and my life" and "honestly didn't dream of the life I've been granted."
"Sport gave me a place to escape any other stresses. It was something I could always be confident in, even when my dad emailed my Grandma saying I wasn't very good yet. Sport was where I grew, learned who I was, and so many other life lessons. I'll forever be proud to be an athlete & grateful for sport!"
When Will Osterman Play in This Year's Olympics?
Osterman will hit the pitch to play against Italy on Wednesday, July 21.
In an interview with KSAT 12 just days ahead of her departure, she described competing at the Tokyo Olympics as "extremely special."
"In 2008 softball was voted out [of the Olympics] so I didn't know whether I'd have the chance again so it's been quite a journey to get back there," she said.
In a snap posted to Instagram on July 4 alongside her teammates, the star athlete wrote: "There were days I wasn't sure this would actually become reality, but here we are 18 + staff on a plane going to live the Olympic dream."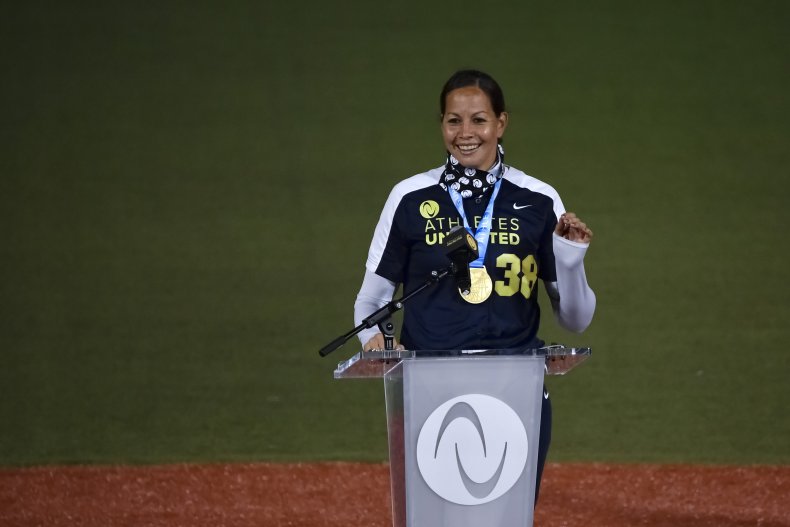 The Olympic competition will begin with an opening round robin where each country will go head-to-head between July 21 and 26 with the top four nations advancing to the medal rounds on July 27. The top two countries will compete for gold, while the third and fourth-place teams will square off for bronze.
Team USA will begin its quest to reclaim the gold medal on July 21 against No. 9 Italy. It will then face No. 3 Canada on July 22, No. 5 Mexico on July 24, No. 8 Australia on July 25 and No. 2 Japan on July 26.
The U.S. softball team boasts a successful history in the Olympic Games, finishing on the podium in three of their four Olympic appearances with an overall record of 32-5, according to USA Softball.
The team clinched three consecutive Olympic gold medals in 1996, 2000 and 2004 and a silver Medal at the 2008 Olympic Games after falling to Japan, 3-1. The U.S. Softball Women's National Team holds 18 Olympic records, four three-time gold medalists, six back-to-back gold medalists, one Olympic Hall of Fame member, and one Olympic Hall of Fame team.