Cat Scratch Disease: Vet Suffers Extreme Fatigue for a Decade after Catching Rare, Severe Case of Bartonella Infection
A vet has been left suffering with extreme fatigue for almost a decade, after she caught an infection from a cat scratch which caused symptoms so severe she thought she was going blind or had a brain tumor.
A flea-infested cat scratched Victoria Altoft, 41, from the county of Somerset in south west England, while she was at work in the fall of 2010, PA Real Life reported.
Weeks later, Altoft's muscles and joints were in pain and she was hit by night sweats, leading her to assume she had the flu. She was "utterly exhausted" and took the uncharacteristic decision to take two weeks off work.
"I just couldn't get out of bed," she told PA Real Life. As time passed, her joints swelled up, which her doctor put down to post-viral inflammation.
But Altoft became worried when her vision started to blur. She went for an emergency eye appointment, and medics thought her symptoms could be caused by a brain tumor or the condition multiple sclerosis, which affects the central nervous system.
Tests revealed she was suffering a rare Bartonella infection, and doctors prescribed her with antibiotics: the treatment given to serious cases of the condition.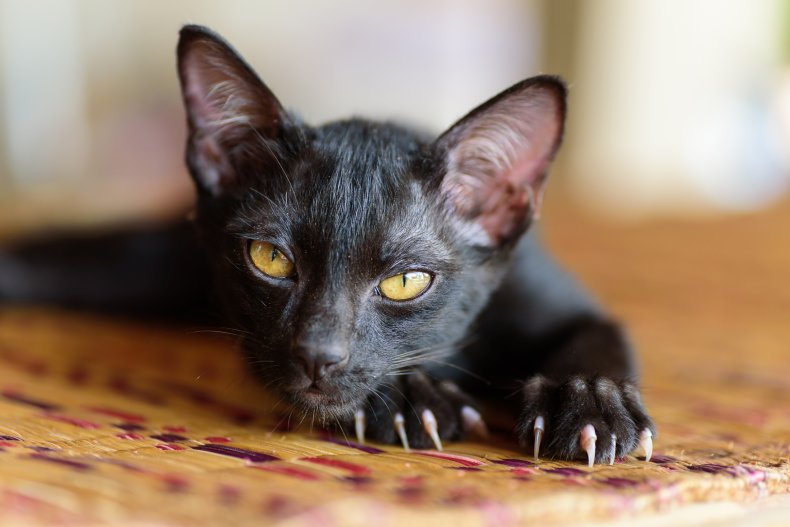 The bacteria is carried by infected fleas which live on animals like cats or dogs. Lice and sandflies are also vectors of the Bartonella group of bacteria which can cause cat scratch disease, as well as Carrion's disease (only found in the Andes Mountains), and trench fever (most often present in people who live in areas of poverty with poor sanitation).
In most people, cat scratch disease doesn't require treatment and fades by itself in between two to four months. But severe cases require antibiotic treatment.
Symptoms materialize several days or weeks after the bacteria invades the body. After three to 10 days, a painless raised red spot might appear on the skin where the infection passed through the skin. Over time this may become filled with fluid, with a crust forming before it heals. The lymph nodes near the site of infection might become swollen, red and hot to the touch, and puss-filled. Other symptoms include a general feeling of illness, headache, fatigue, and fever and—less often—sore throat and weight loss.
It took a year for her sight to return to normal. Altoft told PA Real Life she still suffers from fatigue despite being scratched in 2010.
"To this day, it's difficult to know exactly what the long-lasting effects of contracting Bartonella are, as there is so little research, but I know I'm not the same now as I was before it happened," she said.
Altoft is working with the Big Flea project run by the University of Bristol and the pharmaceutical company MSD Animal Health, who are researching the parasites which affect dogs and cats in the U.K.
The vet urged pet owners to take flea infestations seriously as they can pose a serious threat to human health.
"As a vet, I see people vaccinating their animals routinely, but being quite flippant with flea treatment," she said.
"It also now horrifies me when children go up to cats in the street and start stroking and playing with them, as often in these situations a cat could become stressed and turn on them.
"If scratched, parents would be unaware the child could have been exposed to fleas carrying Bartonella," she warned.
To prevent the spread of Bartonella, the U.S. Centers for Disease Control and Prevention advises against playing roughly with cats, especially if you have a weak immune system. Stray cats and kittens in particular should be avoided. Pet owners should treat their cats for fleas, including using spot-on treatments and collars.