Cat in Shop for Days After Falling Through Ceiling: 'He's the Owner Now'
A cat that spent days living inside a thrift store in British Columbia, Canada, has captured viral attention after being captured on CCTV.
Staff at Cherry Pick Vintage in Langley were shocked when they checked their security cameras to find that a cat had found its way through the ceiling of the vintage store at 5 a.m.
The text overlay on the viral TikTok video read: "When a literal cat fell through the ceiling of our vintage store at 5am and proceeded to live rent free for a few days."
With 2.5 million views, TikTok users said that the cat's appearance was part of the "cat distribution system."
While another commenter joked that: "He's the owner now."
Cat expert and author of Being Your Cat Celia Haddon told Newsweek: "Cats live up to the proverb 'curiosity killed the cat,' because they patrol their territory ceaselessly. And sometimes it gets them into trouble."
The chances are that Cherry the cat is on the younger side—this is because younger cats tend to do a lot more exploring that older ones.
"Like humans, many cats tend to settle down in middle age, to hunt less, and do less exploring," explained Haddon. "Cats are also very individual in their temperament. Some are get-out-there and go kitties: others will lounge on the sofa doing very little but doing it with grace. The older the cat, the more time they spend sleeping."
But many cats will find that these antics leave them in unfortunate spots—from getting stuck behind a tiled wall to getting heads stuck in a bag of chips.
Haddon explained that there are two reasons cats get themselves into unfortunate positions: "As small animals, cats have to make sure that there are no hidden dangers—from bigger predators that might eat them, so they probe their surroundings checking up on anything new that might need investigation. Then, because they are solitary hunters, cats are also always on the look-out for prey—mice, rats, birds, even insects. Hunting is something that is hard wired into them, so given the chance they will hunt even if they have more than enough to eat at home. Garages, roofs, abandoned buildings, rubbish dumps—all these places have mice, insects and perhaps even rats."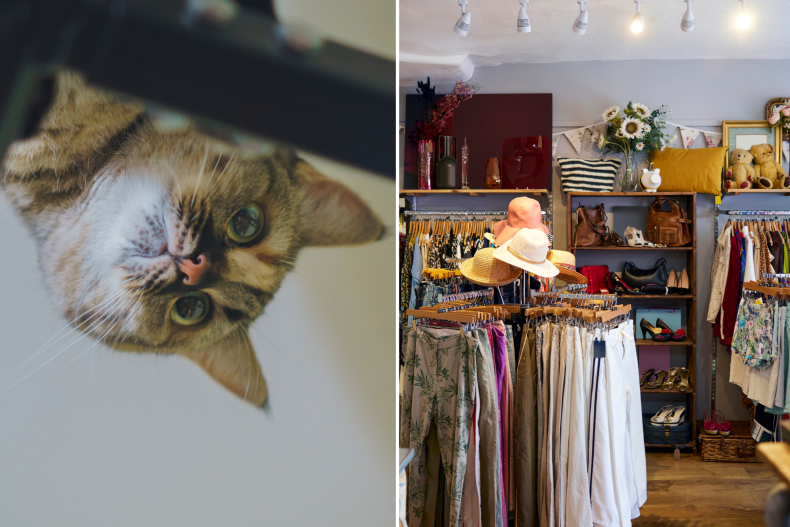 In thousands of comments, there were plenty of well-timed jokes about the cat's unusual predicament.
"It's giving 'save bandit' from The Office," said one commenter, while another wrote: "I would literally walk into the store to see the cat."
Cherry successfully made it out of his unfortunate spot in the vintage store, but many viewers of the viral video were understandably concerned.
"I feel bad that it didn't have food or water for a few days," said one TikToker.
If you're worried about keeping your cat from becoming an accidental resident at a local store or in your neighbor's garage, Haddon said there is really only one way to ensure their safety.
"The only safe way never to lose a cat is to keep then as an indoor-only kitty. This keeps them safe from disease, from getting trapped in strange places or getting run over. But it is boring for a healthy cat, so you need to give them stuff to do—games with fishing rod toys, food dispensers so they work for their food, high up places in the house where they can hang out.
"Cats that have a cat flap will have a more enjoyable but a riskier life. Make sure they are microchipped so that if they are picked up as strays, their home can be identified. Collars can help but collars, unless they fit very well, can also get caught on branches and become a risk for the individual cat. Another possibility is to put a GPS tracker on your cat's collar so that you can track down where it has gone," she added.
Newsweek has reached out to Cherry Pick Vintage for comment.
Do you have funny and adorable videos or pictures of your pet you want to share? Send them to life@newsweek.com with some details about your best friend and they could appear in our Pet of the Week lineup.