Cat Sings Hip Hop Duet With Owner in Hilarious Video
A talented cat has won over the hearts of fans on social media by joining his owner in singing the 90s classic "Boom Boom Boom" hip hop song by The Outhere Brothers.
Three-year-old Desmond, a Flame Point Birman cat, showed off his singing skills in a duet with owner Martin Mallia, 36, in a hilarious video posted to Instagram.
In the clip, posted in late April, Mallia can be heard singing: "I said boom boom boom, let me hear you say wayo," to which the cat responds by singing "wayo," with near-perfect timing and pitch.
Mallia, who lives in Sydney, Australia, adopted Desmond from the Cat Protection Society in Newtown after he was dumped in a box by a trash can with four other kittens. Desmond has come a long way since then and is now impressing social media users with his musical abilities.
The cat counts singing among his favorite hobbies and, as Mallia told Newsweek, he even has a favorite genre: "Desmond loves to hang out with the lads and watch the football, chase bugs, sleep on your face at 4 a.m. and to sing. Mainly 90s hip hop."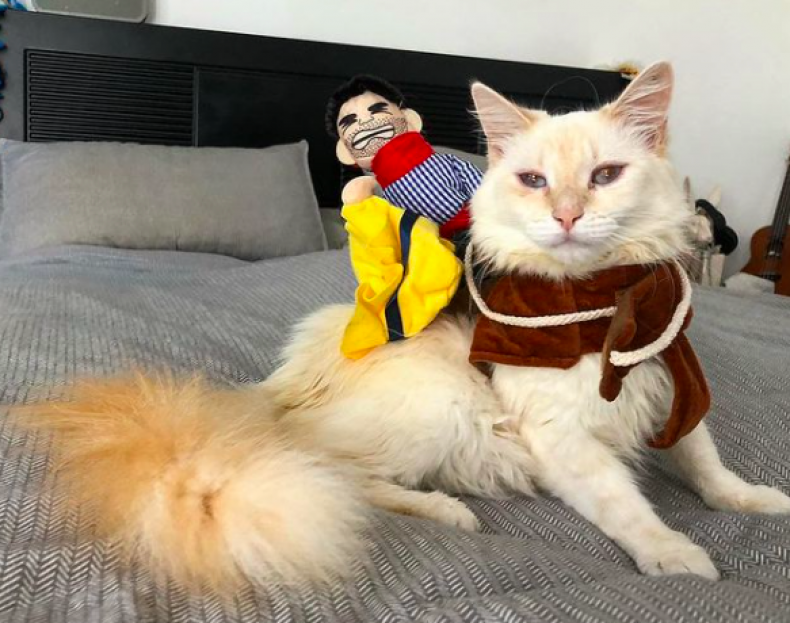 So how did Mallia discover that Desmond the cat could sing along to the hip hop duo The Outhere Brothers' 1998 song? The performance captured in the adorable Instagram video was actually months in the making, as Mallia told Newsweek: "The idea from the video came about as his meow always reminded me of this song.
"It took a few months of trying to time it right but the big man absolutely nailed it this time."
Desmond's fans definitely agree that he nailed it and were delighted by the video, describing it as "so cute" and "premium cat content." One fan, Georgia Howard, commented: "Bahahhhhhh this is actually amazing," while Tara Walker said: "Haha that's brilliant!"
One viewer, Jenna Keating, was clearly impressed, calling Desmond a "bloody legend."
Although viewers have just had a taste of the little cat's musical ability, Desmond fans should get excited, as the duo is ready for their next performance. Mallia told Newsweek: "I'd love to do more songs with him," and suggested fans should,"please feel free to send through requests and we will work on a duet."
Viewers who have ideas for what they'd like Desmond to sing next can find him over on his owner's Instagram account @martboy. In the meantime, The Outhere Brothers may need to watch out—there's a new hip-hop duo on the scene.