Cat That Disappeared 6 Years Ago Finally Reunited With Owner
The remarkable tale of a pet owner and her beloved cat shows that, even after years, it's never too late for a reunion.
Margaret Kudzma's cat Mini Max went missing six years ago after jumping from a window in her third-floor Peabody, Massachusetts condo, according to The Salem News. She searched fiercely for the gray-and-white cat, taking all the typical measures—putting up posters, joining rescue organizations and announcing it online—in addition to some less-common tactics. Kudzma reportedly set up night-vision cameras, hired a pet detective, and consulted with a pet psychic. None of it, however, led her back to Mini Max.
Though cats are often known for their sense of direction, they can still get lost. As explained by Dr. Sarah Wooten of PetMD, "cats have a homing instinct, which means that they can perceive direction using something beyond the five ordinary senses of taste, smell, sight, touch and hearing"—though the specifics of it are yet to be fully understood by scientists. Indoor-only cats, however, are more likely to struggle with navigating their way back home, as "they may have a reduced homing ability and may become disorientated and frightened if lost outdoors."
Luckily for Kudzma, she'd had Mini Max microchipped—a small procedure that ultimately brought the two back together.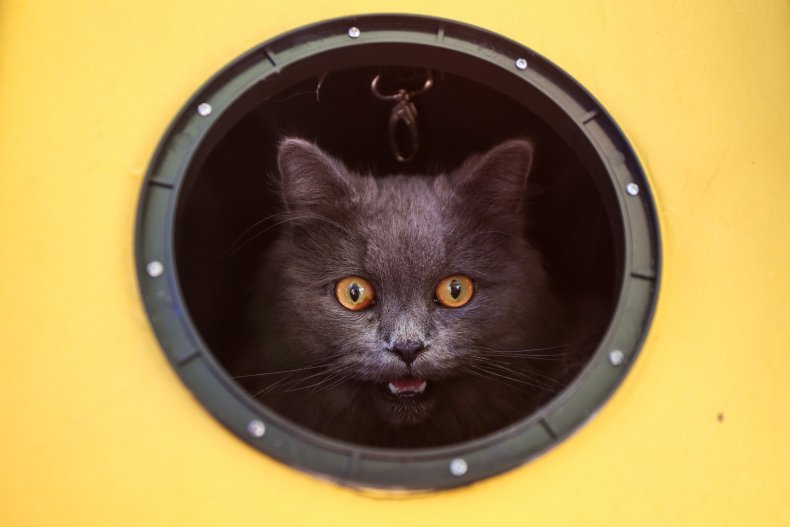 In the years following Mini Max's disappearance, Kudzma spent her time helping other cats and starting her own rescue organization, The Salem News reported. But all the while, she never forgot about her lost pet.
Everything changed when, last week, Kudzma got a call from Dr. Samantha Simonelli, a vet in nearby Wakefield. Simonelli had scanned Mini Max's microchip, which identified Kudzma as the owner.
"All I heard was 'gray and white' and I had to put the phone down," she told the news outlet.
From there, Kudzma was able to reconstruct the missing pieces of the cat's journey. After making it about 11 miles down the coast, from Peabody to Revere, Mini Max was eventually taken in by a family that had started feeding him. They eventually realized that he had ear mites, prompting the visit to Dr. Simonelli.
In the days leading up to their reunion, Kudzma created a separate room for Mini Max, so that he will feel comfortable—she now fosters kittens and isn't sure how the adult cat will handle their presence.
In the meantime, Mini Max received a comprehensive, full-body checkup to ensure that he faced no lingering health issues or broken bones from his giant jump three years ago.
Newsweek has reached out to Kudzma for further comment.