Cat Thieves Tease Family with Ransom Texts Before Vanishing: 'So There's No Reward?'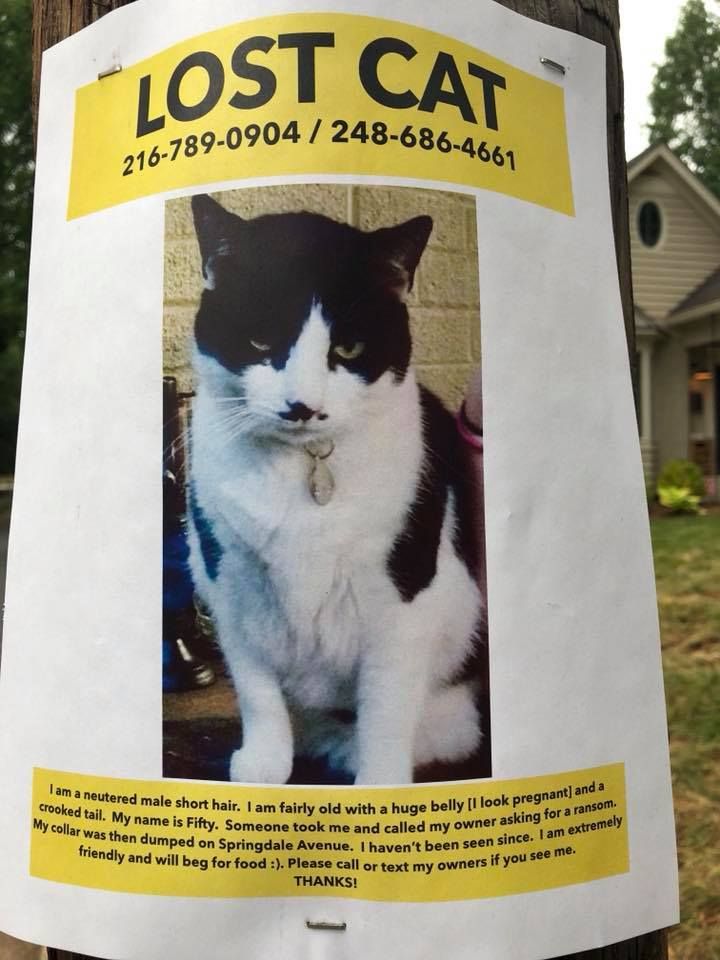 A Charlotte, North Carolina, couple were hot on the trail of money-hungry feline thieves before it went cold. Chris Kete said he answered the phone at 8:32 p.m. on Friday with what seemed like good news from a young man: His and his wife's dear cat Fifty was found.
"Hey, I got your cat. Is there a reward?" the young man asked him.
The all-business conversation veered to sinister quickly. It struck Kete as strange since he had just seen the 10-year-old tuxedo cat prancing around the front yard of their home not two minutes before.
"No, he's not lost," Kete assured the young man.
Again, the thief asked about compensation. Two more times.
"So there's no reward?"
Fifty is prone to wandering off. Calls about the cat are routinely fielded by Kete or his wife, Tiffany George-Kete, by concerned strangers in their neighborhood. There's even an inscription on the cat's collar that informs would-be strangers: "I like people, I like to beg for food, but no need to feed me. Call this number if I'm bothering you."
Before Friday night, Fifty was a cherished tuxedo cat who served as a local fixture.
"He's the neighborhood mayor, and anybody who walks by, he comes up to be petted," George-Kete, 46, told Newsweek of the stray cat they found on an Indiana interstate years ago. "He's a wanderer, but he always comes home."
It was George-Kete who affixed the GPS device on the cat, fearing he could stray too far one day.
That day came.
"Just tell me where the cat is," Kete, a 45-year-old import/export logistics executive, said he pleaded with the nameless man who had Fifty.
He also texted with the catnappers.
"I found your cat is there a reward," read one text.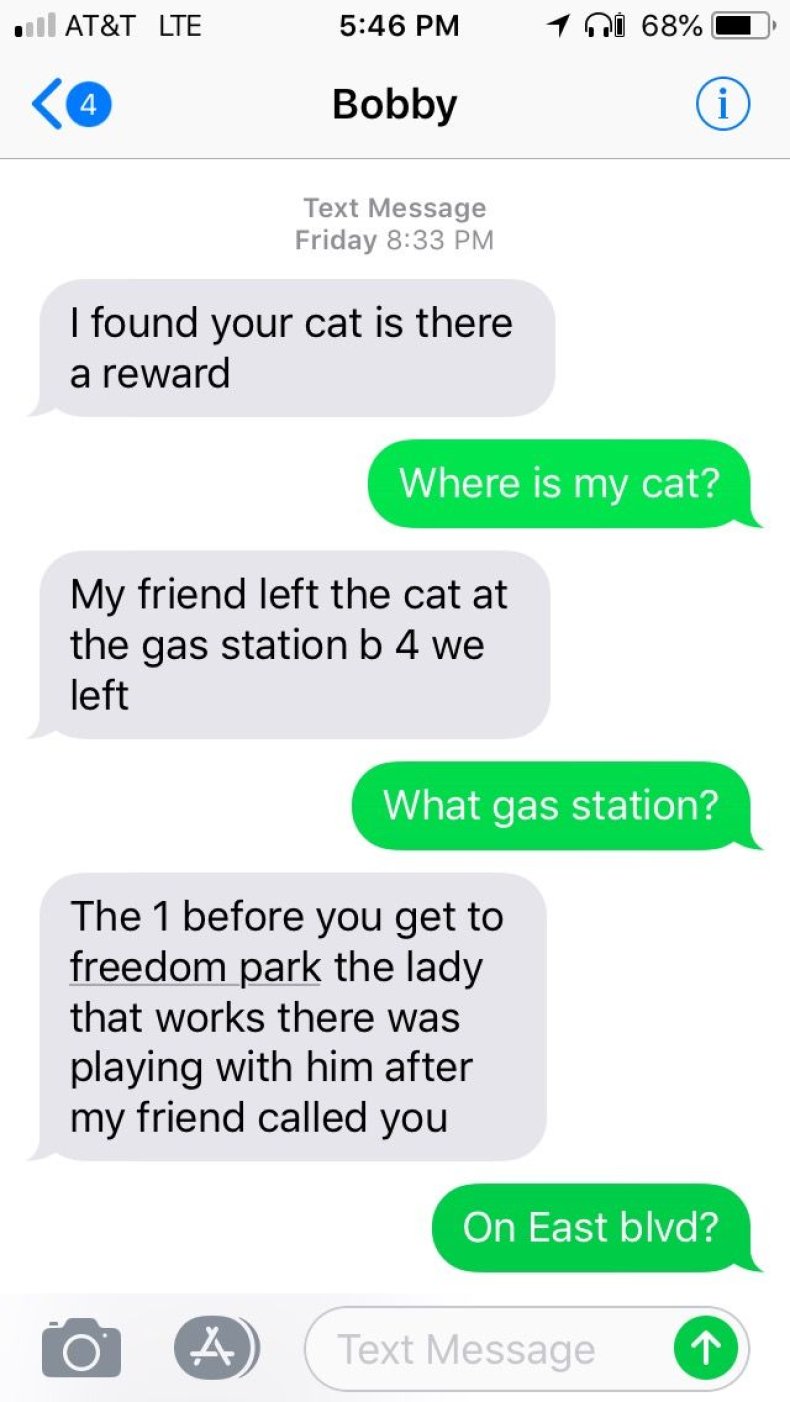 The worried Kete demanded: "Where is my cat?"
They claimed to be idling with Fifty at a Circle K gas station within eyeshot of the couple's home. Kete went to meet up with them—but they were actually at another gas station. Fortunately, Kete was also handicapping the pursuit to find his cat by using the GPS device attached to Fifty's collar....except in the heat of the cat chase, Kete blurted out that he knew where they were based on the GPS coordinates.
"I told him, 'I'm looking at my GPS app right now to verify where he is,'" he said he let slip to the perpetrators.
He booked it to a nearby Shell gas station across from a Harris Teeter supermarket where the cat's device pinged last. He found the GPS, which was ditched by whoever had Fifty. But still no Fifty. Then Kete received a call from a neighbor who found Fifty's forsaken collar. Fifty and the crooks who carried him off were in the wind.
"If I had realized they just wanted some money I would have given it to them," Kete said. "They removed the GPS and took the collar off just out of spite."
Kete attempted to ring the phone number again and managed to get ahold of a voicemail that featured a man's personalized message. He now had a name—"Bobby"—but nobody was answering. Another text message followed. "My friend left the cat at the gas station b 4 we left," it read. The thief even explained to Kete that the attendant at the gas station "was playing with him after my friend called you," according to another text message.
And then finally another: "I took my friend home after he called you from my phone he didn't mess with the cat we just left."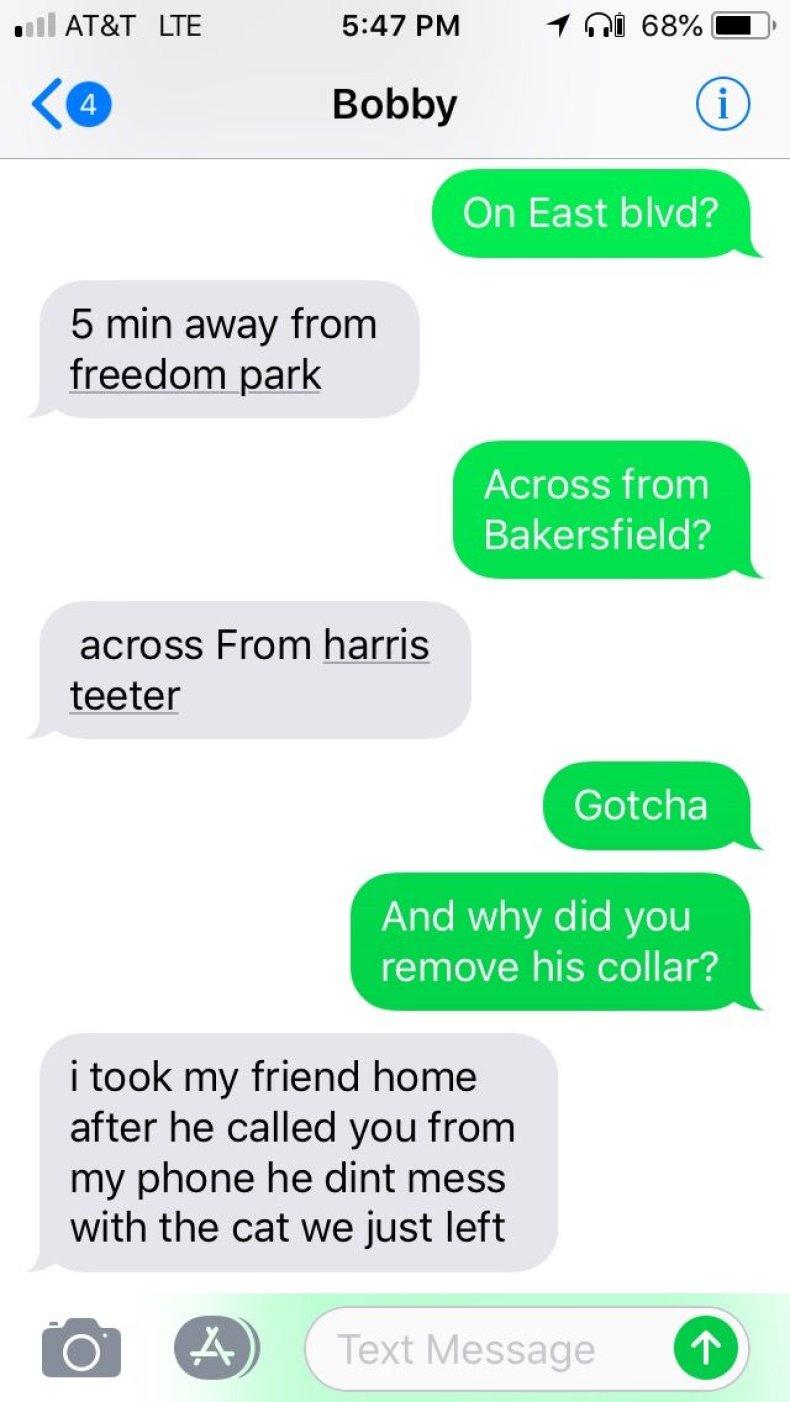 Kete tried to appeal with the young man he believed was named Bobby: "If you get me the cat, I won't press charges for the theft," he texted him.
A call was made to the Charlotte-Mecklenberg Police Department, and a complaint has been filed. When Newsweek asked about the matter, a representative with its Investigations Unit said that the larceny was being dealt with at the district level, and that so far there isn't any information logged in its system with the suspect's information.
Two days after countless unanswered calls and efforts to reach "Bobby," Kete said he received a text from a person who acted completely clueless about the cat or what transpired Friday. The man acted like he just purchased the phone on the cheap.
"Somebody just sold me this phone for 20 dollars I have no idea what you talking about sorry," it read.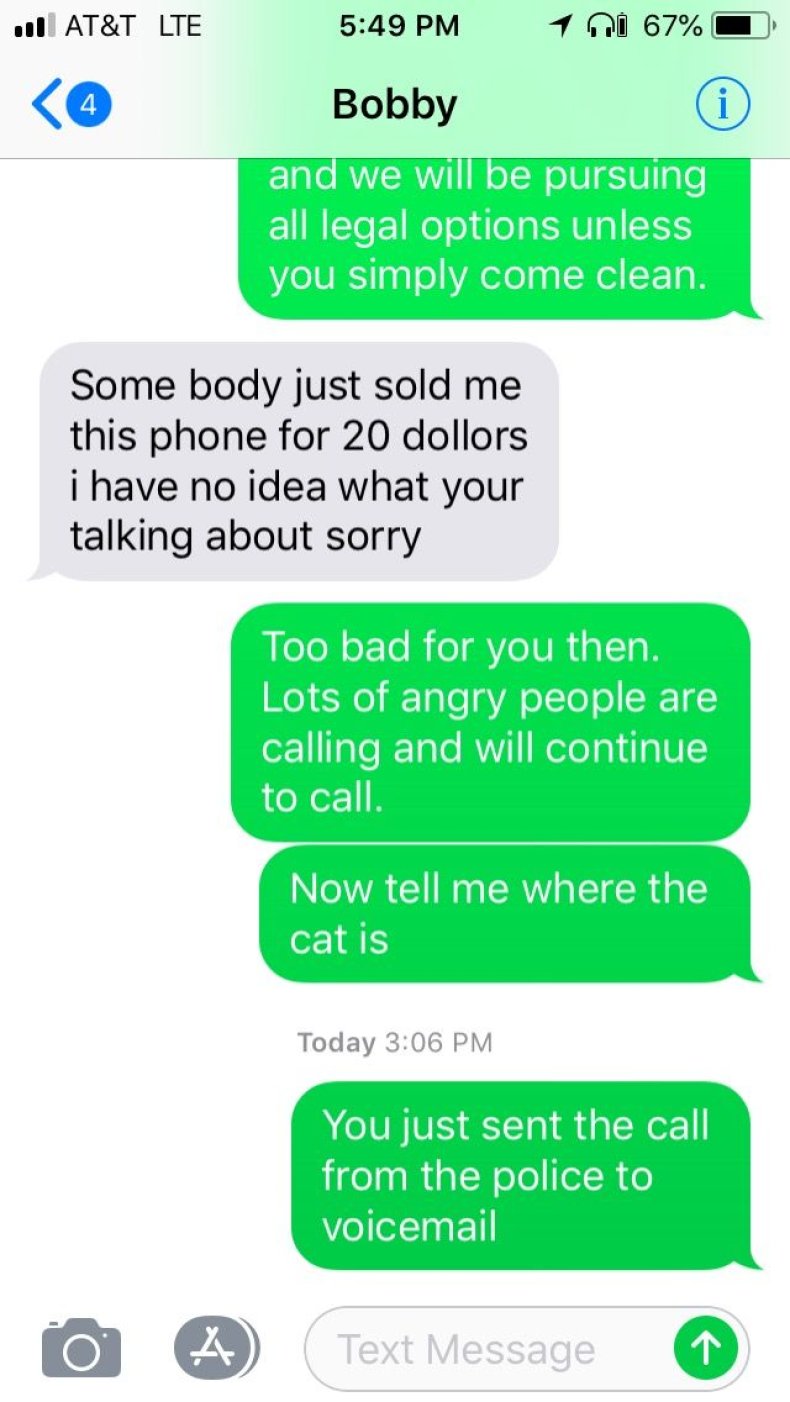 When Newsweek attempted to reach its owner, the man asked for the reporter's name and then said that it was "the wrong number."
Now, Kete regrets giving up the GPS detail to the thieves but assumed at the time that "it was just some random person" trying to help return Fifty.
The couple are waiting and hoping.
So too is Fifty's tuxedo cat sister, aptly named: Fifty Too.
"She can definitely tell Fifty is gone," George-Kete said. "This is so malicious and mean."