Catalans Protest After Nine Jailed For Role In 2017 Independence Referendum
Protests are continuing for the second day in Barcelona after 12 Catalan separatists were convicted and nine were sentenced to jail time for their role in the 2017 secessionist referendum.
Protestors converged on El Prat airport on the outskirts of Barcelona Monday, forcing the airport to cancel over 100 flights.
Protests continued Tuesday and centered on a government building in the center of the Catalonian capital. Videos circulating on Twitter show protestors clashing with riot police among fires in the street. Police are reportedly using foam bullets to disperse demonstrators.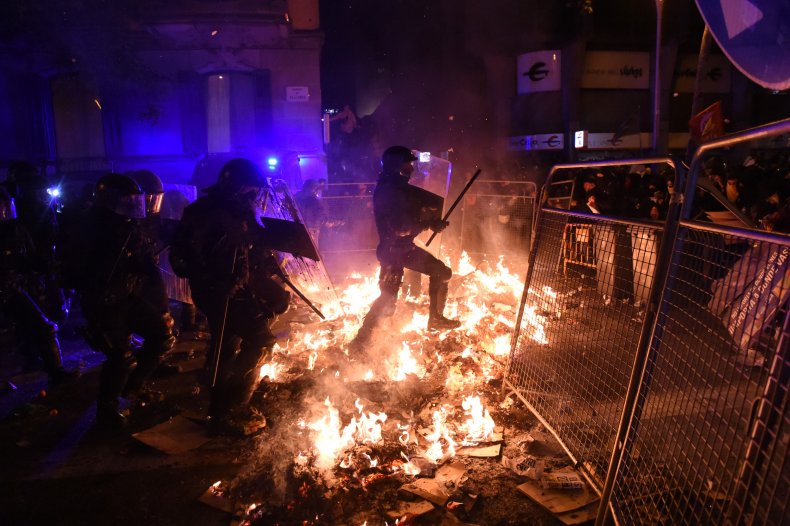 Countries such as the United Kingdom, the United States and United Arab Emirates have issued travel advisories, encouraging visitors to avoid protests in Barcelona and to stay aware of their surroundings.
Amid the absence of former regional president Carles Puigdemont, who fled to Belgium shortly after the 2017 referendum, the harshest sentence was for Oriol Junqueras, who received 13 years in prison. A fresh arrest warrant has been issued for Puigdemont in hopes of charging the Catalan politician with rebellion.
The group of politicians and activists were charged with sedition and in some cases, misuse of public funds relating to the 2017 referendum that was deemed illegal. All were acquitted of the more serious crime of rebellion.
Junqueras told Reuters, "We're not going to stop thinking what we think, ideals can't be derailed by (jail) sentences."
Prime Minister of Spain, Pedro Sanchez, was quick to defend the Spanish Supreme Court's decision. On Twitter Sanchez wrote, "Nobody is above the law. In a democracy, nobody is subject to trial for his or her ideas or politics but, rather, for criminal conduct as provided by the law. In Spain, there are no political prisoners but rather some politicians in prison for violating out democratic laws."
The court's decision included barring all those convicted from holding public office, meaning they would be unable to run in November's upcoming general election.
The referendum took place in October 2017, and was overwhelmingly in support of Catalonia splitting from Spain. Despite 90 percent support, CNN reported that voter turnout was quite low at only 42 percent. Despite the government deeming the referendum illegal under the Spanish Constitution, members of the Catalan Parliament declared independence on October 27. The Spanish government dissolved the parliament shortly after.
The issue is not likely to go away anytime soon. More than a year after the referendum, yellow ribbons, the symbol of the secessionist movement, were tied to fences, public statues and even spray-painted on crosswalks.
Jordi Sanchez, one of the convicted Catalan politicians, said on Twitter, "Nine years in prison won't end my optimism. Catalonia will be independent if we persist. Let us demonstrate without fear, let us move forward determinedly from non-violence to freedom."