Catalonia President Carles Puigdemont: Why Spain's Elections Don't Matter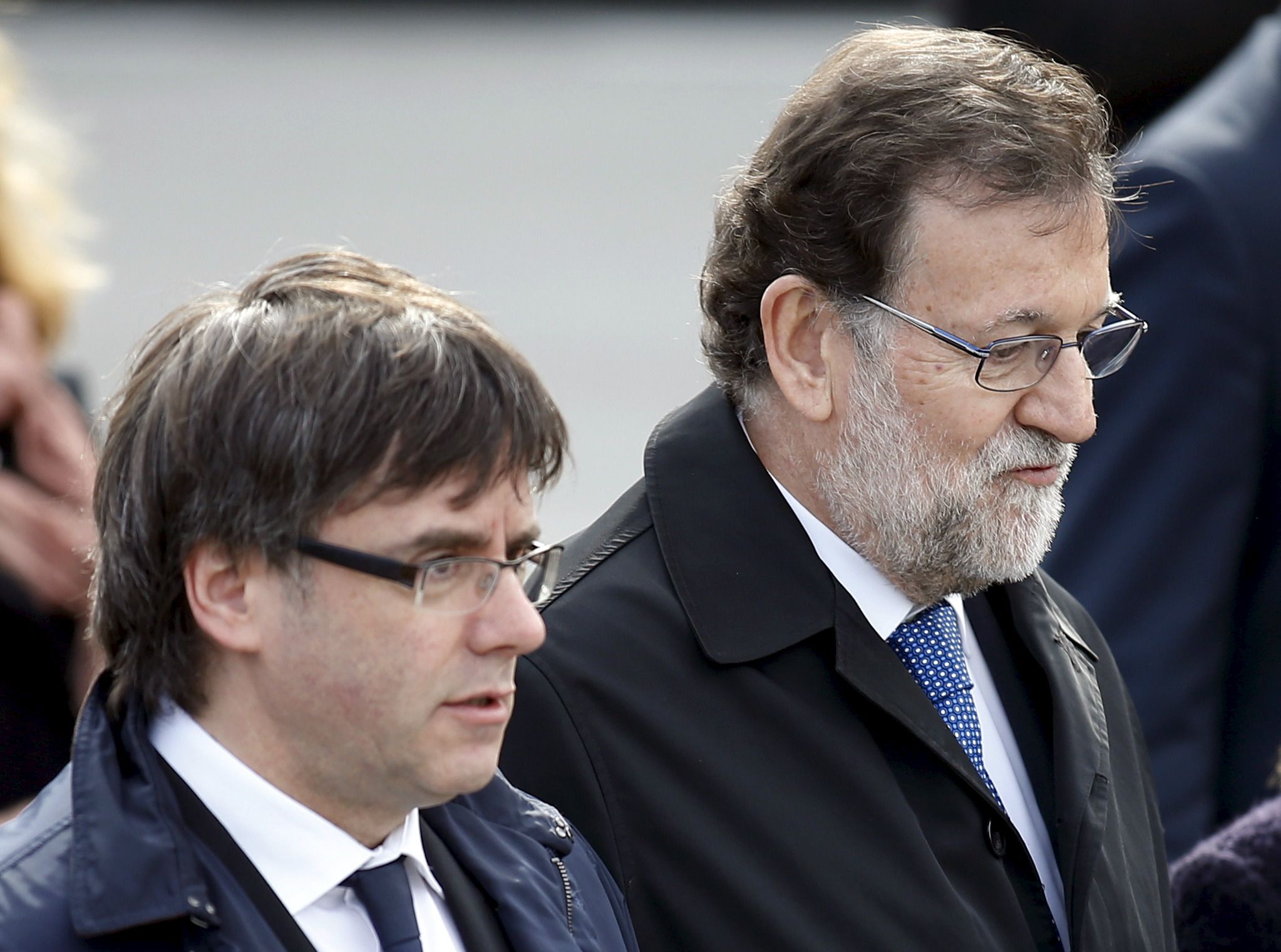 "The independence project in Catalonia," the region's new president, Carles Puigdemont, told London's Chatham House think tank during a visit last week, "is... a peaceful revolution, carried out in suit, shirt and tie."
A serious-looking man in wire-framed glasses who sometimes surprises you with the force of what comes out of his mouth, Puigdemont sums up the Catalan government's dilemma. It needs to play a game of brinksmanship to deliver the secession from Spain it hopes it can secure in under 18 months, without scaring off the moderate voters and international allies it needs to back it.
Puigdemont, formerly mayor of Girona, took over from his predecessor Artur Mas in January, and nothing, he insists, can stand in Catalonia's way.
Faced with seemingly unending political deadlock in Madrid as Spain heads for its second round of elections in six months on June 26, Puigdemont is looking to paint Catalonia as practically independent already. "Catalan politics emancipated from the Spanish politics on September 27, 2015," he tells Newsweek, speaking via a translator, during his visit, at the Catalan Delegation in London. "Since then, we've acted with a sovereign mentality, political sovereignty."
He insists that he doesn't have a preferred result, and is dismissive of the new left-wing party Podemos, the only major Spanish party to support a Catalan independence referendum. "They don't have enough political strength... probably the resulting coalition in the next election will be towards the right."
Rather than waiting for a favorable government in Madrid—the current administration has previously denied Catalonia the legal right to a referendum—Puigdemont is determined to continue with the "roadmap to independence" set in motion in November 2015 after pro-independence parties won the region's parliamentary elections that September. The plan involves creating all the machinery of an independent state, and holding a referendum on the constitution that, assuming it goes the right way, will be treated by the government as a mandate for secession.
A part of Puigdemont must have been terrified when he took on the role? He laughs. "This project is not... an 18-month project. It's actually been going on for five years and this is our last milestone."
It's true that victory for the government would mark the end point of a long push for independence that began in 2010, when Spain's constitutional court overturned the result of a 2006 referendum granting greater autonomy to the region. An unofficial poll in November 2014 saw 80 percent of those who voted backing independence, albeit on a low turnout. But Spain has consistently refused to deem the secessionist cause legitimate. The Catalan government said it would prefer a negotiated settlement, rather than a unilateral departure: "We have opted from the outset for dialogue, negotiation and consensus," Puigdemont told Chatham House.
In reality, says Antonio Barroso, deputy director of research at Teneo Intelligence, Catalonia will likely need approval from Spain for this process to be viable. "The Scottish referendum created the framework for how a vote on self-determination should be organized," he says. "Any unilateral attempt would not be recognized by other European Union countries, which means that the Catalan government would be probably shooting itself in the foot." But talking tough could be necessary for now, to keep the wider independence movement onside. "Strategically, the political survival of the current government in Catalonia depends on giving the impression that it can adopt decisions unilaterally," Barroso says.
As well as facing down the Spanish government, Catalonia must play chicken with Brussels. Like Scotland, the region insists that independence will not require it to leave the European Union, and the bloc's institutions have not yet taken an official position on this. "I would like to point out this paradox," Puigdemont says, "about the EU doing all kinds of pirouettes to keep the U.K. within the union, but they seem indifferent about [our] economy." Does that mean a Brexit would be good for Catalonia's secessionist cause? "It may mean a small tactical advantage, but it is not good for the future of Catalonia [in the long-term]."
Another hurdle could come from closer to home. Puigdemont took on his role as a compromise after the left-wing pro-independence party CUP refused to support Mas, who wanted to serve another term. This sparked a two-month deadlock. Might that make it hard to convince voters a Catalan government would be more effective than the Spanish one? "We've all negotiated in Catalonia... we've negotiated to reach a decision as a country," says Puigdemont. "This is in great contrast with the Spanish politics, where they haven't been able to manage a very complex situation. This shows that we are two very different systems."
So is Catalan independence inevitable? "There's no alternative to Catalan independence," he says. "You'd have to be very radical to defend what we have now."