The Past is the Future for Catalan Cuisine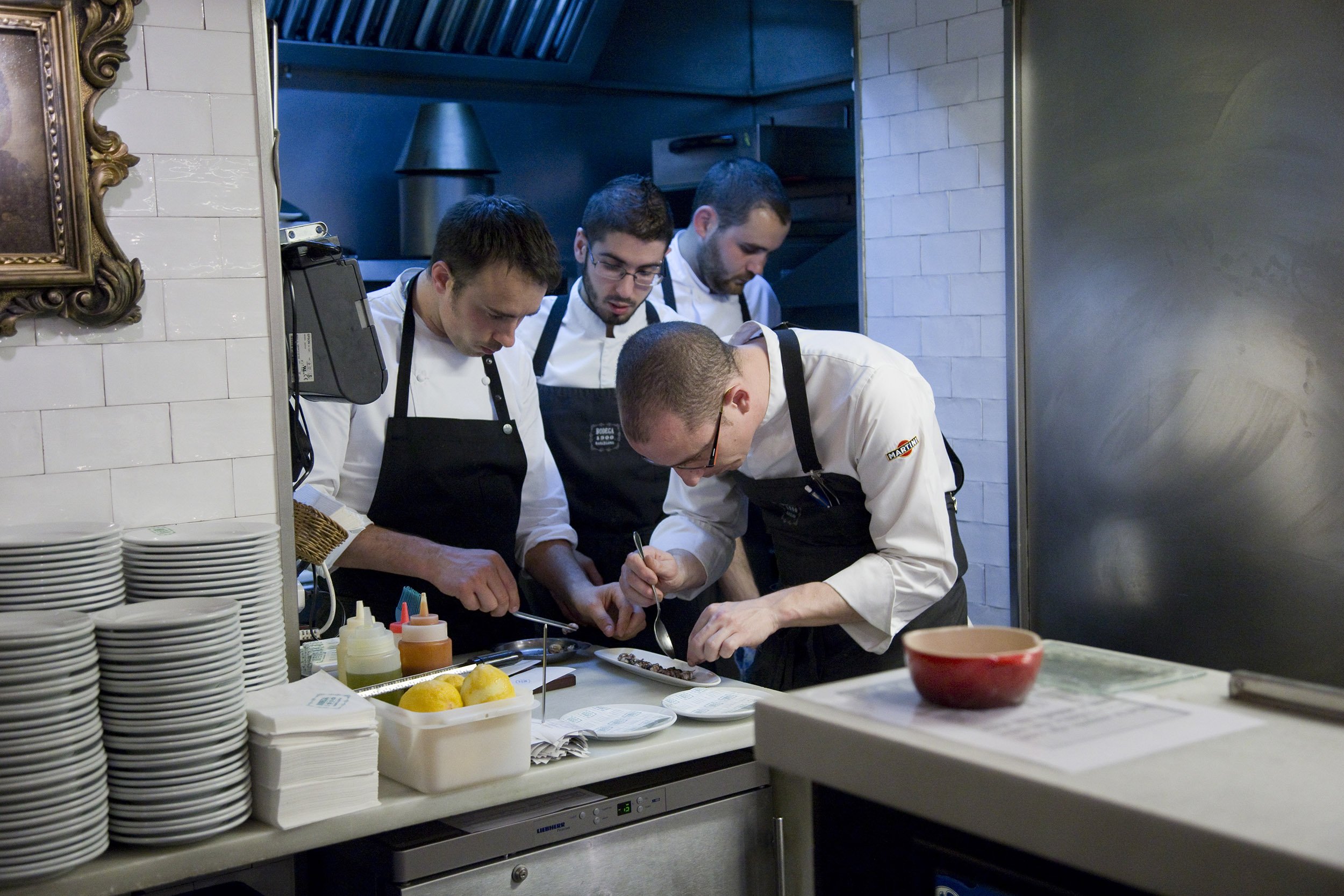 For about 20 years, Catalan cuisine was defined by the surreal genius of the cooks at elBulli, a seaside restaurant near the moderately charming town of Roses on Catalonia's Costa Brava.
With elBulli as their base, brothers Ferran and Albert Adri à became two of the most famous chefs in the world. The closure of elBulli in 2011 was international news. During his years at the restaurant, Ferran Adri à had become a master at using foams and culinary deconstruction to enhance flavor. The best way of describing an elBulli meal is that everything was turned on its head, resulting in dishes that both excited and puzzled. My last meal at elBulli consisted of 49 plates, including his signature dish of small spheres that appear to be olives but in fact are olive oil encased in edible gum. And there were even more bizarre dishes, such as blackberry risotto with hare sauce, as well as raw and cooked shrimp served with a paste made from its brains.
In the five years since elBulli's closure, Ferran Adri à appears to have slightly lost his way. Two years ago, the opening of an elBulli Foundation on the original site of the restaurant was talked about, but protesters objected to its location in the middle of a national park. A food lab in Barcelona—in association with Dom Pérignon—is dedicated to "deconstructing the entire process of creativity" or asking philosophical riddles, such as, "What is wine?" And Ferran has a collaboration with Cirque du Soleil in Ibiza, where he is "helping create a restaurant that is not a restaurant."
Albert Adrià is now the family's more active restaurateur. Based in Barcelona, 100 miles southwest of Roses, he has kept alive the elBulli philosophy at his restaurant Tickets—or "elBulli Lite," as some critics describe it—where he serves small, surprising plates, including grilled watermelon, and squid in its ink with almond paste.
Also in Barcelona is Disfrutar, headed by three former elBulli chefs, which has an equally molecular take on Catalan cuisine. Here, one will find dishes such as crispy egg yolk with mushroom gelatin or a mango sorbet sandwich with cardamom. The elBulli influence is clear.
The kind of culinary innovation practiced by the Adri à brothers and perpetuated by their former colleagues will always have a place, but Barcelona seems to be slowly defining itself by reinterpretations of its Mediterranean heritage rather than purely celebrating the avant-garde. This revisiting of classic Catalan cuisine is championed by Tribu Woki, a fast-growing group of organic markets and restaurants. It was founded in 2008 by Guido Weinberg, 44, a former banker from Argentina, who arrived in Barcelona in 2001 to work for a large restaurant group before branching out. Tribu Woki (which in English means "tribe of woks"—its first restaurant cooked takeaway food in woks) now has nine restaurants and six markets in Barcelona. "The Adri à brothers are great," he says, "but you need a lot of technique and machinery, and we are not looking to do that. For me, if you have really good produce and it is simple, it can't be beaten."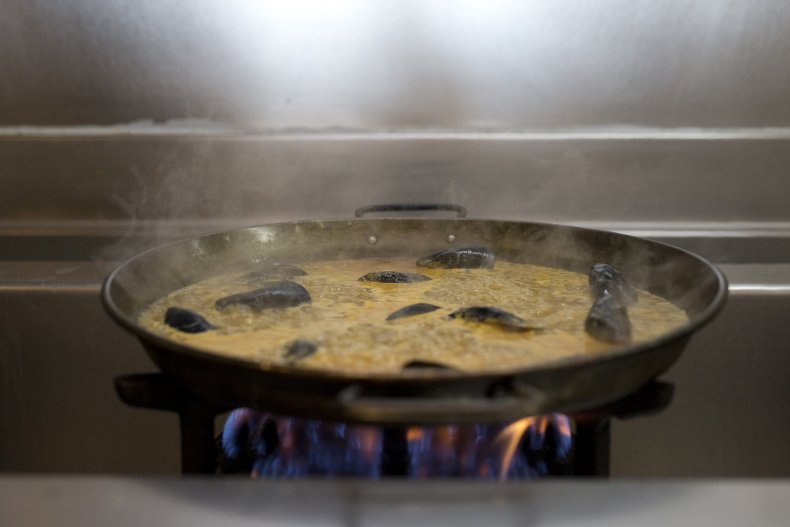 Barraca, Weinberg's casual seaside eatery in Barcelona, epitomizes that philosophy. The Andalusian calamari with tartar sauce features meltingly tender squid, with a slight crunch from tiny cubes of cornichons. The dark-hued seafood paella initially looks overcooked, but once you taste it, you realize its density comes from being saturated with umami and fresh seafood. "We just thought, Let's do a simple good restaurant on the beach without thinking about it too much. I just wanted good calamari, fish and paella," says Weinberg. "This should be the norm everywhere, but it isn't."
This apparent simplicity is not effortless; the supervising chef at Barraca is Xavier Pellicer, the most famous Catalan chef you have (probably) never heard of. Pellicer, formerly head chef at AbaC, one of the leading restaurants in Barcelona, also spent long stints at Can Fabes, just north of Barcelona, which in 1994 became the first Catalan restaurant to win three Michelin stars. Pellicer is now chief consultant for Tribu Woki and recently opened a vegetable-centric restaurant for the group called C é leri. Just along the same street, on the opposite side, is Coure, one of the city's first new wave bistros, opened in 2005 by chef Albert Ventura. There's nothing tricky about its food, which is moderately priced, and there's an even cheaper bar on the ground floor. The veal sweetbreads with gnocchi and black truffles, as well as the shoulder of lamb with a slice of perfectly seasoned aubergine, are wonderful largely because of the quality of Spanish produce used to make them.
One of the best things about the contemporary Barcelona food scene is its embrace of international culinary influences. Since the closure of elBulli, Albert Adri à has also opened successful restaurants serving Japanese-, Peruvian- and Mexican-influenced cuisine. Along with this celebration of international cuisine, he has opened a small vermuteria, or vermouth bar, called Bodega 1900, directly opposite Tickets.
Inside Bodega 1900, which I visited recently, are simple marble-topped tables, a tiled floor, old-fashioned postcards tacked to the rafters and Adri à family memorabilia. The only gesture toward elBulli—either in the décor or on the menu—is an appetizer of, yes, olives that aren't olives, and the dish now feels like a culinary cliché. Fortunately, the other dishes were exquisitely rendered classics such as razor clams in white escabeche sauce, green peas in a mushroom broth or fatty El Romero de Salamanca Iberian ham. Equally memorable was rubia gallega—thin slices of cured beef from Galician cattle. Bodega 1900 doesn't offer only Spanish produce—one of the most intriguing yet fulfilling combinations I ate on my recent visit was a plate of exquisite French oysters from Marennes-Oléron juxtaposed with simply grilled foie gras from Chalandray in western France.
The appetite for classical Catalan cuisine is obviously growing. Tribu Woki is opening three more organic markets and another restaurant in the coming year, and the focus will remain on high-quality, simple produce and dishes. Weinberg thinks food fashions go in cycles: "It swung too far toward technique and science and now is swinging back toward simplicity and product. This is also my philosophy—I like the idea of bringing things back to basics."