What Next for Catalonia? Police Violence at Independence Vote Leaves Spain With Big Questions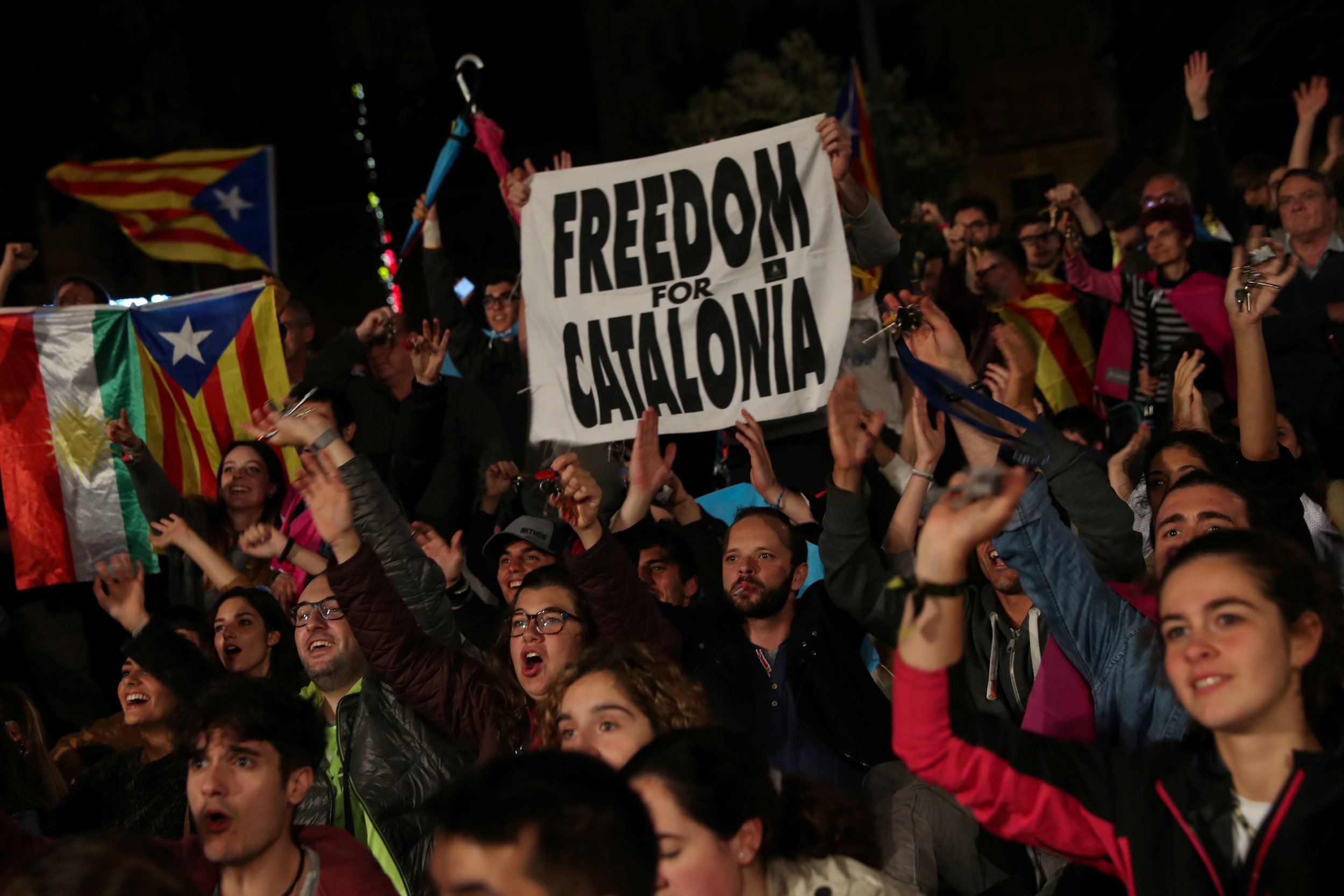 After a day of violence, protest, and fevered political maneuvering in the Spanish region of Catalonia, the country and the world, are waiting to hear what will happen next.
As Spain's authorities worked to shut down polling stations set up for a referendum on Catalan independence deemed illegal by central government, more than 760 people were injured in clashes with police, according to the regional government.
So after the bruising events of Sunday, what are the next steps for the region?
The referendum result
A little less than half the Catalan population voted in the poll for which mostly pro-independence politicians campaigned. Police attempts to shut down the polling stations made casting a ballot extremely difficult for many.
Of the 2.26 million votes that were cast, 90 percent were in favor of independence. One central question for Spanish people in the coming days is whether such a disrupted vote, called without central government authority, can ever be regarded as legitimate.
Catalonia's President Carles Puigdemont said that Catalans had "earned the right to have an independent state." He added that "My government, in the next few days, will send the results of today's vote to the Catalan parliament, where the sovereignty of our people lies."
But on the other side of the debate, Spain's Prime Minister Mariano Rajoy insisted that no valid democratic expression had taken place in Catalonia."There was no independence referendum in Catalonia today," the conservative premier said.
The next steps
The Catalan government is expected to made an announcement in the early afternoon local time today, following a cabinet meeting.
This is likely to confirm whether or not the government will ask the regional parliament to vote on a unilateral declaration of independence from Spain.
Following a previous, also centrally unrecognized, referendum vote in favor of secession back in 2014, and the subsequent election of a pro-independence coalition government, Catalonia began preparations for independence and says that many core building blocks of a self-sufficient state are already in place.
But the Spanish government would not recognize any such declaration as legitimate. It could even go so far as to activate article 155 of the Spanish constitution to suspend Catalonia's semi-autonomous status, a highly controversial move which would open up its own series of conflicts.
Alternatively, the Spanish government could open talks on concessions to Catalonia short of independence. A European Parliament lawmaker in Rajoy's People's Party (PP), Santiago Fisas, told Newsweek before the vote that he believed such a step was vital. As yet, however, there is no sign the party leadership agrees.
International opinion
Many world leaders have been reluctant to wade into an internal Spanish debate too boldly, though Scottish leader Nicola Sturgeon, whose government is similarly nationalist and itself wants to secede from the U.K., strongly condemned police violence and the behavior of the central government.
"Increasingly concerned by images from #Catalonia. Regardless of views on independence, we should all condemn the scenes being witnessed," Sturgeon tweeted.
But more important will be how Spain's fellow European Union heads of government and state, and Brussels authorities, handle the debate. So far, they have mostly stayed quiet, and on Monday a spokesperson for the commission delivered a fairly measured statement.
The spokesperson stated that "under the Spanish constitution, yesterday's vote in Catalonia was not legal," and asserted that Brussels "trust[s] the leadership of Prime Minister Mariano Rajoy to manage this difficult process."
But, he added, "These are times for unity and stability, not divisiveness and fragmentation," calling on all parties to ""move very swiftly from confrontation to dialogue."
In the long term, the EU's position is important because the Catalan government insists it will be able to be a member of state of the EU after independence. But the commission spokesperson stated today that, if a legal referendum were ever carried out, an independent Catalonia would find itself automatically outside the EU.
That question, of course, is at this point totally hypothetical; the issue of independence is far from settled.