Catalan Independence Latest Update: In Spain, Police Must Exit Barcelona Region, President Carles Puigdemont Says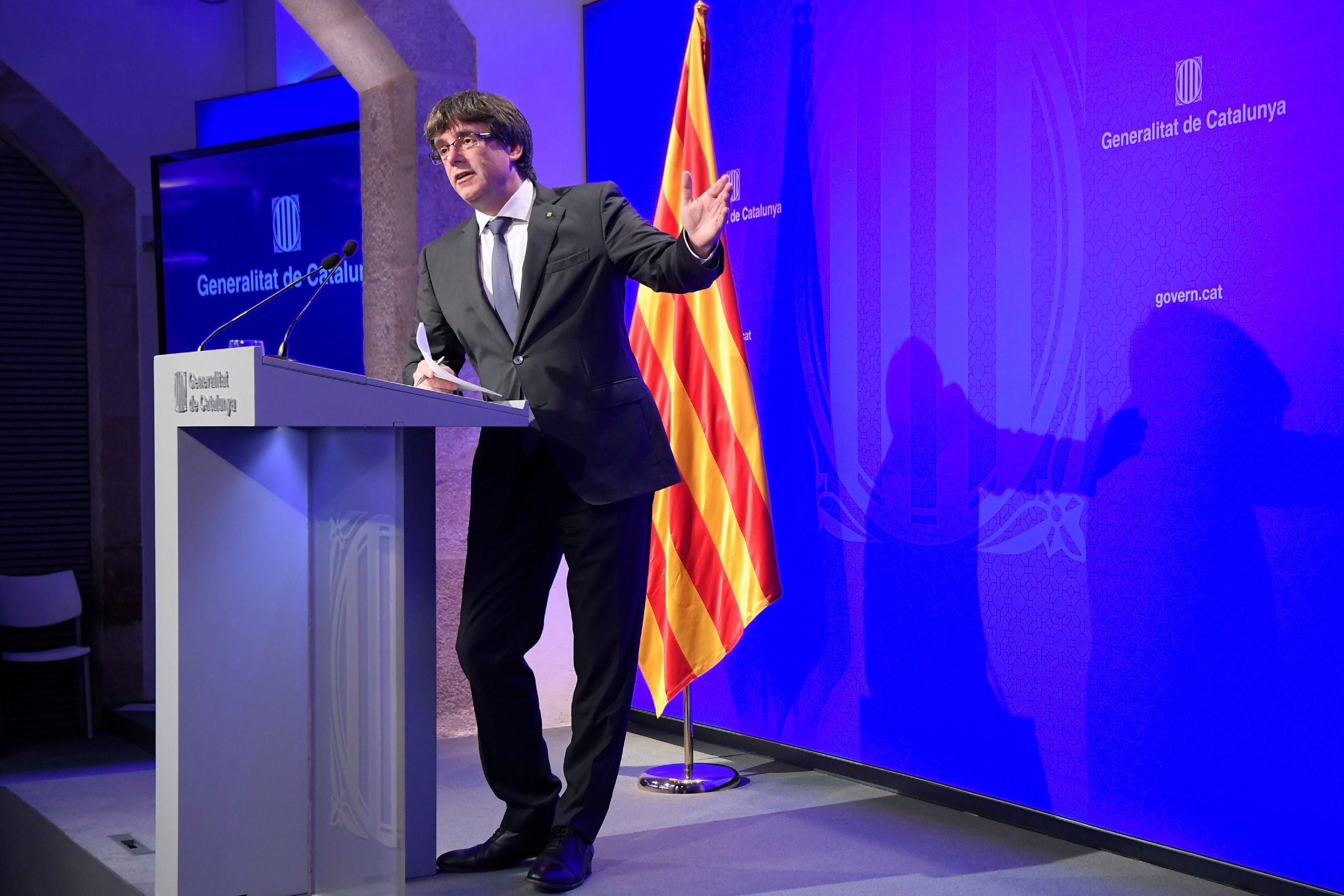 Catalonia's President Carles Puigdemont has insisted that the pro-secession result of Sunday's disputed referendum on independence for his region is binding on his government, in a statement that moves his administration one step closer to declaring independence from Spain.
Speaking at a press conference on Monday afternoon, in comments translated by The Spain Report, Puigdemont said that the plebiscite's outcome, in which 90 percent voted in favor of independence but less than half of eligible voters cast a ballot, was valid: "The result is binding and we have the duty to apply it," he said.
But Puigdemont also called for the EU to takes steps to mediate in talks between his administration and Spain's central government over the region's future, saying he had had "no contact" with Madrid.
Puigdemont added, "There is no other option; the Catalan Parliament must apply the results and take political decisions." A spokesperson for the government did not immediately respond to questions about exactly how the government planned to enact the result. It is not yet clear whether a unilateral declaration of independence is planned.
Either way, Puigdemont's account runs directly contrary to the central Spanish government's view of the situation, which holds the referendum to be illegal and the result to be invalid. Spain's constitutional court had also ordered the referendum to be suspended earlier in September.
Puigdemont hit out at the heavy-handed policing of the referendum by national police forces, who were pictured in national and international media confiscating ballot boxes and dragging Catalan voters, older people among them, out of polling stations.
"We demand the withdrawal of the state police forces that have been deployed in a country that has always acted peacefully," Puigdemont said, despite the fact that national police and civil guard military police operate across the whole of Spain, including Catalonia.
He said he would set up a special commission to investigate the alleged violation of "fundamental rights" during the referendum process. More than 760 people were injured in clashes with police on Sunday, according to the Catalan government; pro-independence websites were blocked and Catalan government officials were arrested in the lead-up to the vote.
The European Commission in Brussels issued a statement Monday calling on "all relevant players to now move very swiftly from confrontation to dialogue," stating that "violence can never be an instrument in politics," but broadly backing the position of the Madrid government led by Prime Minister Mariano Rajoy.
"We trust the leadership of Prime Minister Mariano Rajoy to manage this difficult process in full respect of the Spanish Constitution and of the fundamental rights of citizens enshrined therein," the statement said, adding, "Under the Spanish Constitution, yesterday's vote in Catalonia was not legal."