Catalonia Referendum: Spanish Police Smash Into Polling Stations in Vote Crackdown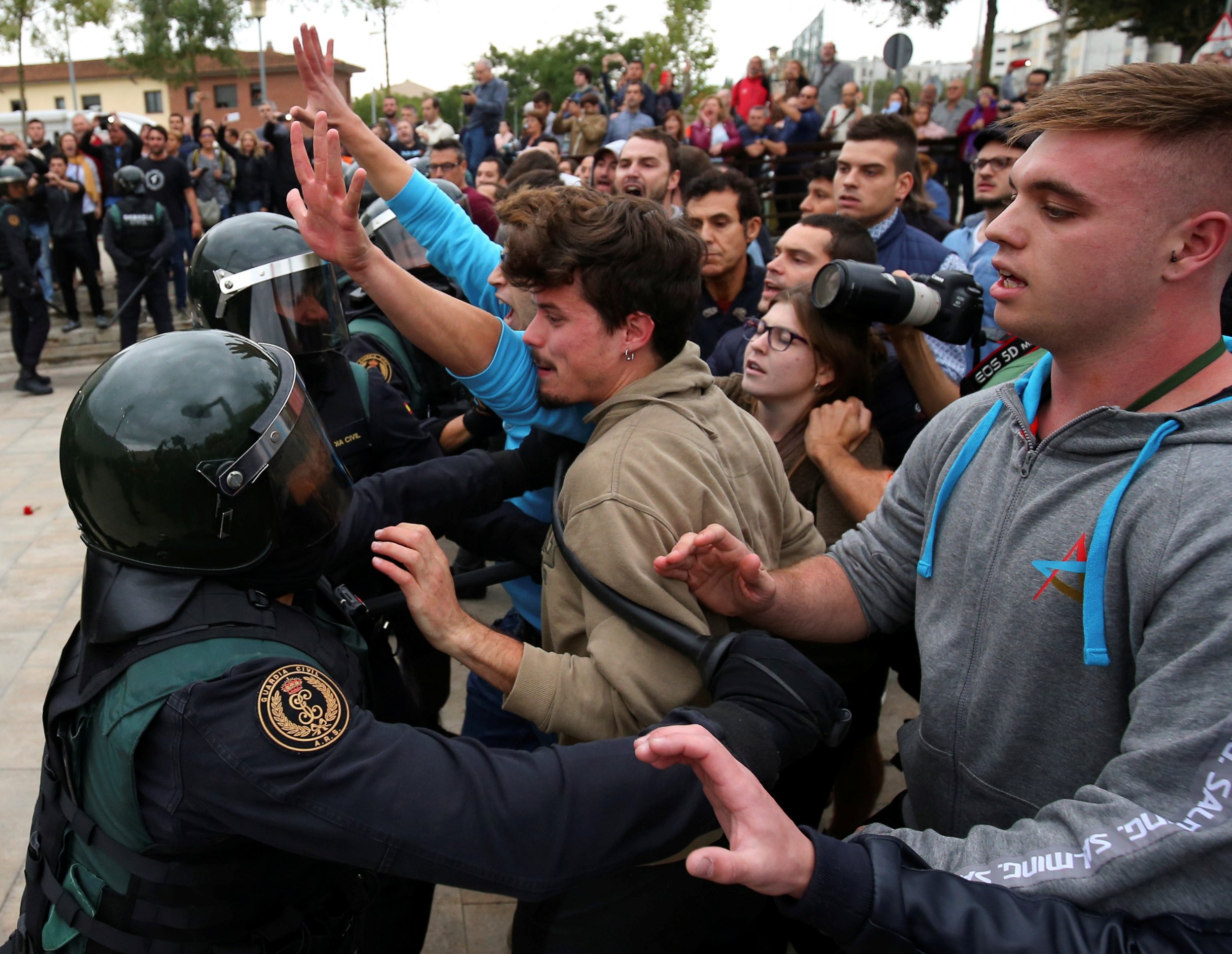 Update: 9.37 a.m. ET - Catalan officials say more than 300 people have been injured in clashes with police during the referendum.
Spanish police began cracking down on Catalonia's banned independence referendum on Sunday morning, with riot police smashing their way into the polling station where the region's president Carles Puigdemont was expected to show up to vote.
The vote, called by Catalonia's pro-independence government, asks citizens whether they want the country to become a republic independent from Spain.
But the Spanish constitutional court has suspended it and the central government considers it to be illegal.
On Sunday the country's interior ministry said that police had begun seizing ballot papers and boxes in an attempt to quash the plebiscite, as thousands of separatists occupied public buildings such as schools that had been marked out as polling stations.
Activists have built makeshift blockades to make it harder for authorities to enter.
The Associated Press reported that officers from the national Civil Guard police force wearing helmets and bearing riot shields used a hammer and a lock cutter to force entry to the Sant Julia de Ramis sports center near the city of Girona hours before Puigdemont was expected to show up and cast his ballot.
Workers at the polling station responded with songs and chants that laid into the officers.
Footage from a polling station in Barcelona showed protesters repelling police who were seeking to disrupt voting. Clashes are likely to continue through Sunday.
If Catalans do manage to cast votes in significant numbers it is likely they will show a victory for the independence side, because anti-independence parties and voters have not been campaigning and many do not regard the referendum as legitimate. Public opinion across the whole Catalan population is divided.
The unrest follows days of tough policing by central government, who have chartered cruise ships to house extra officers drafted in from around the country, and who have claimed control over the regional police force the Mossos d'Esquadra.
Catalan government officials have been arrested and some pro-independence websites have been shut down.
Spain's constitution does not provide for votes on independence to take place and there is little appetite in the Madrid government or parliament to change it. But the Catalan government insists it is not breaking the law by holding the vote and has accused Spain of hindering democracy.
The wealthy region in the Northeast of Spain has enjoyed varying degrees of autonomy throughout history and has its own language, Catalan.