Catch and Kill: The Podcast Tapes brings Ronan Farrow's podcast and book, "Catch and Kill: Lies, Spies, and a Conspiracy to Protect Predators," to life, featuring on-screen interviews, archival footage, and official documents.
In the fourth episode of the documentary series, Farrow and investigative journalist and producer Rich McHugh reflect on NBC shutting down their story relating to allegations of sexual assault against Harvey Weinstein.
The investigative duo had carried out several interviews with victims, including actor Rose McGowan, one of the first people to speak out about sexual assault and harassment, particularly concerning Harvey Weinstein. But as more and more women came forward to speak to Farrow, NBC News President Noah Oppenheim asked him and McHugh to pause their reporting, citing concerns over the legal implications of Farrow talking to a woman who had signed non-disclosure agreements.
On August 18, 2017, eight months after their reporting began, Farrow and McHugh were ordered to cease all reporting in relation to Weinstein.
In the end, Farrow decided to take his investigative reporting to The New Yorker, publishing the groundbreaking article "From Aggressive Overtures to Sexual Assault: Harvey Weinstein's Accusers Tell Their Stories" in October 2017.
Farrow then published Catch and Kill: Lies, Spies, and a Conspiracy to Protect Predators, which includes an interview with former NBC News employee Brooke Nevils about her encounter with Matt Lauer.
On August 30, 2018, an NBC News Spokesperson issued a statement regarding Farrow and McHugh's claims that NBC killed their story on Weinstein.
The statement read: "The assertion that NBC News tried to kill the Weinstein story while Ronan Farrow was at NBC News, or even more ludicrously, after he left NBC News, is an outright lie. In August of 2017, after NBC News assigned Ronan Farrow to investigate Weinstein and supported his reporting efforts for seven months, Farrow believed his reporting was ready for air. NBC disagreed because, unfortunately, he did not yet have a single victim of―or witness to―misconduct by Weinstein who was willing to be identified.
"Dissatisfied with that decision, Farrow chose to leave for a print outlet that he said was willing to publish immediately. NBC News told him 'we will not stand in your way,' and allowed him to take his reporting to The New Yorker, where, two months later, he published a strong piece that cited the following victims by name: Asia Argento, Mira Sorvino, Rosanna Arquette, Lucia Evans, Emma de Caunes, Jessica Barth, and Sophie Dix. Not one of these seven women was included in the reporting Farrow presented while at NBC News."
On October 14, 2019, Noah Oppenheim in a note to staff stated: "Farrow's effort to defame NBC News is clearly motivated not by a pursuit of truth, but an axe to grind. It is built on a series of distortions, confused timelines, and outright inaccuracies."
"As he now acknowledges, NBC assigned Farrow the Weinstein story and actively supported it, editorially and financially, for seven months. We encouraged Farrow to go back to Rose McGowan and get her to name Harvey Weinstein on camera, we encouraged him to get the full Gutierrez recording and to arrange for his editor and an NBC lawyer to meet with her, and we repeatedly encouraged him to get a victim or witness on camera, on the record. He was unable to do so during his time at NBC."
Who is Matt Lauer?
Matt Lauer is an American journalist and former television news personality, best known for his career at NBC news.
He joined the company in 1992 as co-anchor of the early weekday news show Today in New York.
He became recognizable across the U.S. after landing the role of news anchor for The Today Show, a role he fulfilled between 1994 and 1997.
Lauer then became co-host of NBC's Today, from 1997 until he was fired from the company in November 2017 following allegations of "inappropriate sexual behaviour in the workplace" from an unidentified female NBC employee.
The woman had reported that Lauer had sexually harassed her as they covered the 2014 Winter Olympics in Sochi, Russia. She also alleged the harassment continued when they returned to New York.
In a statement after his firing, Lauer apologized for his behavior, saying: "Some of what is being said about me is untrue or mischaracterized, but there is enough truth in these stories to make me feel embarrassed and ashamed."
He added: "Repairing the damage will take a lot of time and soul searching and I'm committed to beginning that effort. It is now my full-time job. The last two days have forced me to take a very hard look at my own troubling flaws. It's been humbling. I am blessed to be surrounded by the people I love. I thank them for their patience and grace."
In Catch and Kill: The Podcast Tapes, Farrow recalls a few weeks after his article broke in The New Yorker in October 2017, there was "more news" out of NBC. Farrow and McHugh then address Lauer's firing directly and the connection to their Weinstein reporting, which had been shut down in August 2017.
McHugh recalled Noah Oppenheim arranging a meeting with staff after the firing was announced. He said: "He calls this meeting and walks through how it is a sad day at NBC and Matt Lauer is fired and a brave young woman came forward and she described allegations against him which were serious so we took action and we fired him."
At the meeting, Oppenheim told staff this was the first time any formal allegations had been made against Lauer. McHugh searched through files for any hidden records, but found nothing.
He said: "We went back and looked. We looked in all the files and every room in this building and there was nothing. Nothing about Matt Lauer."
Farrow then explains that over the next few months Oppenheim and Kim Harris, the NBC Universal lawyer, would "swear" they hadn't been aware of any complaints of sexual misconduct against Lauer or anybody else for that matter. They more broadly insisted they had not made any "sexual harassment settlements" with anyone involved at the company in the prior six or seven years.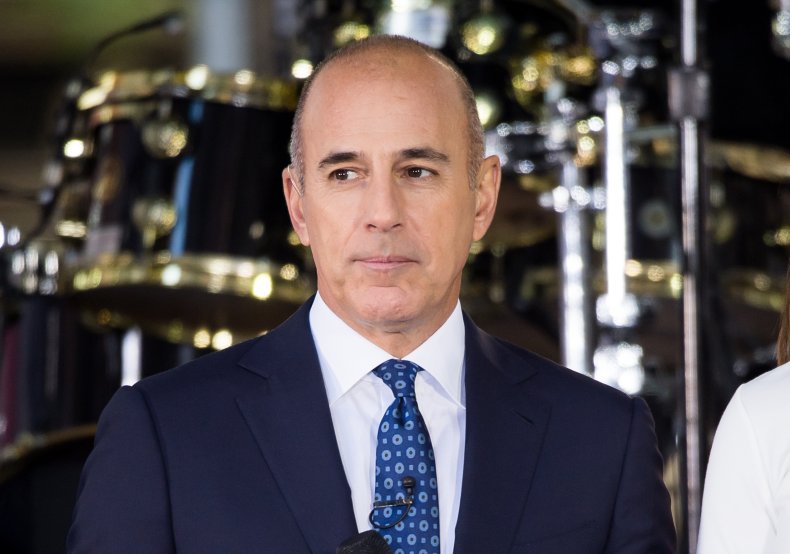 However, Farrow found that within the timeline Oppenheim and Harris were setting, there had been seven sexual harassment settlements with women, known as "enhanced severance." They were agreements that tied non-disclosure provisions with large amounts of money as the women left or were "forced out" of their jobs.
Farrow concluded: "So as NBC was arguing it was impossible for us to report on Harvey Weinstein's sexual harassment settlements, they were upholding their own."
When the news of Lauer's firing was announced, Andrew Lack, chairman of NBC News, sent a memo to staff that said: "On Monday night, we received a detailed complaint from a colleague about inappropriate sexual behaviour in the workplace by Matt Lauer.
"While it is the first complaint about his behaviour in the over 20 years he's been at NBC News, we were also presented with reason to believe this may not have been an isolated incident.''
In Catch and Kill: Lies, Spies, and a Conspiracy to Protect Predators Farrow cites two sources from American Media Inc.—publisher of the National Enquirer— who stated Weinstein had made it known to NBC he was aware of Lauer's sexual misconduct and could make the details public. Both Farrow and McHugh believe NBC decided to shut down their Weinstein story to protect Lauer and their reputation.
NBC in a statement to Vanity Fair, denied that it had received threats from American Media Inc.
Going Public With Allegations
Within two weeks of Lauer's firing, more women went public with sexual assault allegations against Lauer. NBC acknowledged three other cases of sexual misconduct at the hands of Lauer between 2000 and 2007, Esquire reported.
In his book, Farrow reveals one of the alleged victims to be Brooke Nevils, who said Lauer anally raped her in his hotel room while the two were in Sochi covering the 2014 Winter Olympics for NBC.
Farrow also noted in his book that Nevils had sexual encounters after the initial rape, but that she had insisted these were "transactional" and only participated out of fear for her career.
Following the release of Farrow's book in October 2019 in which Nevils alleged Lauer raped her, Lauer wrote an open letter in Mediaite, confirming he had had consensual sexual relations with Nevils and that it had started in 2014 in Sochi.
He denied their first encounter at Sochi had been "non-consensual" adding the claims in the book were "categorically false, ignores the facts, and defies common sense."
Today, very little is known about Lauer. On September 7, 2019, Lauer and his wife of 20 years divorced, following two years of separation.
In December 2019, he began dating his close friend of 15 years, Shamin Abas.
Catch and Kill: The Podcast Tapes airs Mondays at 10 p.m. ET on HBO. Episodes 1 to 4 are streaming on HBO Max now.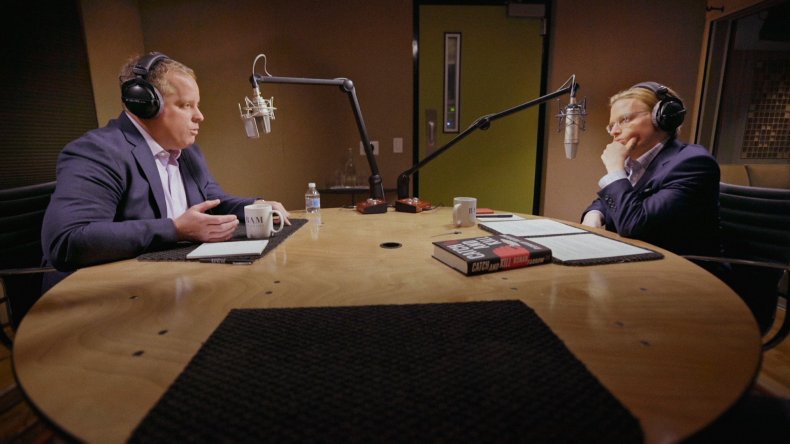 Update 7/21/21, 11:30 a.m. ET: This article was updated to include historic statements from NBC.