'Catch and Kill' Directors on Bringing Ronan Farrow's Podcast to Life
Catch and Kill: The Podcast Tapes is available to stream now via HBO Max. Across six episodes, the intimate series brings to life Ronan Farrow's podcast and best-selling book Catch and Kill: Lies, Spies, and A Conspiracy to Protect Predators.
In October 2017, Farrow was behind one of the investigative journalism pieces which brought allegations of sexual harassment against film producer Harvey Weinstein into the public eye. He wrote the article "From Aggressive Overtures to Sexual Assault: Harvey Weinstein's Accusers Tell Their Stories," for The New Yorker, which featured interviews with multiple women who shared their accounts of sexual assault and harassment by Weinstein.
His story came five days after The New York Times published the findings of its own investigation into Weinstein.
The series comes from Emmy-winners Fenton Bailey and Randy Barbato and features never-before-seen footage of Farrow interviewing those who helped him break the Harvey Weinstein story and some of Weinstein's victims. The series also features imagery from official documents, alongside audiotapes, photographs, and archival footage to bring Farrow's Pulitzer Prize-winning work to the screen.
Speaking to Newsweek, Bailey and Barbato described the series as an "emotional rollercoaster ride."
They said: "This is the story of the story. The years-long struggle to expose Harvey Weinstein and bring him to justice is an emotional rollercoaster ride and plays out like a thriller with twists and turns along the way."
"Our intention was to make sure that the Ronan interviews remained front and center. So instead of shooting re-enactments, we opted to create abstract imagery and try to use that sparingly and judiciously, so as not to clutter or take attention away from what they were saying. We worked very closely with Ronan who has reported and researched this story for many years. We wanted to keep the focus on the victims and the people trying to get the story out."
Just like the podcast and the original book, Catch and Kill: The Podcast Tapes delves into Farrow's effort to expose movie mogul Harvey Weinstein. It also looks like at the attempts of powerful people and the systems used to try and cover up those crimes.
Several of Weinstein's victims feature in the documentary series, including Ambra Gutierrez and Rowena Chiu.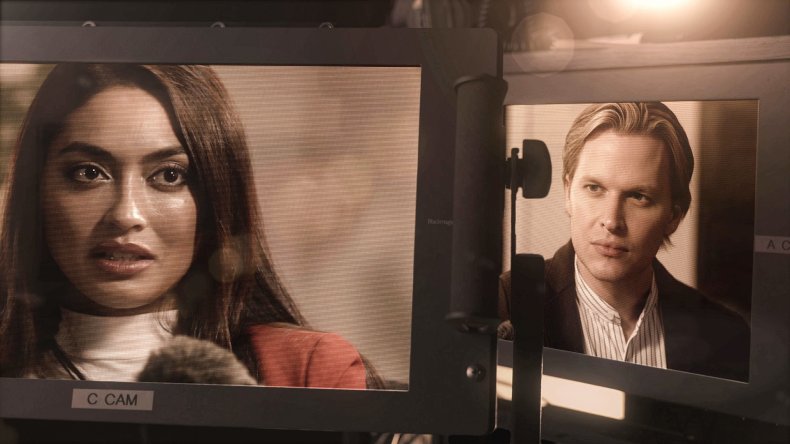 Bailey and Barbato reflected: "It was the power of seeing Harvey Weinstein's victims describe what happened to them. It's one thing to read or even listen to someone describe their trauma, but to be able to look in their eyes as they relive it is something else altogether. That emotional dimension can sometimes be missing from this well-covered story."
Episodes of Catch and Kill: The Podcast Tapes look at the systems and people who covered up Weinstein's crimes.
Bailey and Barbato commented: "It's not just Harvey Weinstein's crimes, it's the lengths he would go to to try and cover them up. He used his network of friends in high places— from the media to law enforcement—to keep the truth from coming out for years. He even resorted to hiring people to spy on the reporters working to bring the truth to light."
In particular, episode four focuses on the work Farrow and producer Rich McHugh did on the Weinstein story at NBC before it was pulled by the network.
On August 30, 2018, an NBC News spokesperson issued a statement regarding Farrow and McHugh's claims that NBC killed their story on Weinstein.
The statement read: "The assertion that NBC News tried to kill the Weinstein story while Ronan Farrow was at NBC News, or even more ludicrously after he left NBC News, is an outright lie. In August of 2017, after NBC News assigned Ronan Farrow to investigate Weinstein and supported his reporting efforts for seven months, Farrow believed his reporting was ready for air. NBC disagreed because, unfortunately, he did not yet have a single victim of―or witness to―misconduct by Weinstein who was willing to be identified.
"Dissatisfied with that decision, Farrow chose to leave for a print outlet that he said was willing to publish immediately. NBC News told him 'we will not stand in your way,' and allowed him to take his reporting to The New Yorker, where, two months later, he published a strong piece that cited the following victims by name: Asia Argento, Mira Sorvino, Rosanna Arquette, Lucia Evans, Emma de Caunes, Jessica Barth, and Sophie Dix. Not one of these seven women was included in the reporting Farrow presented while at NBC News."
As for the message they want Catch and Kill: The Podcast Tapes to send, Bailey and Barbato shared: "That the truth will out even if it is a struggle and takes time. As a society the price we pay for failing to stand up to a bully is high. Just how high a price we saw when a man accused by two dozen women of sexual harassment, assault, and even rape managed to become president."
They added: "What matters most is that he has been brought to justice and the length of the sentence is a matter for the courts. After watching this series it will be hard for anyone to credit Harvey Weinstein's denials as anything other than a bare-faced lie."
In May 2018, Weinstein was arrested in New York and charged with rape, and several counts of sexual abuse.
In February 2020, he was found guilty of rape in the third degree and a criminal sexual act. He was sentenced to 23 years imprisonment in March 2020.
His earliest possible release date is November 9, 2039, when he would be 87 years old.
Catch and Kill: The Podcast Tapes is streaming on HBO Max now.