Catching Up With 'Orphan Black'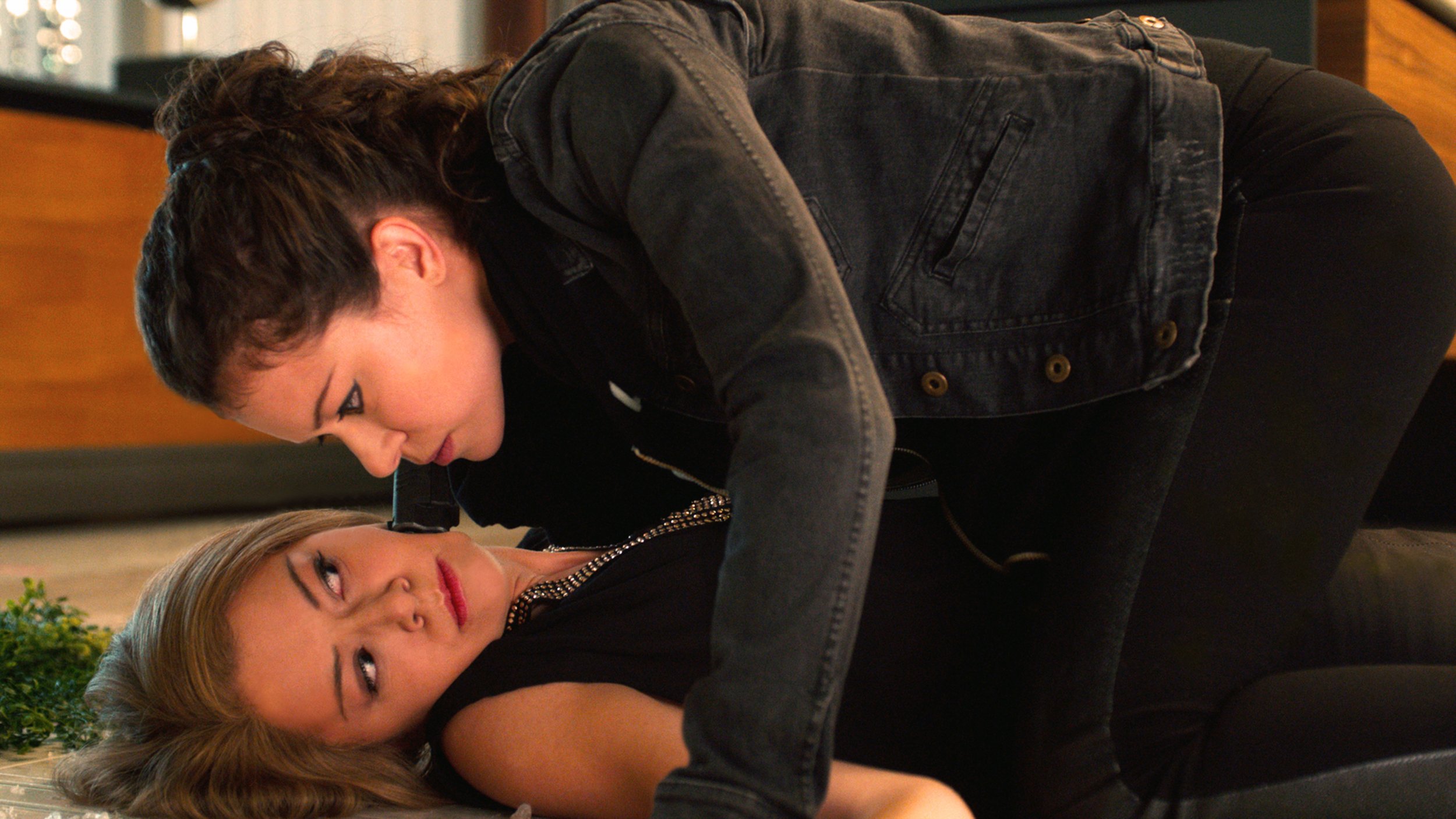 Orphan Black is both as clearly and as unclearly Canadian as TV gets. The series is set, filmed and edited in Toronto; it stars a mostly-Canuck cast—with the exception of Irish-born Maria Doyle Kennedy (Mrs. S); and it was created by two Canadian writers, John Fawcett and Graeme Manson.
It's less clearly Canadian because it airs on BBC America—where it's about to head into its third season—and the story centers on a British woman, with a plotline more disorienting than a tumbler of Newfoundland Screech. There are Ukranian creationist cults, Canadian creationist cults, evil megalomaniac scientists who throw druggy Michael Alig-style raves, corporate conspiracies, police conspiracies, government conspiracies. The characters' sexuality and gender issues are stickier than maple syrup.
Oh, and there are clones—clones who are sick with mysterious illnesses and clones who want to kill other clones. At least 10 have appeared onscreen. By the end of season two (warning: spoilers ahead), a British con artist clone, a Toronto cop clone, a German punk clone, a suburban mom clone, a serial-killer Ukranian clone, a goateed transgender clone, a lesbian scientist clone, a dead Midwestern swimmer clone, an evil dominatrix clone in a power suit and a disabled 8-year-old clone had all entered the story—and all except the kid were played by Tatiana Maslany.
Creators Fawcett and Manson met in Toronto during the 1990s, and though both took classes at Canadian Film Center, they didn't work together until the 2001 TV movie My Daughter's Secret Life. They started writing Orphan Black that year, at first as a "high-concept feature film." Their inspiration? Fast-paced movies of the era such as Memento and Run, Lola, Run.
All they had was Fawcett's idea for the opening scene: Girl gets off a train, sees another girl who could be her identical twin and makes eye contact at the moment her doppelgänger leaps in front of a moving train and kills herself. As Fawcett and Manson batted plot points back and forth, the girls morphed into clones.
Manson, whose credits include the sci-fi horror hit Cube, liked the concept because "it wasn't the typical 'find clones in a room full of drawers.'" These clones would be in plain sight, everywhere. Manson want a twisty structure in which "you're in the shoes of the main character, and you don't know where the next turn is going. You know, when someone calls you and says, 'I saw you walking down the street today at 2 o'clock.' And you say, 'Dude, that wasn't me.' I love that mystery—a rabbit-hole thriller."
As the show's April 18 third season premiere approaches, the duo agreed to get everyone up to speed with the many Maslany characters currently in rotation. So how would they sum up the show for a first-time viewer who's going into season three blind? "You mean after Tatiana gets off a train and sees Tatiana, and Tatiana kills herself?" asks Manson. "So Tatiana takes Tatiana's identity and soon meets two more Tatianas. Another Tatiana is hunting them, so Tatiana shoots Tatiana. But Tatiana doesn't die. Tatiana turns out to be the sister of Tatiana. Another evil Tatiana wants to control all the Tatianas. Tatiana ass-kicks Tatiana. Then Tatiana has to kick a lot of ass to keep her daughter, Kira, safe."
Ah, Kira!
"Tatiana gets stabbed in the eye by a pencil-spewing fire extinguisher," adds Fawcett. "And all the other Tatianas celebrate through the expression of dance."
Sort of a tit-for-Tatiana.
Season three of Orphan Black premieres Saturday, April 18, on BBC America.
Correction: This article originally incorrectly stated that one of the clones is Russian, she is Ukrainian.