Tropical Cyclone Harold Hits Vanuatu as It Is Upgraded to a Category 5 Storm
A category 5 tropical storm with 134-mile winds is tearing through the South Pacific Island nation of Vanuatu—threatening the country's so-far-successful efforts to remain free of the novel coronavirus.
According to the Fiji Meteorological Service, Tropical Cyclone Harold made landfill in the early evening, reaching Espiritu Santo—Vanuatu's largest island—around 5:00 p.m local time (2:00 a.m. EST) on Monday, April 6.
In response, the Vanuatu Meteorology and Geo-hazards Department (VMGD) issued a statement warning residents of the expected impact.
"Damaging gale force winds, destructive storm force winds and hurricane force winds with heavy rainfalls and flash flooding over low lying areas and areas close to river banks including coastal flooding is expected over Sanma, Malampa and Penama Provinces and extending to Torba and Shefa tonight," the statement said.
"Very rough to phenomenal seas with heavy to phenomenal swells are expected over northern and central open and coastal waters tonight as the system continues to move through the Central Islands of Vanuatu. High Seas wind warning and a Marine strong wind warning are current for all coastal and open waters of Vanuatu. People, including sea going vessels are strongly advised not to go out to sea within affected area until the system has moved out of the area."
According to the Bureau of Meteorology in Queensland, Australia, sustained winds are exceeding 125 mph, with gusts reaching 186 mph.
"There is lots of damage in Sanma, they lost lots of buildings," Jacqueline de Gaillande, CEO of Vanuatu Red Cross, told Reuters, adding coronavirus travel restrictions may hinder the provision of aid. "We don't know if we can provide any supports to the island because we are not allowed to travel inter-island and we are waiting for the government to make that decision."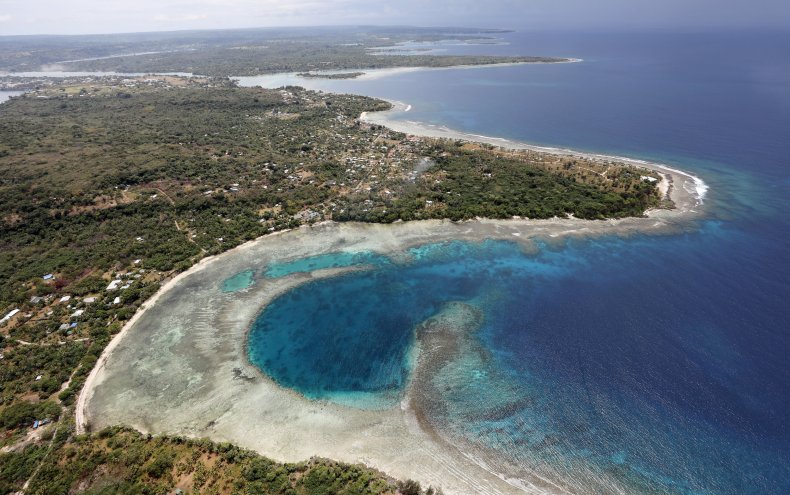 Vanuatu has been one of a handful of countries that has managed to remain free of the new coronavirus during the pandemic. Its success has been credited to social distancing measures and the closure of its international borders, AFP reports. However, aid workers are concerned an environmental shock could threaten its COVID-19-free status.
"There have been no confirmed cases of COVID-19 in Vanuatu, but a significant disaster at this time could present serious logistical challenges to delivering life-saving aid," Elizabeth Faerua, Oxfam Vanuatu Country Director, told AFP.
Carl Gustav Lorentzen, Communications Manager for the International Federation of Red Cross and Red Crescent Societies (IFRC) Pacific Region, said activities aimed at preventing an outbreak "are on hold" as teams focus on responding to Tropical Cyclone Harold. "Social distancing is a difficult practice in these hours and tough decisions are being made," he said on Twitter.
Footage shot by IRFC Sanma RC Branch manager Shirley Johnson showed conditions in the province.
According to the Fiji Meteorological Service, Cyclone Harold is expected to slow down to a Category 4 storm on Tuesday, April 7 and a Category 3 storm on Wednesday, April 8.
According to the VMGD, the land and sea area of Vanuatu experiences between two and three cyclones each season. These seasons take place between November and April with the greatest frequency of storms occurring in January and February.
Each decade, the country is hit by three to five storms that cause severe damage. The last time a major cyclone hit the region was in 2015 when Cyclone Pam struck, destroying buildings and homes across Vanuata and killing dozens.