Did Catelynn and Tyler Baltierra Break Up? 'Teen Mom' Stars 'Live Separately' Following Cheating Rumors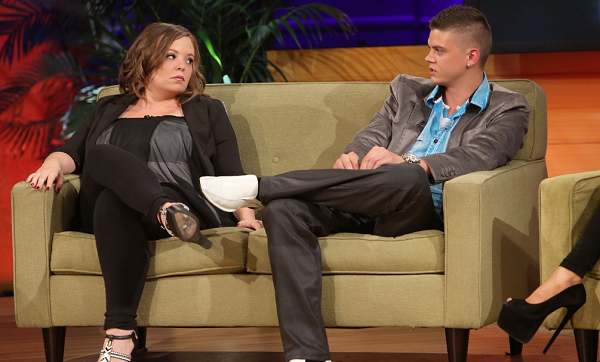 Catelynn and Tyler Baltierra's marriage has been on the rocks since the start of Season 7 of Teen Mom OG. On Monday's show, the couple's relationship hit a roadblock bigger than any other: Tyler decided to temporarily move out of their home.
After spending time at a couple's therapy facility in Sedona, Arizona, Tyler suggested spending some time apart from his wife and the home they share with their daughter on Monday night's episode. The couple's decision came not long after Catelynn revealed they were expecting their third child together.
"Getting pregnant was very unexpected since we still have a lot of work to do on our relationship," Catelynn told producers. "I know Tyler has been frustrated in our marriage for a while and has been seeing a therapist."
She added: "He decided he wanted to try living separately for a month. I was devastated at first, but now that I've started my own therapy I'm more comfortable with the idea."
The couple has been together since they first appeared on the MTV reality show that essentially started the Teen Mom franchise, 16 and Pregnant, in 2009. At the time Catelynn and Tyler were expecting their first child, a little girl named Carly, whom they decided to give up for adoption. Despite breaking up on various occasions, the couple remained together over the years and married in 2015 upon the arrival of their second child, a daughter named NovaLee Reign.
While speaking with an MTV producer, Catelynn said, "We've been together for so long that it's like who are you as a person, by yourself?"
"At that moment it did trigger me, it did bring up wounds, it was scary, it was sad, it was hurtful," she continued. "With the things that I've been through, people saying they want to leave—it seriously does feel like somebody died."
Later in the episode, Catelynn explained to another MTV producer that the separation didn't give either of them free reign to date other people. "We've had that discussion where we're both like, 'We don't want to see other people,'" she said. "We're not getting a divorce or anything. I was getting super triggered from my childhood trauma, [thinking] he was going to abandon me."
She continued: "I even texted him and asked, 'Is there somebody else?' He said, 'What the f**k? Do you think that I would cheat on you?' In my heart of hearts, no, but it was just so blindsiding. Like, what the f**k is going on?"
Despite her feelings toward the separation, Catelynn later admitted spending time apart could be a good thing for both of them. "I feel like the separation thing is going to be hard, but it'd be good for me in a way. I'll have time to really focus on me and Nova," she said.
"It's always just been like Cate and Ty, Cate and Ty, Cate and Ty," she concluded.