'Catherine the Great' HBO: Jason Clarke on Playing Helen Mirren's 'Lover, Fighter, Poet' Grigory Potemkin
Catherine the Great, the lavish period drama starring Helen Mirren, has been released internationally on Sky Atlantic prior to its release on HBO on October 21.
Jason Clarke starts in the series as Grigory Potemkin, the eyepatch-wearing younger lover of the Russian queen throughout her later years as a monarch.
Newsweek spoke to Clarke at the world premiere of the Sky and HBO series about playing the roguish character, working with Helen Mirren and filming where no show has ever filmed before.
Asked to sum up his character, Clarke described him as a "lover, fighter, poet, wine enthusiast," which goes some way to bringing to life this key figure to the reign of Catherine the Great.
In Robert K Massie's definitive biography Catherine the Great: Portrait of a Woman, Potemkin is described as "the most powerful man in Russia" between 1774 and 1791, acting as Catherine's "lover, advisor, her military commander in chief, the governor and viceroy of half her empire, the creator of her new cities, seaports, palaces, army, and fleets" as well as "perhaps, her husband."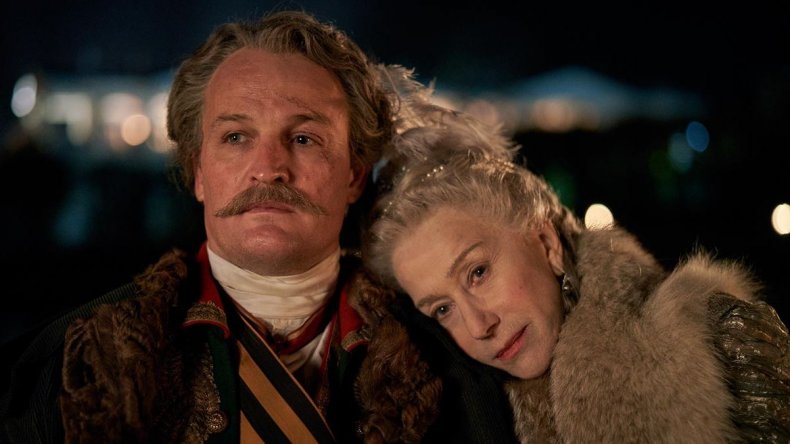 As such, Potemkin was the subject of much jealousy in the court of Catherine the Great, and it may have been this that lost him sight in his left eye.
As seen in the HBO series, this happened after Potemkin was attacked by Grigory (played by Richard Roxburgh) and Alexei Orlov (Kevin McNally) when he usurped them as the queen's favourite, though this has been disputed by historians (Massie, for example, blames the actions of an incompetent doctor treating an infection as the reason for the sight loss).
In preparing for the role, Clarke soaked up as much of the history—both fact and rumour—about Potemkin as he could, as well as every book on Russian history he could get his hands on.
Clarke told Newsweek: "I learned a lot about Russia. We all understand, I think, post-communist, post-revolutionary Russia, but the thousand years before that, there's all the art and the writing they've given us.
"It's an extraordinary time, and it was a nation ruled by a woman who was German. Wrap your head around that in 1670. It's a complex place, full of a lot more than we give it credit for."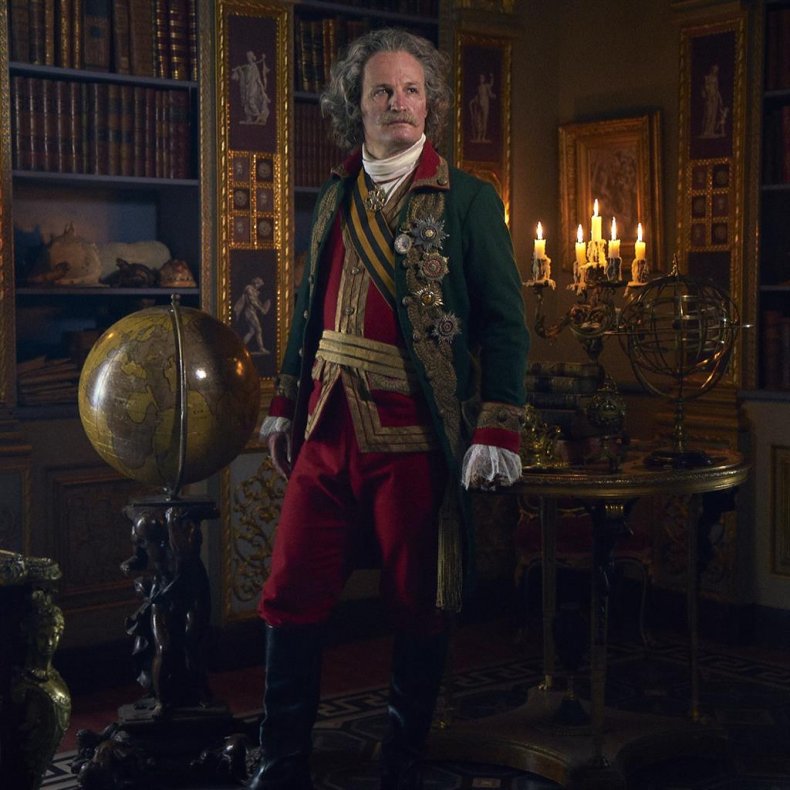 This feeling of being immersed in Russian history was helped by filming in the actual Russian palaces Catherine the Great resided in, some of which are appearing on screen for the first time. Clarke said: "It was [a] one-off. There was a couple of places where they've never let anybody in.
"The people who tend these palaces are very proud of what they do, but they're also very, you know, 'nyet nyet nyet'—there's very strict rules. But at the end of the day, there I am with Helen and we're standing on this floor that not many people are allowed to stand on today, even in terms of the cleaners. It was extraordinary and you see that on the screen. You don't need to do much when you're in a big ancient palace which is lit beautifully."
Speaking of working with Mirren, Clarke said: "The key to everything with Helen is a generosity. It's one of those rare moments in life where you get to work with one of the great actors at their peak and it gives you something which you can never learn. I love her a lot."
Catherine the Great starts on October 21 at 10 p.m. on HBO and is streaming now on NOW TV in the U.K.