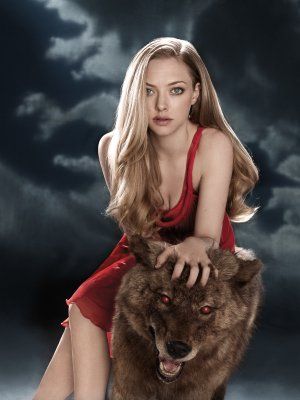 On a gloomy and wet California day, director Catherine Hardwicke curls up in her office on the Warner Bros. lot with a book in her hand. This isn't your average bedtime story. It's called Little Red Riding Hood Uncloaked: Sex, Morality, and the Evolution of a Fairy Tale. She only recently discovered it, and she flips through the pages like a schoolgirl hyped on caffeine. "Maybe you like 'Red Riding Hood' when you're 5," Hardwicke says. "When you're 10, you start latching on to it for another reason—why did she get in bed with the wolf?" Hardwicke even compares the beast to a love interest. "It represents a dark animal nature which is close to sexuality. In the traditional story, the wolf cross-dresses and lures her into bed. That's pretty kinky right there! The wolf is the original tranny. What a kinky wolf!" Her entire face lights up. "A granny tranny!"
The kinky wolf is no match for Hardwicke herself, who wears sexy leather boots and once gave a member of her crew a dominatrix costume as a present. Not to worry, Mom and Dad. Hardwicke's kinkiness is decidedly PG-13. "It was a tasteful dominatrix," she says. Hardwicke has a knack for taking the traditional girl-in-peril tale and teasing out sexual tension without crossing the line. She became the most commercially successful female director in Hollywood with Twilight, a film that radiates heat even though Edward and Bella never even get to second base. Now she's heading to Grandmother's house with Red Riding Hood, an adaptation of the fairy tale with a bodiced Amanda Seyfried. Julie Christie plays her bohemian grandmother.
Like the late John Hughes, who discovered the teenage actors who became the Brat Pack, Hardwicke has created many of this generation's tween idols. Evan Rachel Wood (Thirteen), Emile Hirsch (Lords of Dogtown), Kristen Stewart, Robert Pattinson, and Taylor Lautner (Twilight) all got their big breaks in a Hardwicke film. She dishes about them like an older sister; how Hirsch was too lazy to do sit-ups and drew abs on his stomach with mascara or why Pattinson had to pluck his eyebrows. "They were a bit bushy," she says. "We needed to see some eyes!" Seyfried says Hardwicke, 55, is "a child herself. She's so connected to that youthful essence. She still walks around with a backpack and sneakers." But unlike Hughes's films, her movies are very dark.
Hardwicke's childhood sounds like a chapter from Roald Dahl's memoirs. She grew up in McAllen, Texas, on the U.S.-Mexico border, where her family lived on a giant farm off the Rio Grande. She frequently saw illegal immigrants paddling across or drug dealers creeping in the shadows. "It was a wild life," she says. In high school, her principal was stabbed three times. A friend's father was shot in the back, and another friend was murdered. And yet life could be wonderful at the same time. "It was a Huck Finn life, too," she says. "We had rope swings and mud fights and we'd make rafts." She graduated from college with an architecture degree, and after her father bought a 20-acre real-estate complex, she designed the property's 120 townhouses. Above each front door, she molded a mask of each owner's face, a way to make each of her creations stand apart. She still has the pictures.
But the work she was offered began to feel too cookie-cutter, so she fled to Hollywood, where she landed a job as a production designer. She did 20 films with directors such as David O. Russell, Cameron Crowe, Lisa Cholodenko, and Richard Linklater. "Of course, I tried to learn from everybody," she says. "How did he pull that one off? I always knew that I wanted to make my own movies." She stumbled on that chance while trying to help a troubled teen. Nikki Reed, a friend's daughter, had fallen in with a bad crowd at school. "How do I get her to do something creative instead of destructive?" Hardwicke wondered. "She said, 'I want to act.' I thought, that's going to make your life worse. But if you take the model of actors who write their own material, that expands your horizons." They wrote the first draft of a screenplay together in six days, during Christmas break. Hardwicke directed the film herself and cast Reed as the bad-girl costar. "I saw the raw talent, and I helped," she says. Thirteen earned Hardwicke the directing award at Sundance in 2003, establishing her as Hollywood's hot new filmmaker at 47.
Reed says that Hardwicke is "a great teacher," and one of the reasons she draws young actors into her world is her sleepy, cool-chick demeanor. In high school, Hardwicke taught overweight girls how to swim. As an adult, she taught herself how to surf. "When I was 5," Reed says, "Catherine wanted to massage my innate desire to be an actress. She put this dog collar on me. I would crawl on my hands and knees, and she would tell people I was a dog."
For Twilight, Hardwicke had trouble finding an actor otherworldly enough to play vampire Edward Cullen. Then she got a call about a guy in London. "I looked at a couple pictures and was like, 'I'm not sure,'?" Hardwicke says. "He had been fired from his last job, he was unemployed, he was in debt." Pattinson flew to Los Angeles on his own dime to read with Stewart. "I have footage of their first meeting at my dining-room table," Hardwicke says. "Kristen was like, 'It's got to be Rob!' She felt connected to him from the first moment. That electricity, or love at first sight, or whatever it is." Hardwicke gave him the part, but he had to make a promise. "You've got to realize that Kristen is 17 years old," she told him. "She's underage. You've got to focus, dude, or you're going to be arrested. I made him swear on a stack of Bibles."
Despite Twilight's $400 million global success, Hardwicke left the franchise when it came to the sequel. She said it was her decision, despite a blog report that she was fired. "I couldn't even be fired, that's what's so funny," she says. "In my contract, I had the first right of refusal." She turned down the second film, she says, because the studio wanted to rush it out. "I do not regret it at all, thank the Lord," she says. "The truth is I liked the first book the best."
There is something of the vampire in Hardwicke herself. Just as Edward will never grew old, Hardwicke refuses to abandon the mischievous joys of youth. There's nothing formal about the way she does business. She frequently invites her protégés over to audition or rehearse. Her home is "right on the beach," says Shiloh Fernandez, who plays the hunky Peter in Red Riding Hood. "It's like a loft for a young surfer guy." It's not Grandma's house. But there is a bed. And she lures young actors onto it, though not in the traditional casting-couch way. When Hardwicke auditioned Evan Rachel Wood for Thirteen, she had her get into her bed with Nikki Reed. That's also where Pattinson kissed Stewart for the first time in his Twilight screen test. "That bed made Pattinson who he is right now," says Reed. Asked about her lair, Hardwicke laughs. "MTV came and did an episode in my house filming the bed. It's legendary," she says, flashing a wide—dare we say wolfish—grin.