Catherine O'Hara on 'Schitt's Creek' Season 5 and Finding Moira's Signature Voice
She's collaborated with Eugene Levy on dozens of projects since they met at Second City in 1974, but when he reached out to Catherine O'Hara about a Canadian sitcom created with his son, Daniel, she hesitated. "Ever since SCTV, I've had an aversion to locking into one character for any length of time," says O'Hara. "But he convinced me to come to a pilot presentation, and I loved it. He tricked me!"
The charmingly wacky Schitt's Creek, headed into Season 5, has O'Hara starring as Moira Rose, a former soap star, wife to Johnny (Levy) and mother to David (Daniel Levy) and Alexis (Annie Murphy). The family lost millions after Johnny was busted for fraud; now their only asset is the tiny town of Schitt's Creek. While Moira, with her posh accent (unidentifiable), ever-changing wigs and over-the-top designer outfits, might seem to bear little connection to her anxious mother in 1990's Home Alone or her clueless dog owner in 2000's Best in Show, O'Hara sees a common thread: "I've always loved characters who have no idea what impression they're making."
What made you decide to do Schitt's Creek, after so many years of avoiding the TV?
The pilot presentation was just fun. It was great to look at the two of them, Eugene and Daniel, standing together, playing father and son. It honestly kind of brought tears to my eyes the first time, because I've known Daniel since before he was born. We weren't terribly close, but throughout the years I would see him at a party, and he always seemed like a lovely young man. The first time I saw him on TV I was at a hotel in Toronto —he was on Canada's MTV—and I thought, "Boy, that guy looks like Eugene Levy." [Laughs.]
How did you get into Moira's head?
So much of what I do as Moira is defensive. I was like, "I don't want to look like a typical rich lady. I don't want to do this, and I don't want to do that." And I don't know if that's me or if it's Moira! There's a lot of armor on her—you can see it. She came from a town like Schitt's Creek and got out. In a way, she's more threatened than anyone else by this life. There's a lot of insecurity, and that's really fun to play. I've always loved playing delusional characters—the ones who have no idea what impression they're making.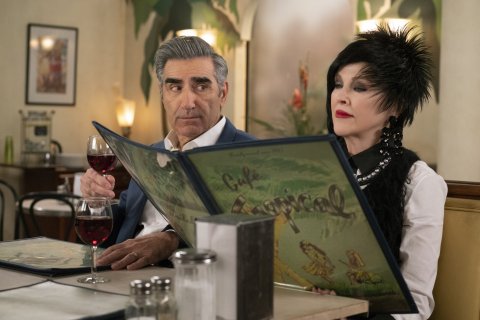 Explain her signature way of speaking. I find myself repeating everything she says in that voice.
I've met people whose accents have nothing to do with where they were born or raised—they want to reinvent themselves. Madonna did this for a while with the English accent. Everything about Moira comes from the potential she believes she has. I didn't do this intentionally, but it's almost like she wants to sound somewhere between Marilyn Monroe and Audrey Hepburn.
There isn't a lot of improvising, but Daniel sends the storylines and I help rewrite some dialogue. I've got dictionaries of obscure words that helped me with the arcane vocabulary. I want to have Moira learn a new word every day—to not only educate herself but to educate everyone in the town. Then, using the new vocabulary, which I wish I could retain, I love to stretch out the syllables. I don't think about it when I'm doing it, but some words want to live longer.
Let's talk about those fabulous outfits. How hard it is to do scenes in six-inch heels?
There have been a couple of times that the shoes did not feel good, but I would never complain because as soon as I put them on, I feel like Moira. You stand, walk, even sit differently—all of the wardrobe does that. I've never enjoyed wardrobe fittings more in my life! I just stand there like a model. Daniel and Debra Hansen, our costume designer, accessorize me. Once in a blue moon I'll say, "Hey, what about this?" Daniel smartly never lets up on how we looked before our lives in Schitt's Creek, so we never have to remind the audience that we used to be these people.
In the Season 5 premiere, Moira finally gets to shoot a scene for her big comeback film, The Crows Have Eyes.
That did make me laugh, the conviction with which Moira plays a crow—or a human transitioning into a crow. As Moira, I had to take that really seriously, even wearing a beak! I would never want to play that role, but Moira's an actress who puts every bit of faith into what she does. Being the pro she is, she worked on the script herself and convinced that director to care.
What else can we expect from Moira in Season 5? Will she continue to find joy in mothering, as she began to do last season?
Johnny and Moira will continue learning how to parent, yes. They weren't even interested in learning what parents should be before this. They thought they loved their children—I'm sure they talked a good game. They threw money at them. And yet, I've said this before, I am envious of them. They get to see their grown children every day. My two sons are in their 20s, and we just don't see them enough. They are living their own lives.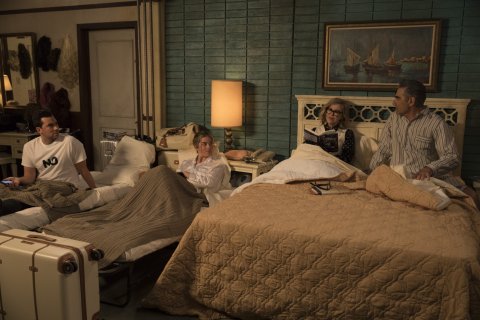 Season 4 saw romances heat up for David and Patrick and Alexis and Ted. If you had to choose, are you Team David/Patrick, or Team Alexis/Ted?
What am I picking them for? Is this if I want to go on a double date with them, or do I think they will last, or would I want to be on a desert island with them…?
Whose relationship do you hope will last longer?
I'll tell you that I'm worried for Alexis and Ted—wait, no, I shouldn't say that! I can't choose, they are my babies and I can't choose. I'm so happy for both Alexis and David. They have their lives ahead of them and they've found lovely people to be with. I ran into a woman in New York once who was with her grown daughter, we talked about the episode where Patrick sings to David, and the mother said, "I want someone to look at me like that."
How has comedy changed since you joined Second City in 1974?
There were always more men than women on stage back then. I worked with good guys, but the women's liberation movement was just starting. They were raised by people with a lot of holdover ideas from the past. Many years ago, women weren't even supposed to be seen laughing, let alone causing it. Now there are [Second City] casts with more women than men—every race, too, which is beautiful. Comedy has changed with the times, thank god—slowly, oh my lord, slowly—but it has.
Schitt's Creek returns to Pop TV on Wednesday, January 16, at 10PM/9PM Central.