Catholic Church Bringing Clergy From Africa to U.S. as Number of American Priests Drops
Many African priests are relocating to the United States thanks to the Catholic Church.
Some American dioceses have been looking to expand their clergy with African priests as that continent experiences a boom in Catholicism. This push comes as the number of priests in the U.S. is dropping significantly. According to Georgetown University's Center for Applied Research in the Apostolate, the number of priests in the country dropped by 60 percent from 1970 to 2020. As a result, around 3,500 parishes have been left without a permanent pastor.
The number of sisters has also significantly dropped. The Georgetown center reports the number of Catholic sisters dropping by 75 percent since 1970.
Although there are no specific causes for these declines, some have speculated that the difficult process of becoming ordained in the U.S. has had an impact. For example, married men are not able to get ordained, and women are not allowed to be anything other than sisters.
"What we have is a much smaller number beginning in the 1970s entering seminaries or to convents across the country," said Georgetown University's Reverend Thomas Gaunt. "Those who entered back in the '50s and '60s are now elderly and so the numbers are determined much more by mortality."
However, this is in sharp contrast to the boom of Catholicism that is rippling through the African continent. Reverend Gaunt said that the religion has been increasing its presence there for decades, with the seminaries "fairly full" each service.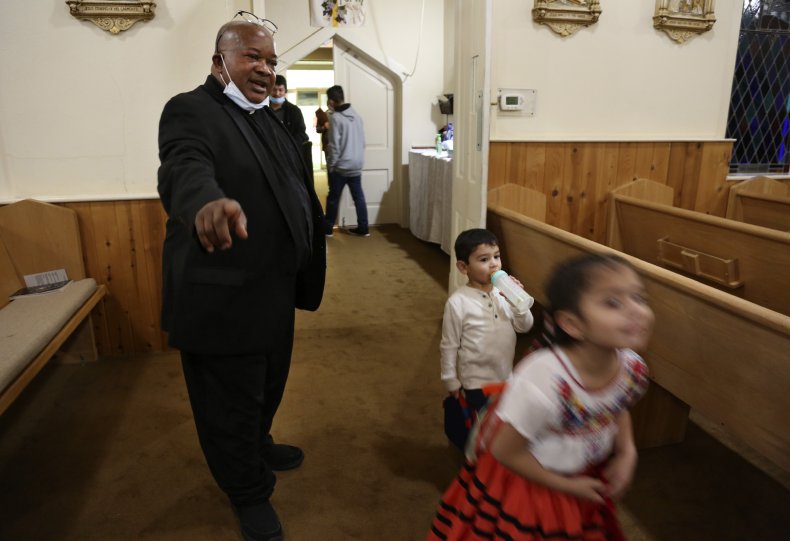 The Reverend Athanasius Chidi Abanulo—using skills honed in his African homeland to minister effectively in rural Alabama—determines just how long he can stretch out his Sunday homilies based on who is sitting in the pews.
Seven minutes is the sweet spot for the mostly white and retired parishioners who attend the English-language Mass at Immaculate Conception Catholic Church in the small town of Wedowee, Alabama. "If you go beyond that, you lose the attention of the people," he said.
For the Spanish-language Mass an hour later, the Nigerian-born priest—one of numerous African clergy serving in the U.S.—knows he can quadruple his teaching time. "The more you preach, the better for them," he said.
As he moves from one American post to the next, Reverend Abanulo has learned how to tailor his ministry to the culture of the communities he is serving while infusing some of the spirit of his homeland into the universal rhythms of the Mass.
"Nigerian people are relaxed when they come to church," Abanulo said. "They love to sing, they love to dance. The liturgy can last for two hours. They don't worry about that."
When Sister Maria Sheri Rukwishuro was told she was being sent from the Sisters of the Infant Jesus order in Zimbabwe to West Virginia to work as a missionary nun, she asked her mother superior, "Where is West Virginia?"
She was scared, worrying about the unknowns.
"What kind of people am I going to? I'm just a Black nun coming to a white country," Sister Rukwishuro told the Associated Press from Clarksburg, West Virginia, where she has been teaching religious education to public and Catholic school students since arriving in 2004.
Rukwishuro vividly remembers that at her introduction, a little girl walked to her and "rubbed her finger on my fingers all the way, then she looked at her finger and she smiled but my heart sank.…She thought I was dirty." Despite that, Rukwishuro says most people have been very welcoming. She's now a U.S. citizen and says, "It feels like home."
The Associated Press contributed to this report.