7 Arrested After Group Seeking Ordination of Female Priests Protests Pope Francis in Washington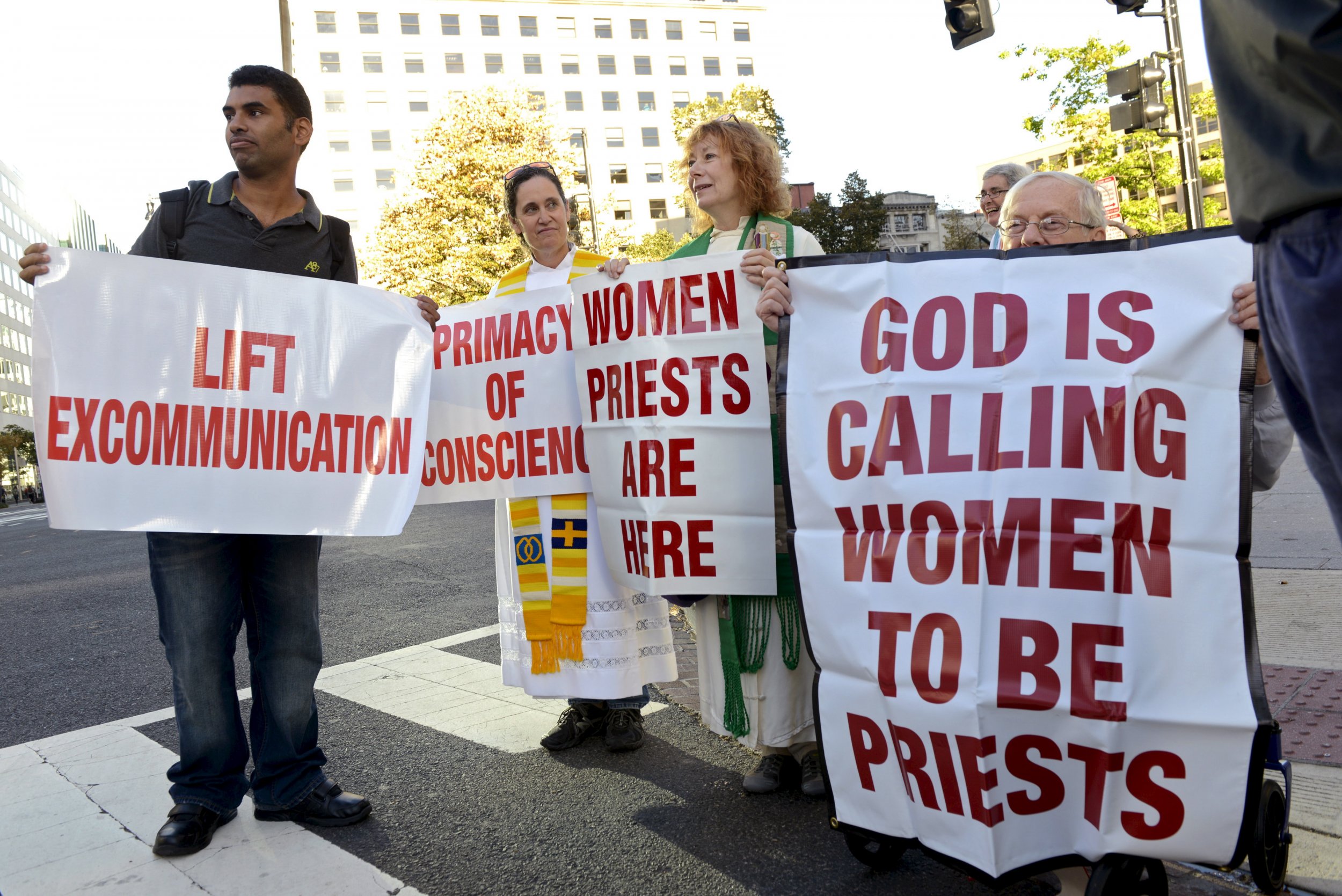 Updated | About 50 members of Women's Ordination Worldwide gathered to protest Pope Francis's visit in Washington on Wednesday afternoon.
The women demonstrated while the pope led midday prayer at St. Matthew's Cathedral to garner attention for their push to formally ordain female priests in the Catholic Church. The Catholic Church does not allow women to be priests.
"Some of the group have decided they need to take action and block the path of the pope because there is no other way to get the attention of the official church," explained Miriam Duignan, spokeswoman for the organization. "They are just ignoring women—we sent letters, books, we ask to meet with Bishops and are ignored. We are treated like untouchables because we mention women maybe equal to men. This is the only way we can get anyone to talk to us."
Some members of the protest attended a conference on the subject in Philadelphia before traveling to Washington, Duignan said. The group includes delegates from 19 countries.
Some women lay in the street to block traffic. They were addressed by police officers, who said they could be arrested for blocking the pope's parade path. Later in the day, three men and four women were arrested. Their charges were not immediately available.
Those laying in the street included some women who have been received alternative ordination as priests outside the Catholic Church. These women were excommunicated, according to Duignan. After the arrests, some protesters moved to the sidewalk to lay down in protest.
"We are a small group here but we represent thousands of people. Stop saying women aren't good enough to do what men can, stop saying that we are missing something we need to be spiritual leaders," Duignan added. "It has to be done to get attention. We want Catholics to know. We want to give hope to people who don't have hope."
Women's Ordination Worldwide was joined by women of other faiths at the demonstration.
This story has been updated to add information about the arrests.