Catholic Church Suspends Priest for Rapping During Sermons
A catholic priest in Kenya has been suspended for one year because he rapped during mass.
Bishop Philip Anyolo, the superior of suspended priest Paul Ogallo, told the BBC that the sacred and the secular do not mix. Ogallo must "choose between being a rapper and a priest," said the bishop of the Homa Bay Diocese, in western Kenya.
Nicknamed "Sweet Paul" by young people in his congregation, Ogallo, 45, took up rapping after a 2004 incident in Nairobi when three young people were trampled to death at a music event. "[Young people] can come to church to pray, to play and then to entertain themselves," the priest told the BBC in May.
While Ogallo has been suspended from performing liturgical duties, Anyolo explained that he can still serve as a priest. Clarifying the reason for the suspension, Father Charles Kochiel, judicial vicar of the interdiocesan tribunal of Kisumu, said "there are ways of doing things."
"If we mix what the secular and church institutions do, then definitely people are going to read different messages," the priest said, Nairobi Wire reported. "People could be looking at it from the social point of view, like bringing people on board, gathering and entertaining people. But people could also be looking at this from the spiritual point of view: Does it promote spiritual values or is it sending a wrong message?"
Church officials said Ogallo could continue to rap and perform for young people, just not from the church altar.
For now, the priest has been given a year to think about his commitment to the church and the demands of his superiors.
His suspension came after a BBC short documentary released last month went viral in Kenya. In the video, Ogallo can been seen transforming into "Sweet Paul" and performing for young people in the front of the church. He explains in the video: "Young people call me Sweet Paul because I rap sweet, I talk sweet, I dance sweet."
Parishioners voiced support for the suspended priest. Violet Menya, a youth leader at the church, said the community had been very happy with Ogallo's unique style.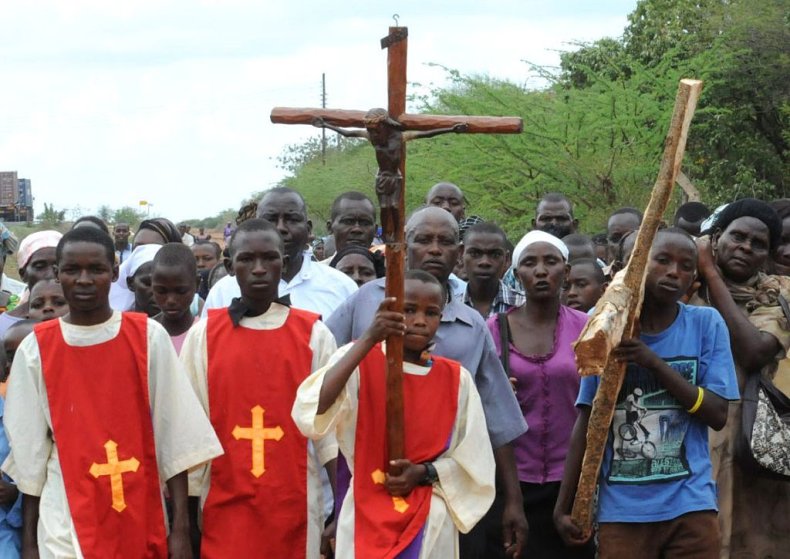 "His style of preaching is attracting many youths to church. He has mentored very many youths to leave … drug abuse and embrace farming, business and other activities," Menya told the Catholic Herald.
Benard Oketch, a 28-year-old member, told the publication he would stop attending church.
"Father Paul has been our mentor. He uses the language youths understand," Oketch said. "[Father Ogalo] has saved thousands of youths."