Jesus Christ Statue 'Too Catholic' for Baptist Church, Removed After 'Causing Some Confusion'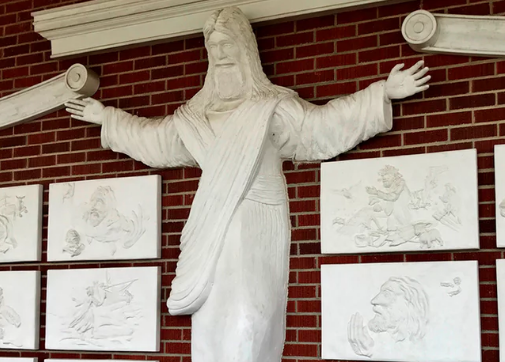 A Lexington, South Carolina, Baptist church removed a hand-carved statue of Jesus Christ alongside pieces or art depicting scripture. The move by church leaders came after some congregants deemed the 7-foot display too representative of the Catholic denomination of Christianity and threatened to remove it Wednesday.
The Red Bank Baptist Church took nearly 11 years to finally go through with plans to remove the Jesus Christ statue this week. Church officials told The State newspaper it was taken down over congregant complaints it was "causing some [theological] confusion."
"We have discovered that there are people that view the art as Catholic in nature. We understand that this is not a Catholic icon, however, people perceive it in these terms," Dr. Jeff Wright, Red Bank's senior pastor, and Mike Dennis, the church's chairman of deacons, wrote in a letter to the community.
Newsweek subscription offers >
Catholics, Baptists and several other religious leaders immediately responded to the church leadership's intentions and ridiculed it on social media. "As a Catholic priest, I'll be using this story in my next homily as an example of how *not* to come together as Christ's people, and will use Mr. Baker's response as a great example of how *to* come together," wrote Peter Lateouf on Wednesday.
Resident Rhonda Davis shared a Facebook post in which she said she was saddened that Midlands artist Bert Baker's hard work was removed after 11 years. She condemned the "insults and prejudices aimed at another denomination" earlier this week by its aiming at Catholicism. She particularly criticized the church letter that was sent out earlier this month to explain why the scriptures alongside the statue needed to be removed as well.
"It is both disturbing and sad that in a time when we are all needing to come together as brothers and sisters in Christ to project and reflect His love to a lost and dying world, Red Bank has decided to single out another denomination as the reason behind the decision to avoid any real or imagined fear that they would somehow be associated with them AND to further insult the intelligence of an entire community who for 11 years never once has been confused about who RedBank Baptist Church is with or without the sculptures."
Newsweek subscription offers >
"I'm not interested in stirring the pot, but people not liking it because it looked too Catholic is crazy, man. It's been up there for 11 years," Baker told The State on Tuesday. "I don't agree with the letter, it bothers me."
Red Bank Baptist Church did not immediately respond to Newsweek's requests for comment Thursday.
Jesus Christ Statue 'Too Catholic' for Baptist Church, Removed After 'Causing Some Confusion' | U.S.