Cathy McMorris Rodgers Takes on Her Party's Men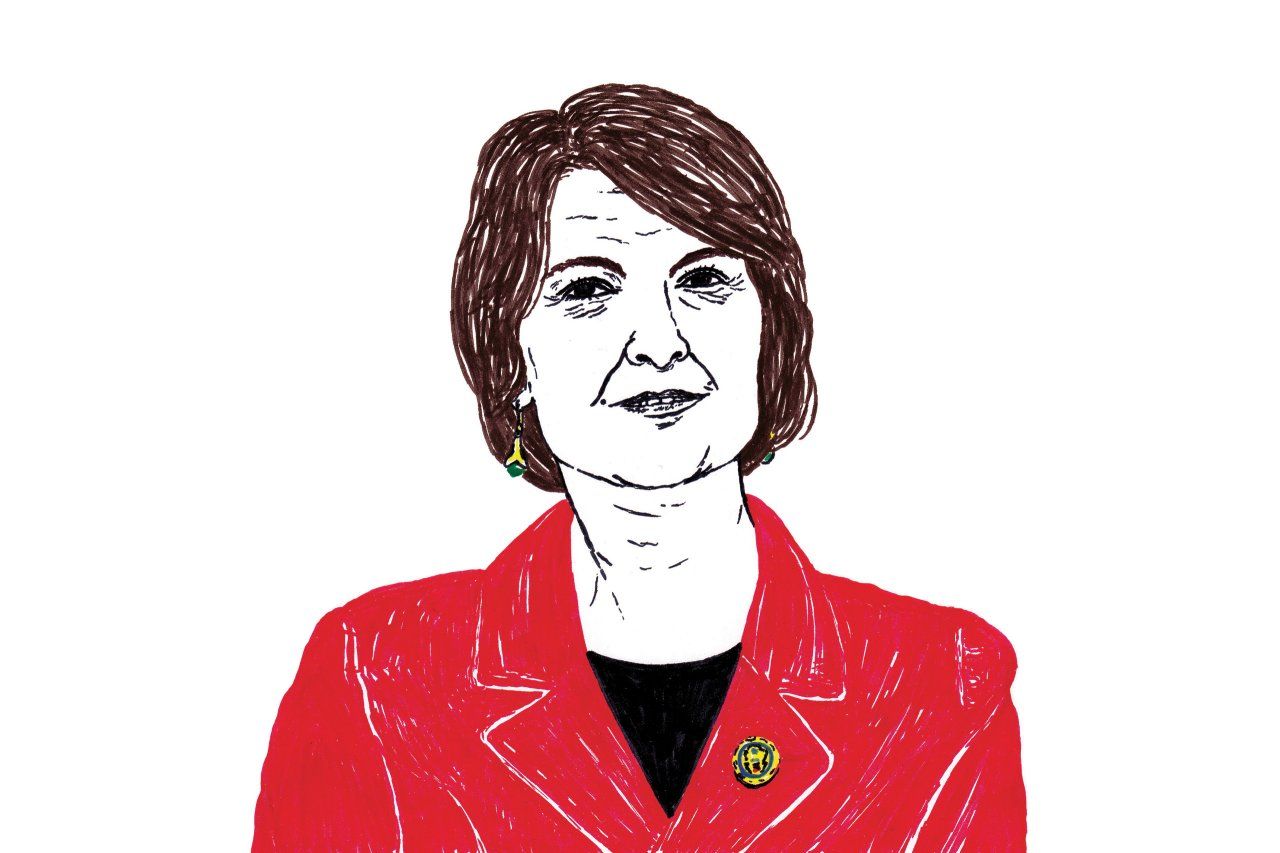 Being a Republican woman has had its rocky moments over the past several months. Consider, then, the awesome burden that now falls on Rep. Cathy McMorris Rodgers, the newly elected chair of the House GOP conference—the No. 4 position in Republican leadership. Not only is McMorris Rodgers the highest-ranking woman on the Republican side in the House, but her new post means she's in charge of messaging and communication for her party. Translation: she's the person tasked with convincing America that the GOP isn't just a bunch of sexist old white guys.
McMorris Rodgers has represented eastern Washington State in Congress since 2005; before that, she served four terms in the state legislature, where she became the first woman ever to lead the Republican caucus. In her two terms as vice chair of the GOP House conference, she was a furious fundraiser and campaigner, and last year she served as the Romney campaign's congressional liaison. Her leadership victory in November over über-conservative Rep. Tom Price (despite his backing from VP nominee Paul Ryan) was seen as a sign that the party had recognized the need to de-scarify its image.
"We need to expand our message to today's mindset," she tells me in an interview. "We need to make sure that the face of the party is one that reflects America." Along these lines, McMorris Rodgers is blunt in her criticism of Republican candidates who lost winnable races in 2012 after making offensive comments about rape. "We had some men who said some stupid things," she says. "We need to make sure that men [know when to] keep their mouths shut."
McMorris Rodgers is careful to clarify that she's not pushing for seismic changes. "I don't think it is about having to moderate as Republicans, but we do need to modernize," she says, in a line sure to prompt eye rolling among political watchers. Still, she's approaching her outreach duties with vigor. "We've hired an Hispanic at the conference who is making sure the Republican voice is on the Spanish-speaking networks," she notes. "We have a Spanish Twitter feed now." She's also been hosting meetings between groups of younger Republican voters and younger members of the conference, such as the famously hunky 31-year-old Rep. Aaron Schock. "We're making sure that people know first of all that we have young people serving on the Republican side," says McMorris Rodgers, herself only 43. "We've now got 20 under 40!"
Her pet project, however, has long been recruiting women—or as she often refers to them, "the single largest demographic in America"—as both voters and candidates. "Women do still have a tendency to wait to be asked, so I believe it's very important that I'm out there talking to women and tapping them on the shoulder and encouraging them to run." Better still, as a mother of two young children (Cole, 5, and Grace, 2), McMorris Rodgers can personally address women's concerns about tackling a political campaign. "The No. 1 question women ask relates to time," she says, noting that women still agonize over, "OK, how exactly do I balance my family, community activities, and career with running for office?" There still aren't a lot of mothers of young kids up on the Hill, McMorris Rodgers points out, and she cites the large percentage of female legislators who are single or have adult offspring. (The arrival of Grace in 2010 made McMorris Rodgers the first lawmaker ever to give birth twice while serving in Congress.)
McMorris Rodgers freely admits that she could never manage if not for her husband, Brian, a retired Navy officer turned full-time dad. This is especially true given that Cole has Down syndrome, necessitating a range of additional doctor visits and multiple types of therapy. Since her son's birth, McMorris Rodgers has become an advocate for special-needs kids, and she is co-founder of the House's Down Syndrome Caucus.
Of course, as the only female Republican holding one of the House's "big four" leadership posts (and with an all-male cast in the GOP Senate leadership), McMorris Rodgers's biggest value added is often simply as a symbol—particularly when ticklish legislation involving women pops up. For instance, when the House wanted to offer a narrower, competing version of the Senate's Violence Against Women Act, McMorris Rodgers was pressed into duty to introduce the bill. (The House bill's previous female sponsor lost her primary last year.) Some women might find this sort of gender profiling awkward, but McMorris Rodgers reasons that it "makes sense for women to take the lead on some of these issues." As she asserts matter-of-factly, "Image is important."
Cathy McMorris Rodgers Takes on Her Party's Men | U.S.