'Cat-igan': Crocheted Top To Help Heal Cat's Leg Delights the Internet
A stylish cat is going viral thanks to photos of him sporting a custom-made crochet top.
The Reddit post—shared by John Bergman from Otsego, Minnesota, to the popular thread r/Cats—now has more than 39,000 upvotes and hundreds of comments.
The images show Pepé the cat wearing the crochet sleeves, alongside the caption: "Our cat, Pepé, has a hot spot on his inner leg. So my wife [Jen] crocheted him feline lederhosen? Single strap overalls?"
Pepé is 4 and has had the hot spot—a superficial skin infection—for two days.
Reddit commenters were impressed with Jen's handiwork. One user wrote: "He is so cute! And he looks so surprised! Love your wife's creativity."
Another posted: "Cuteness overload...The fact he'll wear it, adorable, and your wife made it for him...I just can't."
Hot spots on cats, also known as acute dermatitis, are caused by damage to the skin's surface, usually from chewing, licking or scratching. They are often quite painful to the touch and uncomfortable for the animal.
On its website, Waterview Animal Hospital writes: "The best thing to do when you find a hot spot on your pet is to get the pet examined by a veterinarian."
Because the infections are usually exacerbated by excessive grooming, preventing your kitty from reaching the affected spot is often an important step toward healing.
Bergman told Newsweek: "Last night was one full day of Pepé wearing it and the hot spot was 50 percent grown over, with hair starting to come back."
Much of the conversation on the viral Reddit post also focused on what the item of clothing should be called. "Omg—a cat-igan," wrote one commenter. Another suggested: "Crop top?"
A third user posted: "Not quite lederhosen, since by their name they have to be made of leather although...I concur with the rest, it's a cat-igan!"
One Redditor suggested that Jen should go into business with her fashionable feline accessory: "Is your wife selling this?!! I will seriously buy 2-3 of them. I have a cat who likes wearing shirts and sweaters, it seems to calm her down when she's stressed out like when going to the vet."
Another commenter agreed: "My sweetheart kitty has a hotspot on his front leg too! I would totally purchase one (or a few)."
Others suggested they would like one just for the novelty factor. "My cat isn't injured, but I would totally buy this for a laugh," said one user.
"My wife has been crocheting for like 40 years now," Bergman explained. "She was in the middle of a big blanket she's making and we were struggling with Pepé and his cone—he had figured out how to remove it quickly.
"I was about to wrap Pepé's leg with gauze but didn't think he'd do well with it. Jen then told me to hold off because she had an idea."
About 30 minutes later, Pepé was presented with his new outfit, which he accepted quickly.
"This isn't Jen's first crocheted item for our animals," Bergman added. "We have a dog that has a wound on his rear leg, right on the knee joint. She whipped up a sock-like cover that was tied off at the top."
This week, a greyhound has also delighted the internet with her stylish and weather-ready coat. Back in January, this cat's UPS delivery costume went viral, leaving viewers in stitches.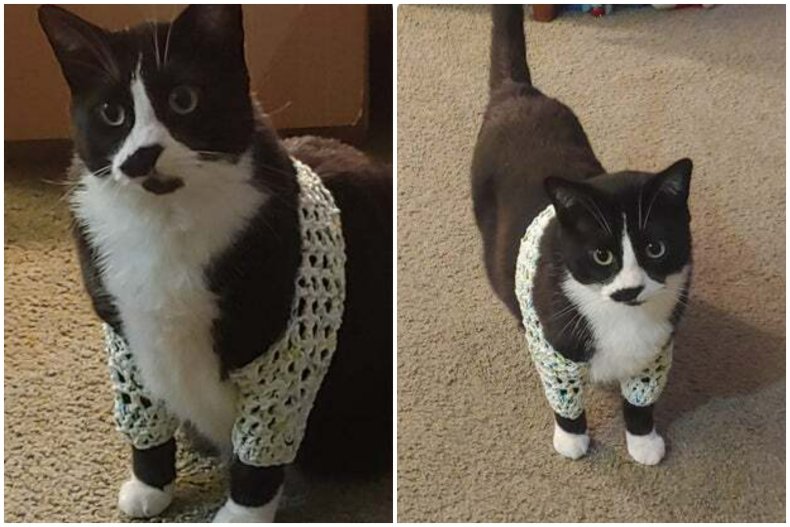 Update 02/24/22, 8:41 a.m. ET: This article was updated to add new pictures. Update 02/24/22, 9:40 a.m. ET: This article was updated to add comment from John Bergman.

Correction 02/24/22, 10:50 a.m. ET: This article was updated to correct the location to Otsego in Minnesota, rather than Otsego in Michigan.