Luxury Catio Made From Old Children's Playhouse Delights the Internet
A couple who turned their kids' old playhouse into a luxury "catio" have been labeled the "best cat parents" by the internet, thanks to their ingeniously frugal idea.
Sandra, from Bay Area in Northern California, told Newsweek the idea came about after she watched some videos on how to build a catio and realized that, with some feline-proof DIY, she could put her kids' old toy to good use.
"I was watching videos on how to build a catio for our cat and I realized that, if we took off all the accessories as well as the roof, the catio would fit just under the eaves of our house. By covering the open spaces with wire, and cutting a hole in the second floor of the playhouse to allow the cat access, it would create a secure play area for him."
Sandra originally posted a picture of the catio on the subreddit r/Frugal, where it received thousands of upvotes. The post features the picture of the catio with a short explanation as to why they made this transformation.
"Our kids are getting older and we were facing the need to get rid of their playhouse. We also have a cat that likes the outside but gets himself into trouble. We gave away the slides and swings (the cat didn't enjoy those aspects) and kept the main house to turn it into a catio. The cat loves it and we didn't have to buy anything besides the wire and door hooks to convert it."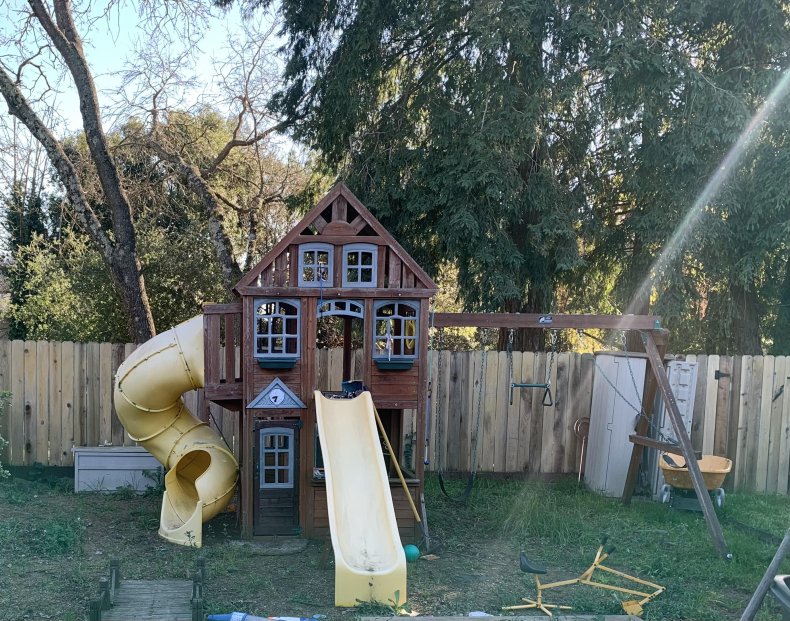 What are catios?
Cat behavior expert Pam Johnson-Bennett describes catios as outdoor enclosures that are typically attached to the house so indoor cats can safely enjoy exposure to the outdoors. "A catio typically has shelves, perches, and walkways so cats can safely play, climb and rest."
According to Johnson-Bennett, the most important feature of the catio is that it needs to be secure and escape-proof. Catios should have easy access back into the house so a cat always has the choice to come back inside, and they should have a roof for protection from the elements and to provide shade. "One thing some cat owners don't think about when installing a catio on ground level is that their cats risk being exposed to external parasites. Make sure to keep up the flea and tick protection."
A study by Frontiers in Veterinary Science found that catios positively impact the life of both the cat and the owner, as they can stop worrying about threats that unsupervised outdoor visits can pose. The study also found that cats who have access to a catio spend considerably more time outside than cats who don't. While cats would spend about 1 to 2 hours outside before the installation the number would rise to about 3 to 7 hours after.
On Reddit most users praised Sandra's idea while some others gave her advice on how to upgrade her catio to the next level based on their own experience. One user, theotherpachman, commented: "This is the cutest freaking idea I've ever heard in my entire life. You're the best cat parents". Another person, Naetius, said: "Cats have better living arrangements than me".
Another crafty user, KidCadaver, answered Sandra's post sharing how she and her boyfriend built a massive catio for only $150, giving her some more tips on how to add extra features.
"Look up square wire cube shelves on Amazon. My boyfriend and I built an entire catio out of four packs of them, complete with winding tunnels. We zip tied them closed so they're extra secure. Cheap option! Cost us like $150 for a massive, winding, and safe outdoor cat option.
Another user, meowmix6891, said: "this is genius and extremely helpful so here is my free award . i have been bugging my husband to build us a catio and he has been bugging me to get rid of the kids swing set . thank you for sharing , i cant wait to transform ours <3"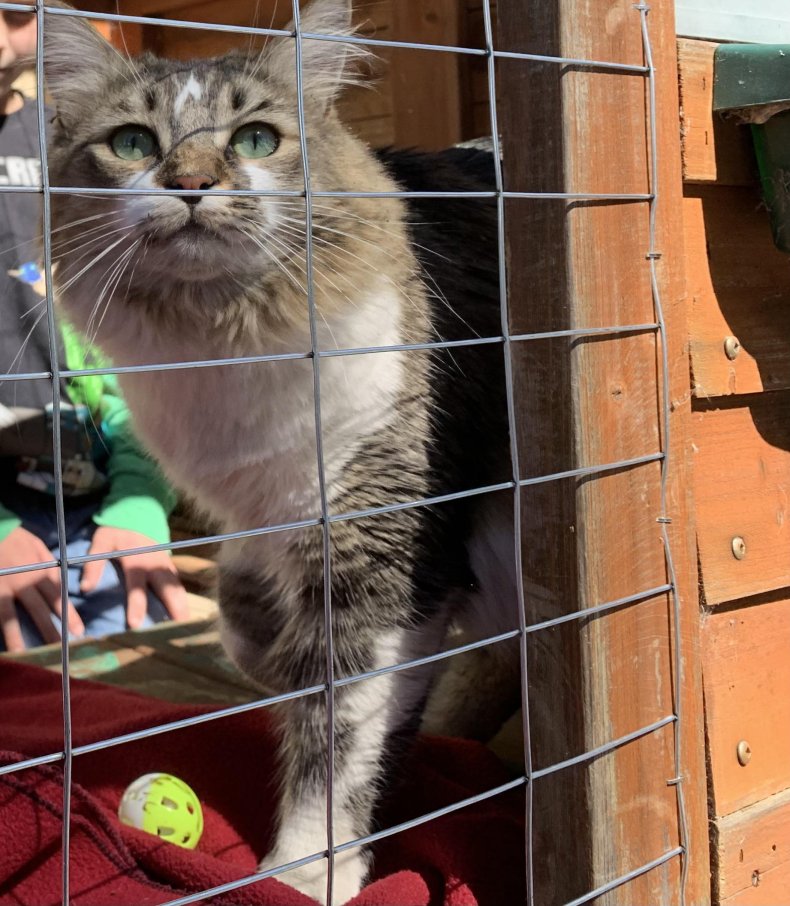 The process of turning the playhouse into a catio only took Sandra a few hours, and it was well worth it as her cat, 2-year-old rescue Levi, loved it. She's already planning to upgrade the play area and make it even more attractive.
"Levi does like it and we will still add more items to make it more comfortable for him, some cat grass in a container, hanging toys and more bedding."
Are catios safe for cats?
Dr. Christian Broadhurst, from non profit vet clinic Clay Humane, thinks catios are a fantastic idea to keep cats safe.
According to Dr. Broadhurst even though cats love being outside, it's dangerous for them to wander the streets alone as they may face risks such as cars running them over. "Having catios is a brilliant idea, it prevents the cat from the risks of the outside world, like being hit by a car, but they can still have their own space outside where they can watch birds and hunt lizards".
So if you do have a garden and a crafty mind, by any means build your cat a catio. It will be a secure play area, for their safety and your peace of mind.