Who is Catriona Gray? Miss Universe Philippines Contestant Is Social Media Odds Favorite
The Miss Universe 2018 pageant takes places in Thailand Sunday, and many fans of the pageant had their eyes on Philippines' Catriona Gray. The social-media favorite won the crown Sunday night, crowned by Steve Harvey after Miss Venezuela and Miss South Africa, the other contestants in the top three, were eliminated.
In the Miss Universe preliminaries, the pageant contestant stunned judges and social media with her iconic slow-mo twirl, also known as the "lava walk," ABS-CBN News reported. On her Instagram page, she said she was proud to represent the Philippines.
"Philippines, it brings me so much joy to carry you across my heart," she wrote on Instagram, along with video clips from last night's evening gown and swimsuit round.
The 24-year-old was born in Australia and earned a Certificate in Music Theory from the Berklee College of Music in Boston, Massachusetts, the Manila Standard reported. Gray earned her black belt in Choi Kwang-Do martial arts at the age of 12 and was the lead singer of her school's jazz band.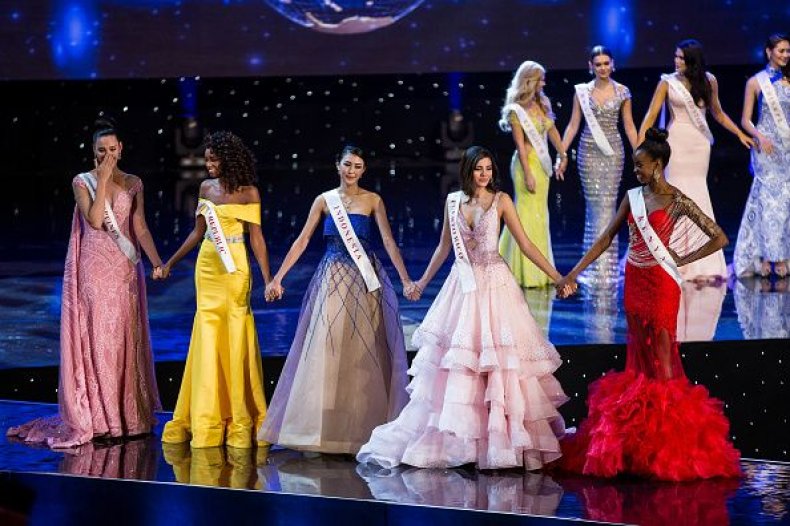 Gray made her way into the pageant world at five-years-old, when she won the Little Miss Philippines beauty pageant, ABS-CBN News reported. When she turned 18, she moved to the Philippines and used the money she earned from modeling to buy her plane ticket there, according to the publication.
In 2016, she was crowned Miss World Philippines and finished in the top five of Miss World that year but Puerto Rico's Stephanie del Valle was hailed the winner, according to ABS-CBN News. Gray also started her own charity project in the Philippines called Paraiso: The Bright Beginnings Project, which helps raise money for a pre-school in the city of Tondo.
The Red Carpet Event of the pageant will take place on Sunday, December 16, and the finals on Monday, December 17, the Manila Standard reported.
Earlier this week, controversy arose after Miss USA Summer Sarah Rose made some comments about the English of a Miss Universe contestant.
Summers was talking about Miss Vietnam H'Hen Nie and Miss Cambodia Rern Sinat, who do not speak English, with fellow pageant contestants Miss Australia Francesca Hung and Miss Colombia Valeria Morales. Summers called Nie "cute" before talking about her being unable to speak English and appeared to have mocked her.
"She pretends to know so much English and then you ask her a question after having a whole conversation with her and goes [nods and smiles]," Summers said before doubling over with laughter. "She's adorable."
After asking Summers to explain, the 24-year-old imitated Nie and then began talking about Sinat.
"Miss Cambodia is here and doesn't speak any English and not a single other person speaks her language. Can you imagine?" Summers asked. "Francesca said that would be so isolating and I said yes and just confusing all the time. Poor Cambodia."
Fans on social media slammed Summers for her comments and said they came off ignorant. She issued an apology on Thursday on her Instagram page.
"@MissUniverse is an opportunity for women from around the world to learn about each other's cultures, life experiences, and views. We all come from different backgrounds and can grow alongside one another," she wrote. "In a moment where I intended to admire the courage of a few of my sisters, I said something that I now realize can be perceived as not respectful, and I apologize. My life, friendships, and career revolve around me being a compassionate and empathetic woman. I would never intend to hurt another. I am grateful for opportunities to speak with Nat, Miss Cambodia, and H'Hen, Miss Vietnam, directly about this experience. These are the moments that matter most to me."
Updated 12/16 10:16 p.m.: This story was updated to reflect that Gray was named Miss Universe.