Cat's Bedroom Complete with TV for Watching Birds on YouTube Goes Viral
Cat owners are obsessed with photos of a cat's bedroom that are going viral on Twitter.
The bedroom contains a cat-sized bed complete with a cat-print pillow and blanket (that matches its parent's bed) and the walls are decorated with framed cat portraits. There's another cat portrait decorating the bedside table, on which sits a flower pot.
The room has a functioning light, a mat, a scratching pole, a bucket of toys, a seat with another cat-print pillow, and even yarn balls for the cat to play with.
But one of the most impressive pieces in the room is a mini TV hanging on the wall that the cat uses to watch videos of birds.
Twitter user @CinnamonBear9 shared the photo and said: "Here is the bedroom we finished for our cat this weekend. He actually goes in to nap and watch birds on YouTube."
The tweet has been liked more than 45,000 times and retweeted more than 11,000 times as cat fans express how much they love the idea and how they feel inspired to recreate it themselves.
Twitter user @J9 said: "I feel like a failed cat mom. How could I not have thought of this?! Now I know what I'm doing this weekend... building my cats' bedrooms I didn't even know they needed in the bedroom they already act as if they own."
@MBreenSmyth1 on Twitter said: "Genius. For those of us who wanted dollhouses as children and who love cats as adults."
But Twitter user @CinnamonBear9 is far from the first cat owner to transform a nook in their home into their pet's very own room.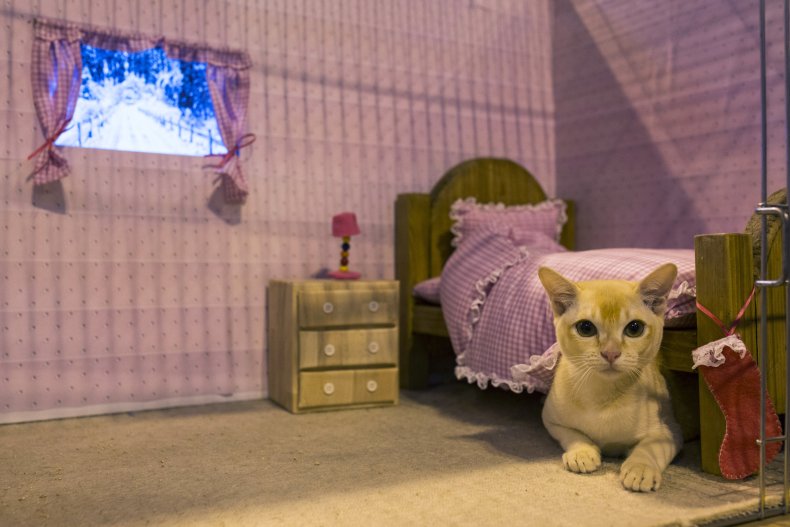 TikTok stars Kelsey and Ryan who go by @newbuild_newlyweds shared a video of a closet they turned into their cat's bedroom that has amassed more than 600,000 likes.
The bedroom features pink cat-print wallpaper, a two-story cat bed, scratching pole, food dispenser, and a litter box. The closet has been decorated with a cat poster and photos of Kelsey and Ryan, plus a neon light in the shape of a cat.
One wall is decorated with the words: "Home is where the cat is."
Arguably one of the cutest features of the room is the small cat-sized hole carved into the bottom of the door, allowing the cat to come and go as she pleases.
Cat owners who don't have a closet to give up can still create a little nook for their pet, like TikTok creator Jennifer Vitarelli who made a cat bedroom out of a cabinet.
In her TikTok video, which was been liked more than 1.7 million times, Vitarelli wallpapers the cabinet before decorating it with a wreath, lights, and little messages, before adding a cozy cat bed and toys.