Joe Biden Wants You to Send Him Your Favorite Cat Pics
Everyone who owns a cat secretly yearns to capitalize on their cute, furry faces and indifference to humans, in the hopes of achieving Internet stardom. Well, now could be your chance, assuming your pet doesn't mind being dressed in Biden-Harris swag.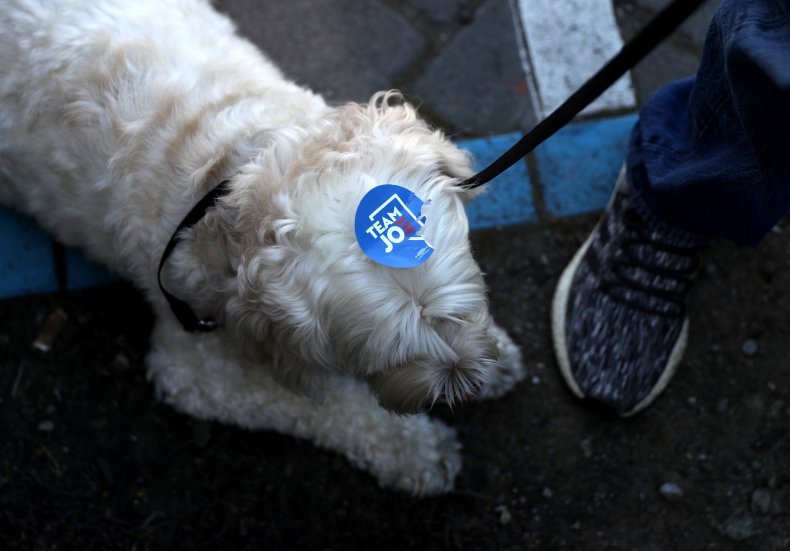 Earlier today, Sara Pearl, the Supervising Producer of the digital team behind Joe Biden and Kamala Harris' campaign, tweeted out a simple request: "Looking for cats for Biden to be featured in a campaign video. Do your thing Twitter."
Pearl also re-shared an earlier tweet of a video featuring "Dogs for Biden-Harris," which features dogs of all shapes and sizes, scampering around in t-shirts or handkerchiefs promoting the Democrats looking to move into the White House in 2021.
To build up anticipation for the forthcoming cat video, Pearl noted "Dogs for Biden got 2.7 million views here." Biden also shared the dogs video on October 5, with the caption: "These good boys are ready to build bark better." (How Biden and his team will play on his campaign slogan of "build back better" with a cat-appropriate pun remains to be seen.)
Neither Biden nor Harris own cats. Biden does have two dogs, though, Major and Champ, who have made appearances in campaign photos throughout the year. Harris doesn't own pets at all, but is said to be a friend to the animal world nonetheless. (Last year, Harris tweeted out a photo of some dogs visiting her place of work on National Pet Day, and she captioned it: "Dogs are always welcome in my Senate office – here are a few paw-licy advisors who regularly stop by."
Cat owners quickly took Pearl up on her offer. Below are a few of the more memorable early posts.
As for the current administration, many reports have detailed Donald Trump's dislike of keeping pets. Indeed, he is only one of three presidents to not own a pet while serving as president, joining James K Polk (1845–1849) and Andrew Johnson (1865–1869). Mike Pence more than compensates for Donald's lack of pet affection, though, as he and his wife Karen are well-known animal lovers who currently have a dog, a cat, and a rabbit named Marlon Bundo, who has his own Wikipedia page and is the subject of two children's books.
Trump's official campaign store sells dog collars and handkerchiefs, but no merch for kitties. Biden's site has a more limited selection, with just dog and cat collars, the latter labeled "No Meowlarkey Cat Collar."