Cats Killed at Twice the Rate of Dogs as U.S. Shelters Struggle To Keep Up
New data shows that shelters saw an increase in the amount of pets killed over the last year, for the first time in five years, but it's not all bad news.
Animal welfare organization The Best Friends Animal Society is on a mission to make the U.S. completely no-kill by 2025. In hopes of this, the organization has been compiling yearly data on shelters across the country.
Although things have been looking up for the past few years, 2021 saw an increase in the amount of dogs and cats killed in animal shelters, with Texas, California, North Carolina, Florida and Alabama accounting for 50 percent of those.
In 2021, the number of dogs and cats killed in shelters increased from 347,000 to 355,000—a disappointing rise.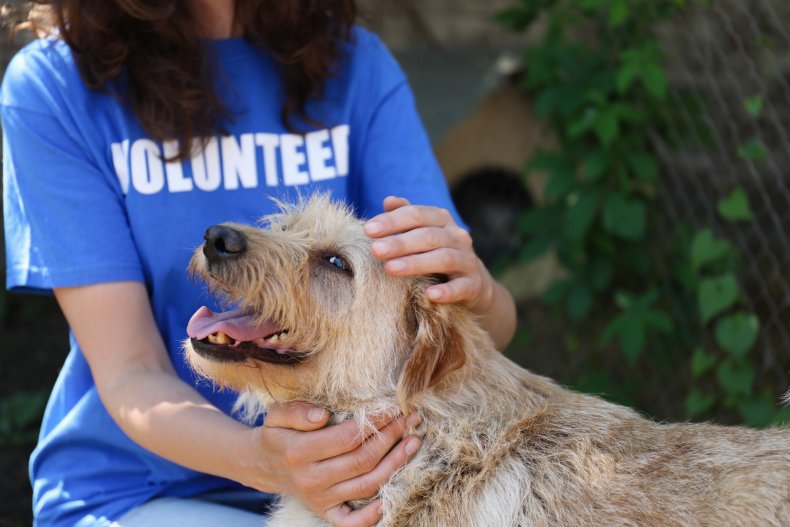 The news might seem particularly bleak, but it isn't necessarily reflective of how the future for rescue animals is set to go, with the strange year of 2020 potentially skewing results in ways. A historic low amount of animals entered shelters in 2020, due to staff shortages and shelter closures caused by the pandemic.
With the new influx of animals entering shelters in 2021, many simply couldn't keep up and adoption rates just didn't match it.
"Unfortunately, the setback in lifesaving is largely due to the historic decrease in pets entering shelters in 2020," said Julie Castle, CEO of Best Friends Animal Society. "As shelters began to reopen in 2021 in increasing numbers, so did the number of pets entering their facilities. Over the course of 2021, shelters saw an 8.1 percent increase in intake, and sadly, the number of pet adoptions could not keep pace with the increased intake."
Cats are particularly at-risk, being killed at double the rate dogs are, despite dog intake increasing three times the rate of dog adoptions.
Like most news in recent years, it might be easy to initially let it take over but it isn't all doom and gloom, the data still representing a 77 percent reduction in deaths since 2017. Plus, over half of all U.S. shelters are now no-kill—a status shelters can earn by euthanizing less than 10 percent of intakes.
Rhode Island, North Dakota and Vermont needed to each save less than 100 animals in order to receive no-kill status.
Castle explained that saving the lives of animals isn't just on the shoulders of shelters, and individuals who truly care for animals can help out too. Simply making sure to spay or neuter your animal can reduce the intake of unwanted animals, while choosing to adopt instead of shop is another clear route.
"The responsibility of saving pets' lives should not rest solely on shelters and those in animal welfare, but on entire communities including community members, government leaders, shelters and other animal welfare groups," she said.
"Through collaboration and community involvement, this model provides better support for pet owners, efficiency in shelters, and more lifesaving outcomes for pets. When a community supports its shelter's critical needs, we see dramatic results."