Cat's 'Dramatic' Reaction to Kiss From Owner Has Internet in Hysterics
A cat's "dramatic" response to being kissed by his owner is making TikTok users giggle.
In the funny footage shared by user @coconutcouscous, a sulky Couscous showcases his "injury" for the camera.
His right eye is squinting, but it doesn't stop him from giving his owner a death stare.
"I kissed my cat's eye and now he's being like this," @coconutcouscous wrote alongside the video. "Is he being dramatic or did I hurt him?"
TikTok users couldn't get enough of the disgruntled tabby, with the clip receiving more than 760,000 views and more than 100,000 likes.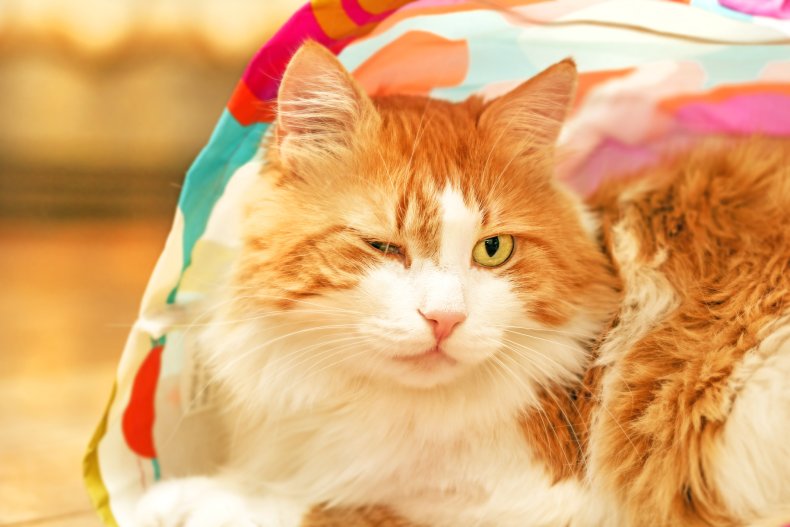 Is It Dangerous to Kiss Your Cat?
Dr. Mikel (Maria) Delgado—cat behavior expert at Rover and affiliate member of the American Veterinary Society of Animal Behavior—said it's hard to know from the video alone if Couscous' eye is injured.
However, if a cat is suddenly winking or their eye appears red or watery, it can be a sign of irritation or a scratch on the eye's surface.
"Cats do not wink to be 'dramatic,'" Delgado told Newsweek. "This is a reflexive behavior suggesting that something is irritating their eye, the question is whether or not that something is serious."
If your cat is winking or pawing at their eye, Delgado urges owners to contact a veterinarian as soon as possible.
Although kissing your pet is usually harmless, there is a slight chance of harm.
"You can accidentally push the fur around their eye against the surface, or introduce bacteria into their eye," Delgado said.
Do cats like being smooched? Although humans use kissing as a sign of affection, cats do not.
"They will groom other cats when they are comfortable, but they can be very particular about who and when they allow such encounters," Delgado said.
"We are much bigger than they are and it's very important to consider how your cat likes to be approached and handled. If the cat does not like being kissed on the face, find another, kinder and more considerate way, to show them love."
'They Can Be So Dramatic'
Most users felt that Couscous was just being dramatic, with @certifiedskinny commenting: "My cat does this too. He's fine don't worry."
"Just normal orange cat behavior," agreed Chiara.
"The drama is REAL," said Alia Twenty3.
"Cats hella Judging your entire life existence After that kiss," joked Johnny Ramirez.
"Its a rule u have to kiss the boo boo now to make it feel better," wrote Rey the Grey.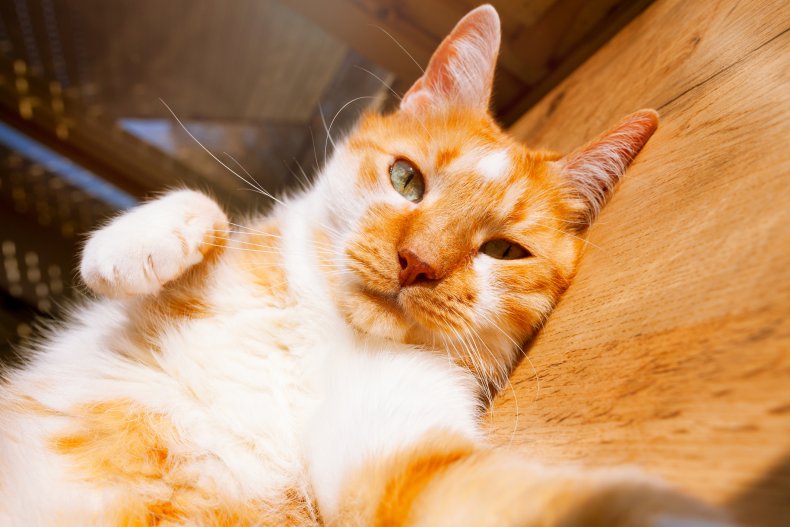 "My cat hurt his eye once and still does that 4 yrs later to get attention," commented maryleepurdy. "We caught him doing it with the wrong eye. They can be so dramatic."
However, other users had concerns, with Disturbed808 writing: "just be mindful of facial/lip products."
"Aw you poked his bby eye," said leamarie.
"I don't think it's drama! Maybe irritated," wrote lulucjs8ai.
"It looks a bit red inside," agreed sunny.
"You have to be careful," warned Doudou.
"Get it checked," advised Kemariah. "Maybe there was some bacteria that you passed on to him, is it swollen?"
However, Ris believed: "He's blinking with one eye open so you don't catch him off guard again."
Newsweek reached out to @coconutcouscous for comment via TikTok.
Do you have funny and adorable videos or pictures of your pet you want to share? We want to see the best ones! Send them in to life@newsweek.com and they could appear on our site.