Get Your First Look at 'Cats' with Taylor Swift, Idris Elba, James Corden and Jennifer Hudson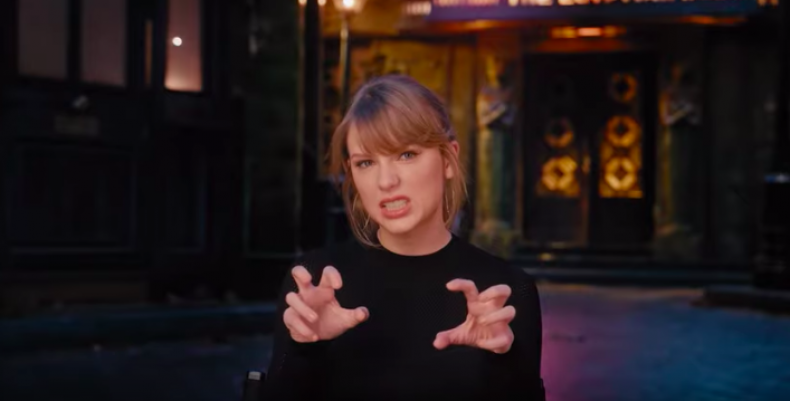 The trailer for the film version of the musical Cats is coming Friday, but before that Universal Studios released a sneak peek of the lengthy rehearsal process the cast undertook to prepare to play their feline counterparts. The video features Taylor Swift, Jennifer Hudson, Idris Elba, Rebel Wilson, Judi Dench, James Corden, Jason Derulo and director Tom Hooper.
"This musical is timeless," Swift said in the YouTube video. "And we got to update it in ways that I think are just so, so great."
The highly anticipated film adaptation of the musical has been tightly under-wraps since production began. Many wondered how Hooper would present the larger-than-life sets and most importantly, how he'd make humans playing cats believable.
"We've used digital fur technology to create the most perfect covering of fur," said Hooper, who previously directed the musical Les Misérables and won the Best Director Oscar for The Kings Speech.
"Tom's pairing them with a level of technology that I don't think has ever been used before," James Corden said. "These are people and they're cats and it's kind of blowing my mind... there is nothing else like it."
"I came right off of a stadium tour and went right into rehearsals," Swift said. "Everybody is working really long hours, rehearsing every day, and it's fun... I was just really excited and so honored to get to be a part of this."
"The scale of this film is huge," Idris Elba said. "It's three or four times bigger for the cat perspective... This is a moment for you to step into a world that is completely designed to entertain you."
The musical Cats, an Andrew Lloyd Webber musical, premiered on Broadway in 1981. It's based on Old Possum's Book of Practical Cats by T.S. Eliot and tells the story of a tribe of cats on one fateful night. The musical is one of the longest-running musicals in Broadway and West End history, has been translated into 15 languages and is one of the highest-earning musicals ever. The original production won seven Tonys, including for Best Musical.
A film adaptation has been in the works for years, with Steven Spielberg rumored to have previously been attached. Music from the Hooper film has been kept secret, but Hudson did sing "Memory" at Cinema Con in April, possibly hinting at what we can expect in the film.
Cats will come to a theater near you on December 20, 2019.