'Cats Gonna Cat': Viral Video Shows Moment Cheetah Hops Into Safari Vehicle
A video shared on TikTok captured the moment that a curious cheetah decided to get an up-close look at an open safari vehicle.
TikTok user Casey Cooper Mannes shared the video to his account @cooperlost, where it amassed nearly 11 million views since it was posted. In addition to receiving more than one million likes, thousands of people commented on the experience of having a cheetah lounging on the safari vehicle.
Kopa Tours, an organization that offers safari tours, discussed how animals may interact with those out on a tour.
The organization noted that cheetahs are typically very docile and curious, so they may come close to a safari vehicle.
"Especially if it is a particularly warm day and the cheetah is looking for some shade from the sun while in the grasslands of the Serengeti," Kopa Tours stated on its website.
If a cheetah approaches a safari vehicle, visitors are encouraged to listen to their guide, sit calmly and not make any sudden movements.
"These docile creatures are not one to worry about," the tour group said.
The video opens by showing a cheetah, who is spotted not too far away, as it sits in the grass and eyes the vehicle.
In the next shot, the cheetah walks over and jumps up and onto the vehicle. It peered back at the people in the vehicle before settling down.
"Holy s#!+ she's literally on the open vehicle," the text over the video read. "Not sure what we do now."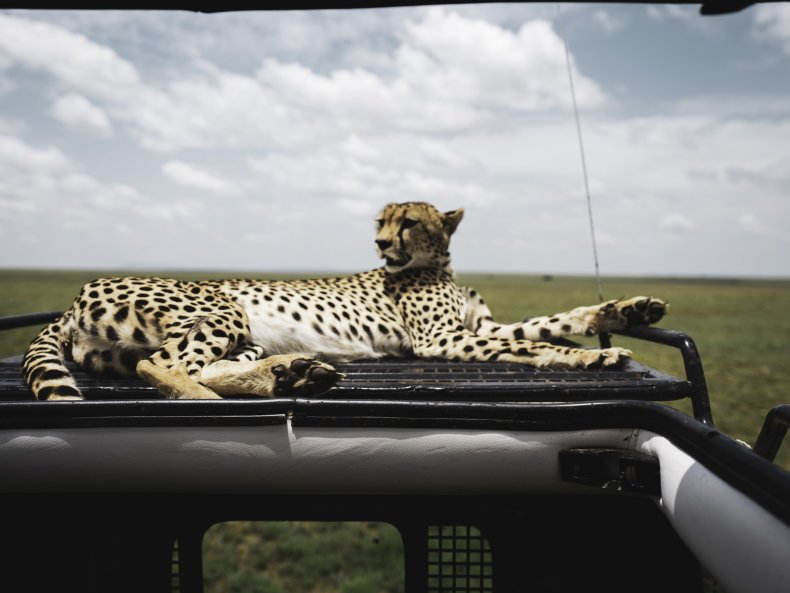 Mannes told Newsweek the safari took place in Tanzania in the Serengeti. It was the second safari he had been on in Tanzania over the course of the month and a half he spent there.
He said he was with his friend, Madison Montero who took one of the videos seen in the viral TikTok.
While it was a close encounter, he said he wasn't nervous, bur rather excited.
"I've spent the majority of my adult life working with wildlife so I felt that the cheetah showed no signs of aggression whatsoever," he said. "We were ecstatic it decided to come hang out with us but obviously on edge because there was a cheetah basically in our Jeep with us."
The cheetah spent about 20 minutes before the safari continued.
Some viewers took the opportunity to comment on the incredible experience.
"Broooo this is WILD," @reed.dupont wrote.
Many others traded various jokes about the matter, including how the cheetah may have gotten on the vehicle to give safari guests a chance to take a good photo.
"She was like, 'Oh you want a picture? What about a close up,'" @godswerka wrote.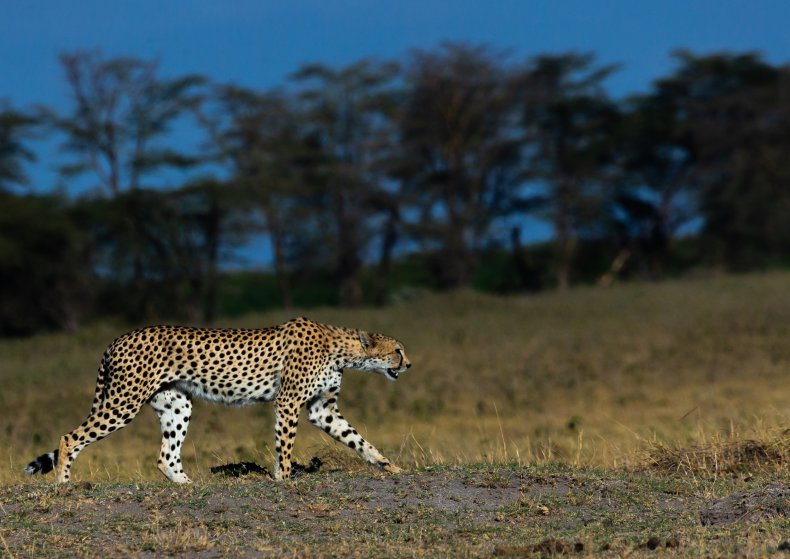 "She really said..'here since you want a money shot,'" @cierra_this_beat_is commented.
Others suggested the vehicle's purpose was to give the cheetah a ride elsewhere.
"She thought it was her Uber," @cyn272020 wrote.
Many joked that there was not much of a difference between the cheetah and a domestic house cat. Some quipped that they would have tried to pet the cheetah.
"Cats gonna cat," @meowmixes commented.
"Cheetahs operate on same code as housecats: if I fits I sits," wrote @vortex_lettuce.
"I would 'psp psp' that kitty for sure," @love.love.nicola commented.
"My toxic trait is thinking I could pet it like a domestic cat," @xtinewagz wrote.
Looking back on the experience, Mannes said he and his friend were thrilled to have come that close to the cheetah.
"We had both grown up loving wildlife, so to be able to see one of our favorite wild animals that close was truly an experience of a lifetime," he said.