Cat's Hilarious Reaction to Guinea Pig Leaves Internet in Stitches: 'Curious'
A video of one cat's reaction to a new arrival in the house has left more than 2 million TikTok viewers in stitches.
Delilah the cat was unsure when her owner introduced her to Reginald the guinea pig on February 9.
Courtney Hill, 27, from Durham, North Carolina, frequently fosters animals, with Reginald the latest resident.
"I usually just have one foster animal at a time—occasionally two if they are a bonded pair," Hill told Newsweek. "I became a small-animal foster in the summer of 2021 after I moved to Durham and was looking for a volunteer opportunity. Since then, I have fostered around 20 or more rabbits and guinea pigs that have all found their 'furrever' homes."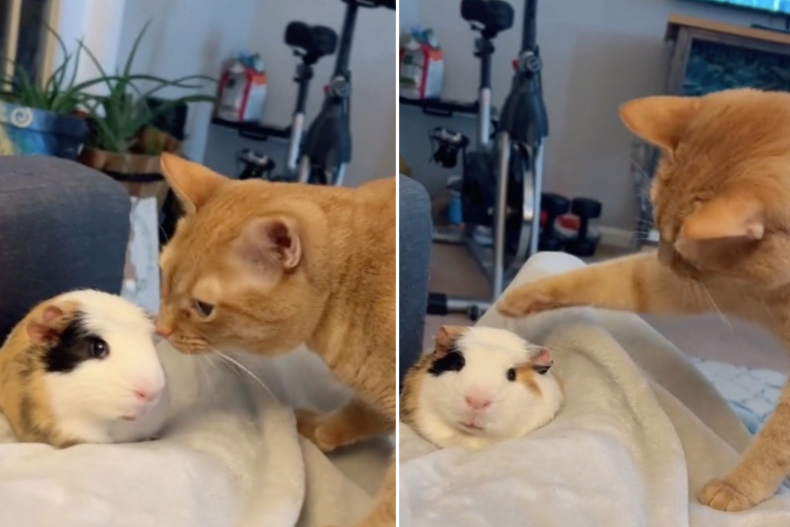 A 2020 study of 321 fosters of pets by Best Friends Animal Society Lifesaving Centers showed that 71 percent of respondents already had a cat as a personal pet at their home.
Hill adopted 5-year-old Delilah five years ago from the Humane Society, and they have been best friends since: "She is the sweetest little cheese puff you could ever meet," said Hill.
After a full year of taking care of rabbits, Hill was excited to have a guinea pig to foster. However, Delilah was not so sure, as the hilarious footage revealed.
Delilah looks concerned as she jumps up to greet Reginald. More used to rabbits, she looks closely, sniffs and even "boops" him on the head with her paw.
"Reginald isn't scared and is often the one chasing Delilah around," Hill said. "I have 11 years of experience with guinea pigs and would never put an animal in harm's way. I would also never leave Delilah and Reginald unsupervised together."
She explained that, while Delilah curiously paws at Reginald, she never has her claws out, and the guinea pig often lets out little "happy oinks."
"She was curious as to what this oinking fluff ball was. I know Delilah well since she is my pet and her personality, and that is why I allow her to spend time with our foster rabbits and piggos," explained Hill. "I have a lot of experience in how to approach bonding rabbit pairs or guinea pig pairs and know the warning signs of an upset animal around another."
With more than 2.2 million views, the video delighted TikTok users as they shared their reactions in the comments.
"Reginald is a perfect name for a guinea pig," posted one commenter, while another wrote: "I'm gonna need pretty frequent updates about Delilah and Reginald please."
"This has brought me to tears thank you," read another reply.
"I have been absolutely shocked by the response I have received from this video," said Hill. "I made that silly video on Thursday night while just relaxing on the couch with Reginald."
Hill hopes that her content can continue to raise awareness of animal fostering and provide more information while sharing cute animal videos.
Do you have funny and adorable videos or pictures of your pet you want to share? Send them to life@newsweek.com with some details about your best friend and they could appear in our Pet of the Week lineup.