'Cats' Movie Cast: Who Stars in the Film?
Cats is the film no one can stop talking about, with Twitter delighting in the bad reviews that the adaptation of the Andrew Lloyd Webber musical is getting. One of the common threads in these reviews is the disbelief at the cast director Tom Hooper was able to assemble to become the cat/human hybrids of the movie. In Cats, noted ballerinas cross with Oscar-winning actors who mingle with some of the biggest pop stars of the era, with everyone from Idris Elba to Rebel Wilson playing supporting characters alongside Judi Dench, Ian McKellen and Taylor Swift.
Who is in the cast of Cats?
Victoria—Francesca Hayward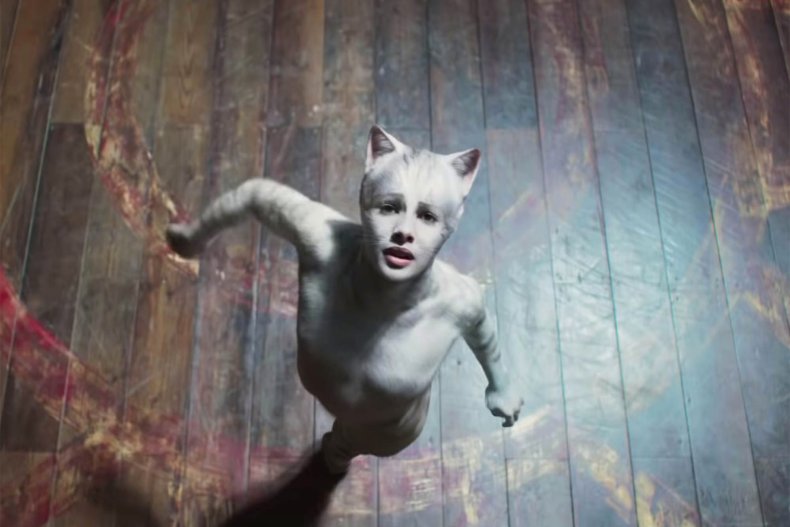 Principal dancer of London's Royal Ballet, Francesca took a leave of absence from her day job to appear in Cats as Victoria, one of the most balletic cats. In the musical she has no solo singing part—though in the movie she is given a new song "Beautiful Ghosts," written by Swift and Webber.
Speaking to the London Evening Standard, she revealed Victoria was always a role she had dreamed of playing. She said: "When I was much younger, I used to have a video of the stage production, so I'd dance around my living room and I'd always play Victoria. It was my favorite part."
Old Deuteronomy—Judi Dench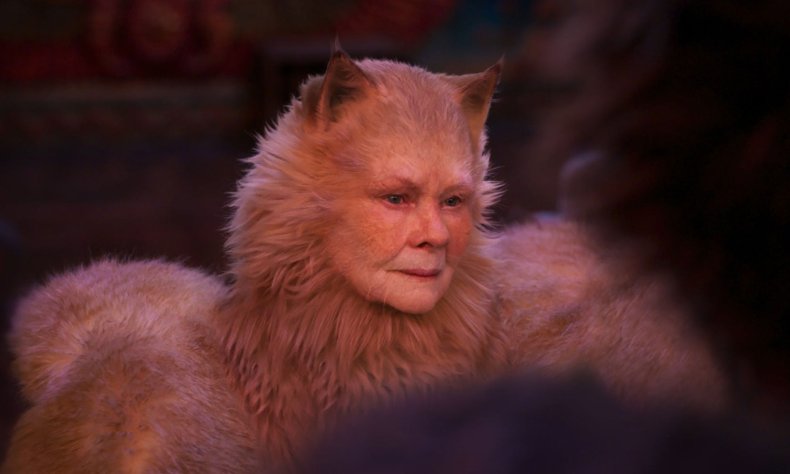 Originally a male role, in the Cats movie Old Deuteronomy, originated on stage by Brian Blessed, is portrayed by the Oscar-winning Judi Dench, nearly four decades after she was forced to pull out of the original London West End production.
Speaking about playing the role in an interview with Out, Dench said: "It was lovely, lovely to be led about and be an aged cat, very nice indeed."
Macavity—Idris Elba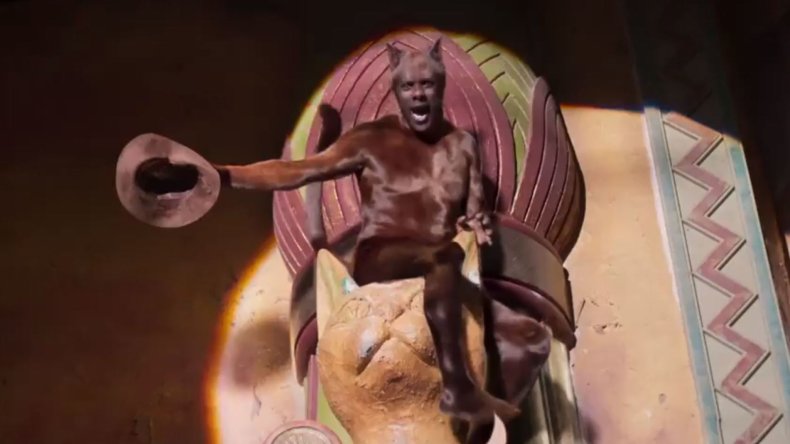 The villainous Macavity, described by poet TS Eliot as "the master criminal who can defy the Law" is Idris Elba, star of Luther and the Thor series of films. In an interview with Stephen Colbert, Elba revealed he had to go to "cat school" in the lead-up to the film. He said, "Tom Hooper who directed it, he wanted the actors to really embody the feline persona and so he instructed this lovely lady, an expert on how humans can become cats [to teach us]."
Bombalurina—Taylor Swift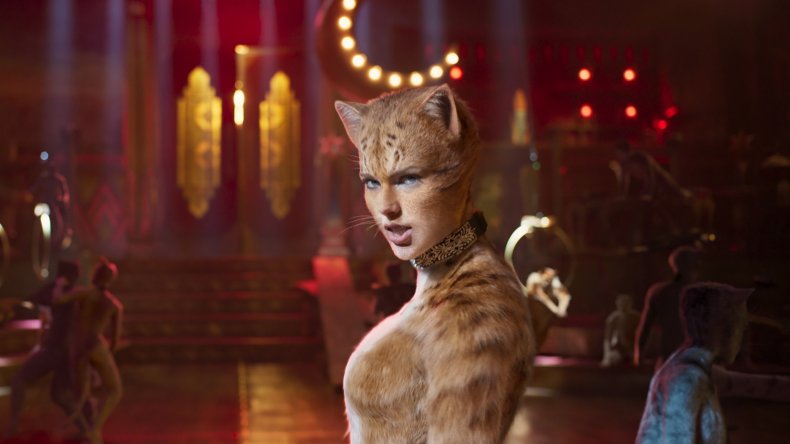 Bombalurina, the flirtatious and mischievous young cast is portrayed by Taylor Swift in Cats, following roles for the pop star in Valentine's Day, The Giver and a 2009 episode of CSI.
Reacting to the bemused reaction of fans after they saw the trailer, Swift told British Vogue: "I really had an amazing time with Cats.I think I loved the weirdness of it."
Gus the Theatre Cat—Ian McKellen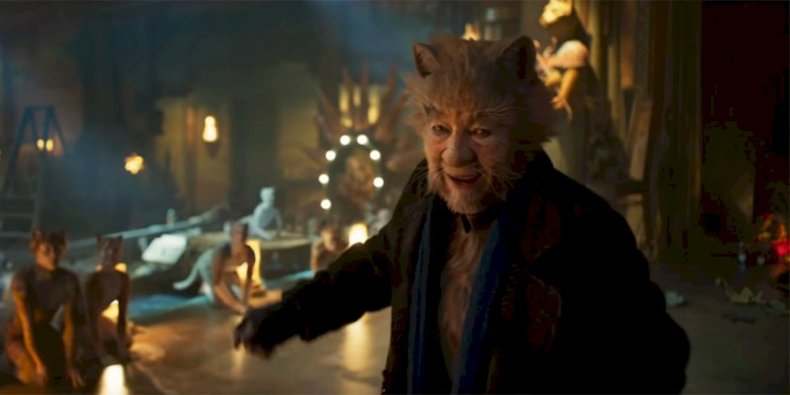 Gus (which Eliot informs us is short for Asparagus) is an old acting cat, described in the book of poems as, "very shabby, he's thin as a rake/and he suffers from palsy that makes his paw shake."
Who better to play an old theatrical cat than Ian McKellen, the beloved star of the stage also known for his roles in Lord of the Rings and the original X-Men trilogy?
In an Entertainment Tonight interview, the actor struck out at critics of the way the film looks, saying: "When it was now being done in the film, the temptation I think must have been to turn those actors into cats, like Lion King, and make them look like real cats, but they're not real cats. They're people playing cats, and that is the notion of the film, and it's been done very wittingly, I think, and particularly the dancers."
Jennyanydots—Rebel Wilson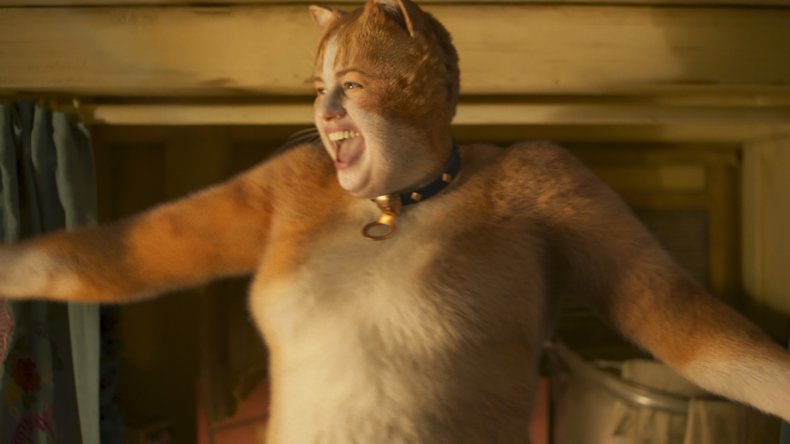 The lazy cat Jennyanydots, of whom Eliot says, "all day she sits upon the stair or on the steps or on the mat," is brought to life by Rebel Wilson, the Australian star of the Pitch Perfect films. She told The Jonathan Ross Show that she and co-star Jason Derulo found a uniquely feline way of getting into character together: "We had to lick each other a little bit."
Bustopher Jones—James Corden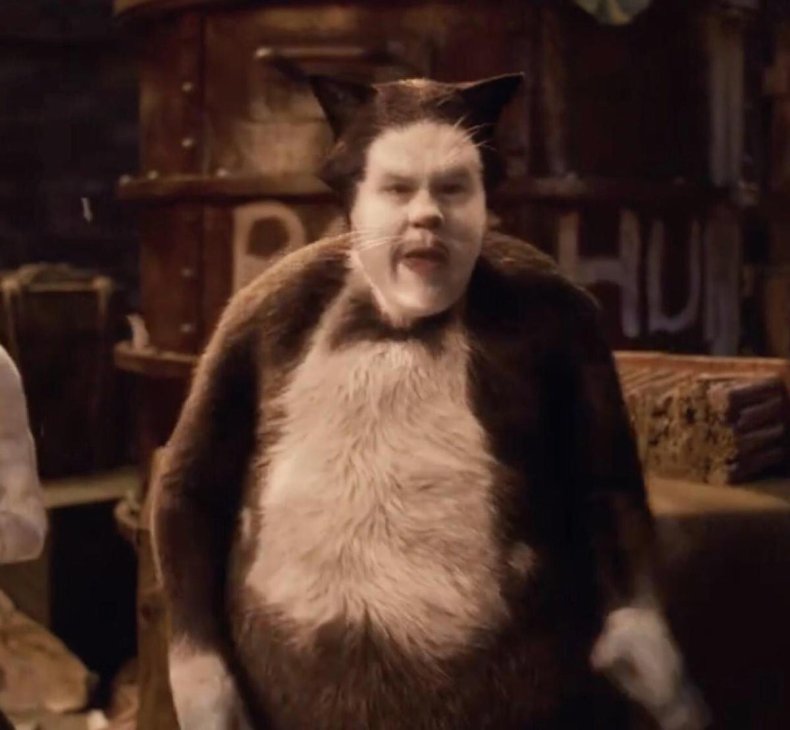 The "remarkably fat cat about town" is Bustopher Jones, as played by chat show host and Ocean's 8 actor James Corden. Speaking to Jimmy Kimmel about the surreal experience of filming the musical he said, "We had one day, which was me, Taylor Swift, Rebel Wilson, Idris Elba, Sir Ian McKellen, and Judi Dench, all shooting a scene together. Now that in itself is quite extraordinary. Then when you add the layer of everybody pretending to be a cat, you really can't help but feel you're on some kind of hallucinogenic."
Rum Tum Tugger—Jason Derulo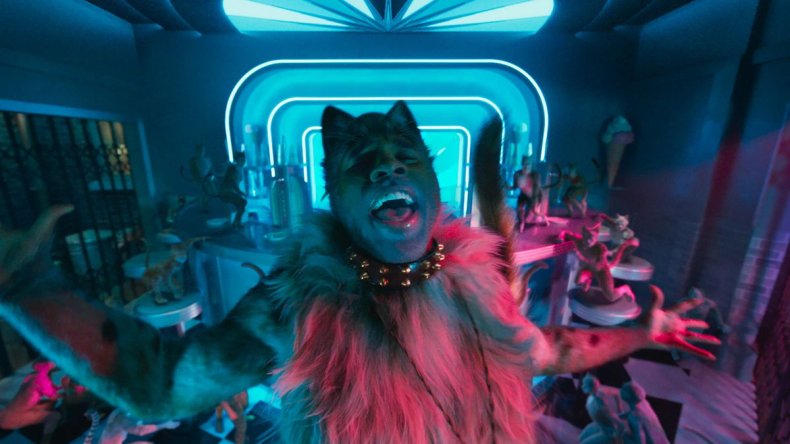 The "curious cat" Rum Tum Tugger is played by Jason Derulo, the musician who has previously appeared in episodes of Empire and Lethal Weapon. His press campaign for Cats has been mostly dominated by talk of his character's bulge, with the "Talk Dirty" singer telling Andy Cohen, "They CGI-ed the dick out."
Grizabella—Jennifer Hudson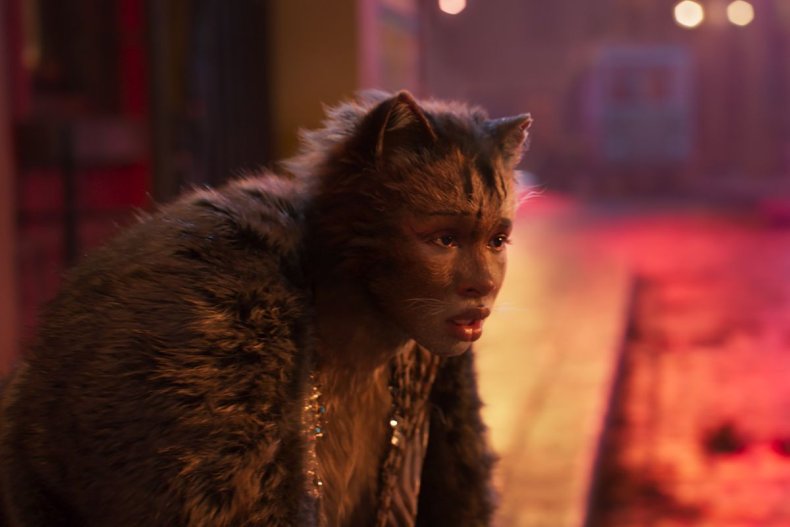 Taking the role of Grizabella, who gets to sing maybe the musical's most famous song "Memory," is Oscar-winner Jennifer Hudson, the Dreamgirls star and former American Idol contestant. She told The Guardian: "You know, that was a discovery. How do you be a cat? As a human, I sat with that forever. Then, wait a minute, I've got to sing 'Memory'? Hoo! As a cat. It was the most bizarre—not in a bad way—and unique experience."
Also starring in Cats are:
Cassandra - Mette Towley
Growltiger - Ray Winstone
Mr. Mistoffelees - Laurie Davidson
Rumpleteazer - Naoimh Morgan
Socrates - Laurent Bourgeois
Plato - Larry Bourgeois
Munkustrap - Robbie Fairchild
Demeter - Daniela Norman
Cats is in cinemas now.