Cat's 'Persistent' Cries Save 83-Year-Old Owner Who Fell Down Ravine
An elderly woman in England was rescued after taking a tumble down a ravine—all thanks to her pet cat's "quite persistent" meows. The incident is a testament to the devotion that cats, often viewed as aloof, are capable of feeling toward their owners.
"We were initially called by the female's carer, who reported her as missing," explained Eleanor Richards, Bodmin Police community support officer, to Newsweek. "The female lives in a rural location and her property is surrounded by large fields."
As the search, which occurred on Saturday in Cornwall, England, continued, the woman's neighbor spotted her pet cat, Piran, "in the top corner of a large field near her property."
"Piran…sat meowing, and as the [neighbor] looked through the hedgerow [they] could hear the lady shouting for help," added Richards.
The woman's circumstances were scary—she had fallen "approximately 70ft down a very steep embankment, with incredibly difficult access and uneven terrain," explained the police department in a Facebook post describing the incident.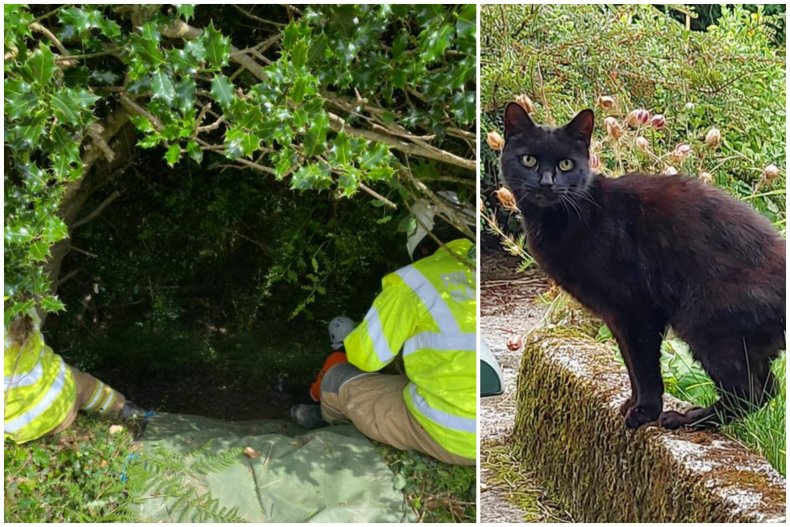 "Cornwall Fire and Rescue Service were in attendance, along with their specialist water rescue team, Cornwall Air Ambulance, and SWAST, and the female was hoisted back up to the field on a stretcher via line rescue. She was then taken to [the] hospital via the Air Ambulance in a stable condition," said the Bodmin Police.
"It's a massive 'well done' to all the emergency services who worked together and to Piran," said an anonymous neighbor to BBC News. "The outcome could have been a lot worse."
Bodmin Police echoed that point, noting, "Piran the cat saved the day!"
An update to the police's original statement provides additional information on the woman's condition: according to the agency, she is "currently receiving care" but "is in good spirits and is being well looked after."
"Cornwall is a fairly rural county, so it is not unusual for us to get called to individuals who may need assistance and access is tricky," explained Richards to Newsweek. "There is a lot of moorland and coastline to contend with so we work closely with our partner agencies and volunteer [organizations] to achieve the best result possible."
"I can't say that we've ever had assistance from a feline though.… That's a first!" she added.
According to NBC News, a 2019 study revealed that cats "see their owners as a source of comfort and security." In fact, cats can form attachments to their human counterparts that are not only comparable to dogs and their owners, but human babies and their caregivers. According to the news outlet, "These findings are useful for debunking the myth that cats are standoffish and do not feel a strong connection to their owners."