Cat's Routine To Get Treats Melts Hearts Online: 'Should Be Making Bank'
A cat's adorable routine to get treats has melted the hearts of Reddit users since a video was uploaded onto the website.
Reddit user u/meowspoopy uploaded a video that showed how their friend's cat performed a routine in order to get treats. Since being uploaded on Wednesday, May 18, the post has been upvoted some 14,700 times.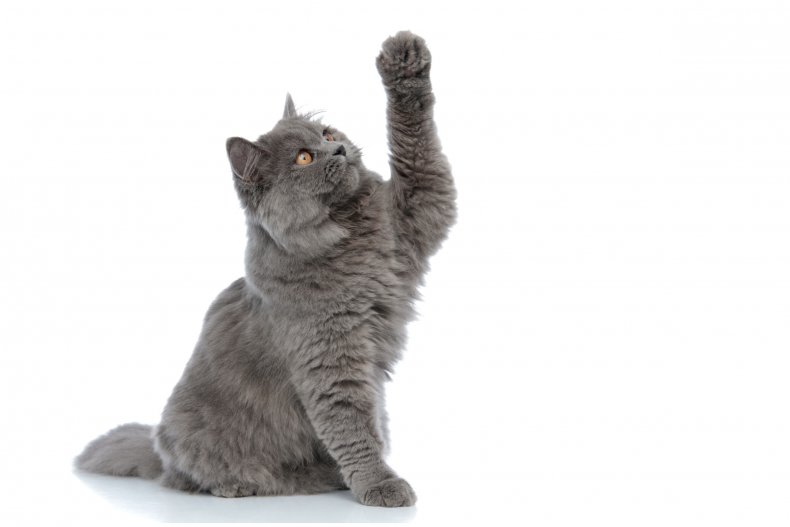 In the six-second clip, which can be seen here, titled "this is how my friend's cat asks for treats, it makes me so happy," the cat can be seen holding its paws and moving them up and down as if it was begging for food.
Unsurprisingly, as the clip was shared in the r/aww forum—a place where people share adorable videos and photos of animals—many people swarmed to the comment section to share their views on the cat's precious begging routine.
As of Thursday morning, the clip has attracted more than 132 comments from Reddit users. Many of them were in awe of what they had witnessed and heaped praise on the cat.
One said: "The paws are cute, but it's the meow in the middle of it that breaks me. Give this cat some treats."
Another added: "Is he a kitty actor? He should be making bank for that."
A third commented: "I had a tiny little dog that did the exact same thing. It looks just as cute when a kitty does it."
Newsweek has contacted u/meowspoopy for comment.
Content involving cats is among the most popular on Reddit and social media platforms with videos alone quickly racking up millions of views on services like TikTok.
It is not surprising that cats attract so many views, with millions of Americans owning at least one as a pet.
According to the American Veterinary Medical Association, in 2018 25.4 percent of households in the U.S. has at least one cat. It is estimated that 31.8 million homes that year owned at least one feline.
Newsweek has regularly shared stories where cats have gone viral after their photos or videos were uploaded onto Reddit.
Earlier this year, an eight-week-old kitten delighted and amused the internet after his owners shared two photos on the platform.
Owner Chance shared the photo of a small cat Sméagol after a bath where he bore a striking resemblance to a gremlin.
Referencing the 1984 cult classic movie Gremlins, one Reddit user commented "Make sure he doesn't get wet, and absolutely under no circumstances should you feed him after midnight," to which another user noted that they may have "already failed after seeing the first image of the cat post-bath time."
Do you have funny and adorable videos or pictures of your pet you want to share? We want to see the best ones! Send them in to life@newsweek.com and they could appear on our site.