Catsimatidis Disses Bloomberg in a Billionaire Battle Royale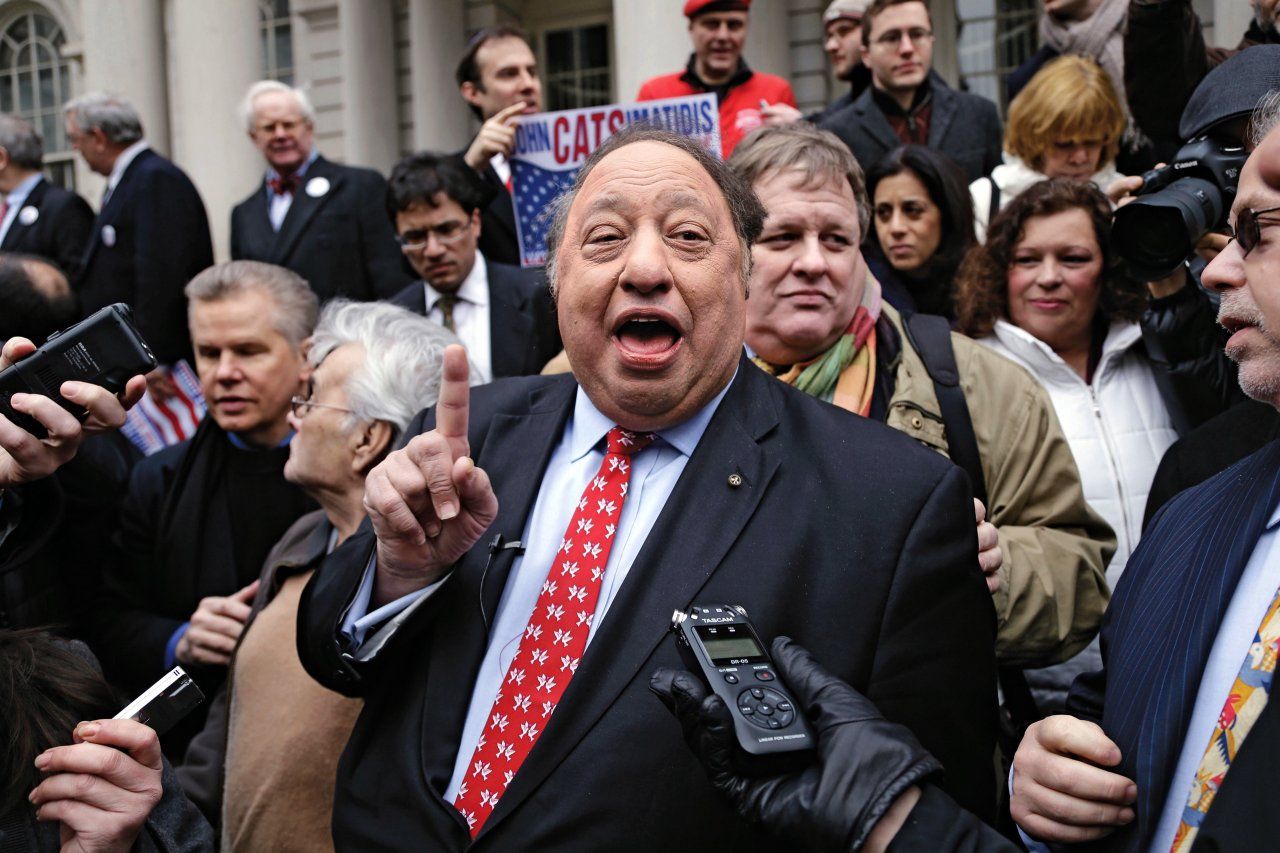 John Catsimatidis might be yet another self-made billionaire who wants to be mayor of New York City, but he's even less of a politician than Mike Bloomberg was when he first ran for the office 12 years ago. "I am what I am," Catsimatidis declares—indeed, it's the mantra of his fledgling campaign. It's delivered, in a Noo Yawk rasp, over dinner at Osteria del Circo, a flashy Midtown restaurant where Bruno Dussin, the maître d', hovers like an anxious courtier over Catsimatidis and his wife Margo, who was his secretary when they got together 39 years ago. John, then a budding grocery-store magnate on his way to acquiring the Gristedes chain, was married to his first wife at the time.
Even at age 25, Catsimatidis had a certain commanding presence. "He's always the boss," Margo says. "He expected perfection." Ensconced in a banquette behind a groaning table—a meal-sized salad; pizza slices; a whole fileted Dover sole; and various side dishes, followed by berries and cream—they are an unlikely looking couple. She is chic, blonde, and slim; he is rumpled and stout. A small stain graces his shirt near the collar, and he takes defiant pride in the cheapness of his suit.
"If we had less professional politicians," he says, "the country might be better off." As if to test this theory, Catsimatidis (pronounced "cat-see-ma-TEE-dees") gamely agrees to rate the men who most recently presided at City Hall.
Ed Koch: "He told the truth and everybody liked him because he was a New York character."
David Dinkins: "Maybe we should have made him Tennis Commissioner."
Rudolph Giuliani: "By the time he was ready to leave office, he was the most unpopular mayor around. Then 9/11 happened and he gained a lot of popularity back."
Mike Bloomberg: "He hasn't bought me that dinner he's owed me for four years." It was a promise Bloomberg allegedly made after Catsimatidis was summoned to the mayor's palatial town house on East 79th Street. Catsimatidis was flirting with a Republican candidacy for mayor back in 2009, but he obligingly relinquished his claim to the GOP nomination and helped smooth Bloomberg's way with the county Republican chairmen (one for each of the five boroughs) when Hizzoner decided to undo New York's term limit and run for another four years in office. Bloomberg hasn't even invited him to one of his frequent dinner parties, says Catsimatidis. "Maybe he doesn't like me, I don't know."
In a previous conversation at the ramshackle West Side headquarters of the Red Apple Group—the corporate umbrella for his estimated $3 billion holdings in a Pennsylvania oil refinery, some 400 Kwik Fill gas stations, hundreds of commercial and residential properties in the New York metropolitan area, 32 Gristedes stores, and a couple of corporate jets—he suggested that Bloomberg initially nursed higher ambitions. In the summer of 2008, said Catsimatidis, the mayor "went to see Obama and he went to see McCain, and I guess he felt that he had no future with either of them ... I think he wanted to be vice president. And the rumor—and only rumor—says he offered each $500 million for their campaigns and they both turned him down. I can't confirm that—that was just what was floating around." The mayor's press secretary declined to comment on Catsimatidis's improbable account.
At dinner, Catsimatidis says Bloomberg has done "a pretty good job," but takes issue with his ban on supersized sodas and sugary drinks, scheduled to take effect in March. "I don't know if it's his concern for people or his concern that by drinking that 32-ounce soda, people will become fat cats and it's costing the city more in health care," Catsimatidis says. "I would not enforce it, or I would repeal it, or whatever. But I would put a regulation in our education system so that kids are taught better nutrition."
As he tucks into his meal and his wife nibbles at her broiled shrimp, sharing some of it with this Newsweek reporter, Catsimatidis can't resist pointing out that Bloomberg, Giuliani, and Koch were either unmarried or going through a divorce while in office: "New York deserves a first lady—which we haven't had in a long time."
"In a long time!" the missus agrees.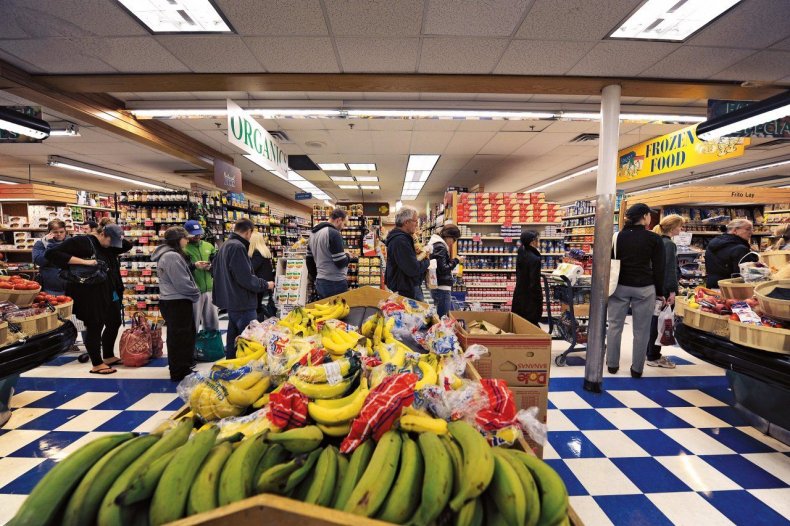 "And Margo would make a great first lady."
"I think John would be the most amazing mayor of this city," Margo opines. "He feels the pulse of all the people ... I know I'm his wife, but every day I see what he does. I think he's wonderful."
The 64-year-old Catsimatidis owes his tongue-twister of a surname to his birth on the tiny Greek island of Nisyros. "That's why it's John 'Cats' when I'm running for mayor," he says. "You know Gotham had Batman? New York is gonna have Catsman!"
He was brought to this country at 6 months old and grew up on 135th Street in Harlem. His father worked as a busboy but wasn't able to master English. "He never made it to waiter," the son says. "You know how I learned to speak English? I had an Emerson TV set with a seven-inch screen and a big picture tube, and I learned how to speak English from that." It also fueled his ambition. "One of the shows I watched was Burke's Law. I admired Gene Barry, pulling out of the garage with that Rolls Royce."
Today he lives in a lavish Fifth Avenue apartment and a beachfront estate in East Quogue; he gets around town in a chauffeured Mercedes. He is at once an avatar of the American Dream, the hero of his own Greek myth, and a carnival barker luring customers to the spectacle of his personal narrative. "This little pipsqueak of a kid!" Catsimatidis marvels, patting his ample belly girded by suspenders ("I'm a bit bigger now," he notes). "This little pipsqueak of a kid, born on a rock in the Aegean Sea, comes to 135th Street and grows to No. 132 on the Forbes List!"
And not only that. The Catsimatidises are big-time political players by virtue of having donated more than $2 million, and raised even more, for both Republicans and Democrats (to say nothing of giving around $3 million annually to a host of local charities) and flying candidates around the country in the corporate Gulfstream IV or the Boeing 727. Secretary of State Hillary Clinton, a beneficiary of their largesse when she was running for the Senate and the White House, was an honored guest, along with the rest of New York's power grid, at daughter Andrea's recent $2 million wedding to Christopher Cox, the son of Edward and Tricia Cox and the grandson of Richard Nixon.
"My husband fired the party planner six weeks out," Margo recounts, "and there was no wedding, there was no bridesmaids' dresses, there was no decorations, there was no nothing. This was my daughter's dream and I pulled it off—within budget, I might say!"
John adds with a laugh that one wedding guest, New York's irrepressible senior senator, Chuck Schumer, was at the Waldorf Astoria "thanking everybody for showing up. He was greeting everybody at the hotel!"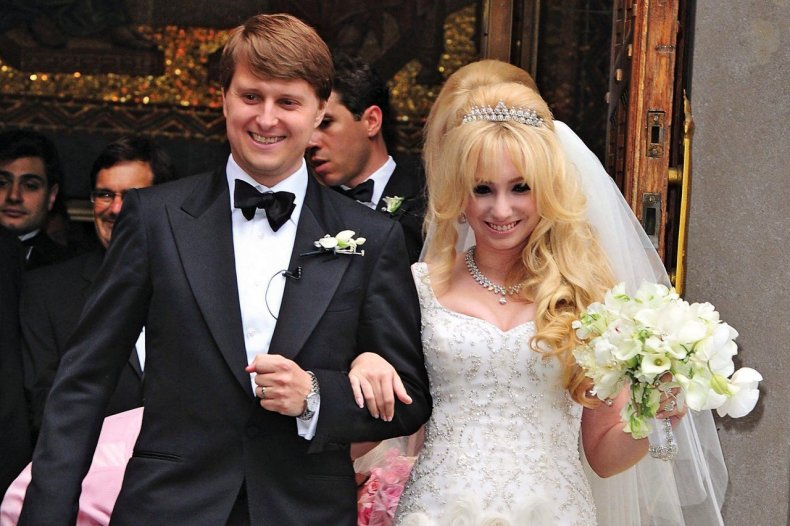 "Like, really?" Margo says, rolling her eyes.
It's unsurprising that a full-page ad in the Feb. 6 New York Post, signed by John and Margo and ostensibly "IN MEMORIAM" to Koch, was largely about Catsimatidis, who was pictured with the late mayor, both wearing the same red, eagle-dotted ties. "Every year I design a necktie for family and friends, and I always made sure Mayor Koch got the first one in the city," the ad copy read. "I was proud when I saw you wearing it ..." And so on and so forth.
In his windowless conference room, Catsimatidis smiles and leans forward to share a confidence. "Making mayor is not as difficult as you think," he says. "If anybody thinks that 'Oh, John is not gonna do it'—make my day!"
As a candidate, Catsimatidis has obvious assets—his announced willingness to spend up to $20 million of his own money, and his regular-guy persona—but also conspicuous liabilities. New York is an overwhelmingly Democratic city—a steep uphill climb for even the most polished, campaign-tested Republican. Catsimatidis, who self-identified as a "Clinton Democrat" until Barack Obama beat Hillary in the 2008 primaries, prompting him to back John McCain and switch parties, is a tenderfoot in a treacherous political jungle.
He calls himself "a visionary," offering his business success as proof, but beyond his plans to bring back the World's Fair and stress vocational education in the public schools, his message is a muddle of generalities and digressions. His post-announcement appearance on NY1's The Road to City Hall, a command performance for any aspiring mayor, did nothing to clarify his reasons for running (other than an admirable desire to "give back") or certify his grasp of the issues.
He frequently succumbs to rhetorical excess. During a Dec. 13 appearance on NY1, he likened President Obama's plan to raise taxes on the wealthy to the Nazis' Final Solution. "We can't punish any one group and chase them away," he argued. "We—I mean, Hitler punished the Jews. We can't have punishing the '2 percent group' right now." Explaining his opposition to the so-called Ground Zero Mosque, he tells Newsweek: "How would you like it if a member of the Ku Klux Klan came and put a Ku Klux Klan flag in front of a Martin Luther King statue? I'm as liberal as you, but there's got to be some sensitivity."
Catsimatidis—who faces former Metropolitan Transportation Authority chief Joe Lhota, a Giuliani protégé, in the September Republican primary—is in the process of assembling a campaign team and has been talking to E. O'Brien Murray, a respected operative with several New York victories under his belt, for the job of campaign manager. Yet a few Republican consultants and activists, who asked not to be named, worry that like many neophyte candidates who've been extraordinarily successful in business, Catsimatidis will be difficult to discipline and reluctant to defer to the pros.
"I always listen," Catsimatidis says before quickly revising: "I'll listen most of the time. But I am who I am. I won't lie."
Catsimatidis has his defenders—especially among politicians who have received his generosity. "I think he's a terrific human being," says one of them, former New York governor George Pataki, a Republican. "If he's prepared to make the effort, somebody with his background and his record of achievement unquestionably can be a serious candidate." Another, Rep. Carolyn Maloney, a Democrat who represents a New York City district, calls Catsimatidis "a very serious and successful businessman" who "has made many contributions to the city."
Yet many Democrats call Catsimatidis a "vanity candidate." Former public advocate Mark Green, who narrowly lost the mayor's race in 2001, is dismissive: "Having run against Bloomberg, let me say that John Catsimatidis, despite some superficial comparisons, is no Mike Bloomberg." Says prominent Democratic media consultant Jimmy Siegel: "I don't think this is a let's-elect-another-billionaire-for-mayor year."
But Edward Cox, who is not only chairman of the New York Republican Party but also Andrea Catsimatidis's father-in-law, argues: "This is no vanity candidacy. It is a serious candidacy because New York City means the world to him." Cox, who is officially neutral in the Republican primary race as his role requires, adds that since Catsimatidis first started thinking about running for mayor five years ago, he has played an important role among the city's Republican activists, meeting regularly with the county chairmen, buying tables at their dinners, and providing financial support (such as his recent $20,000 donation to the Manhattan Republicans—a donation that Manhattan GOP chairman Daniel Isaacs insists is not the reason he has endorsed Catsimatidis for mayor). "He is a political strategist," Cox says, "and has tremendous influence and has had a very beneficial impact on the whole process and what we're doing."
Catsimatidis, who in the past has indicated he'd drop out of the race should New York Police Commissioner Ray Kelly decide to run, today insists he's "in it to win it." Yet he seems to know he's a long shot.
"It's a fork in the road," he says over dessert. "You know what a fork is? I'm 64 years old. You hit 64 and you start having soul-searching. Everybody experiences it. I'm looking for a new career. Meaning that I want to dedicate myself to the city and do something good. I've been working seven days a week or whatever for 40 years. If I don't get elected, it will be time for me to take a little time off. I want to be able to get in the airplane and fly to Davos with the rest of my family."