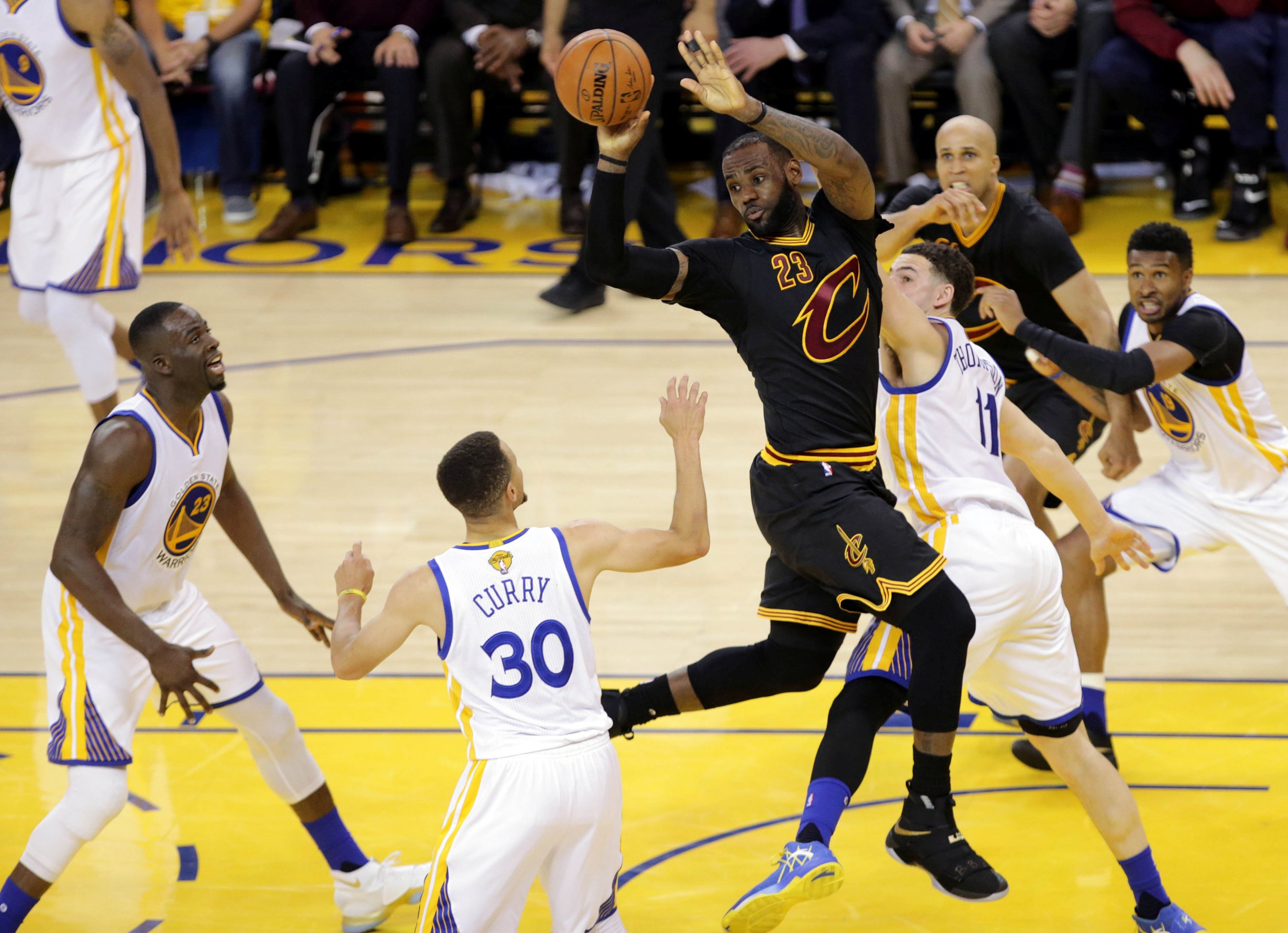 With less than one minute remaining in Game 7 of the 2016 NBA Finals, the series was not simply tied three games apiece—it was also a dead heat in the scoring totals, as both the Cleveland Cavaliers and Golden State Warriors had scored 699 points. First one to 700 wins?
How did this happen? How did a series in which each franchise won a game by at least 30 points come to be, with 335 of a possible (non-overtime) 336 minutes elapsed, deadlocked? And how did the Cavaliers, who some thought might be swept after losing the first two games by a combined 48 points (Cadava-liers?), recover to win three consecutive games against a franchise that had not lost three straight since November of 2013 (283 games)?
The Cavs made the plays in that final minute, and many of the minutes before on Sunday night, to win 93-89 and secure the franchise's first NBA title (and Cleveland's first pro sports championship in 52 years). Here are 10 takeaways from an epic rollercoaster for the Ohio players, one in which the Cavs became the first team to overcome a 3-1 deficit to win the championship.
1. The King Silenced His Critics
The Haterade bucket is dry, with only a smattering of sports-talk blowhards tilting it upside down, mouths agape, hoping to taste a final droplet. In the final three games of this series, LeBron James averaged 36.3 points, 11.7 rebounds and 9.7 assists (he finished one assist shy of averaging a triple double, and somewhere in there is likely a Kevin Love missed bunny. Or a hutch of them).
The Akron native willed his club to this championship, and no play better exemplified that than his from-out-of-the-camera-frame block of a layup attempt by last year's NBA Finals MVP, Andre Iguodala, with 1:50 remaining. The score was tied 89-all at the time. The Warriors would not score again.
I'm not sure how the ancient Romans would put it, but the story line on James's career now reads: He came, he saw, he was conquered, he left, he conquered and was conquered, he returned, and he conquered. For this series, in which James thrice found himself one game away from an NBA Finals record of 2-5, it was a tale of resolve and then redemption.
2. Kyrie Irving: A Second Top Banana
The 24-year-old point guard scored 90 points in Cleveland's final three games and turned the second half of Game 5 into his own offensive virtuoso performance. LeBron may be the greatest basketball player on the planet, but he is not the most potent offensive force on his own team. Irving is.
For most of the past two years, fans in Cleveland waited anxiously for James and Irving to discover synergy. They finally did in Game 5, when each scored 41 points in Cleveland's 112-97 victory at Golden State. And, yes, we did not forget that Irving buried the series-clinching three pointer off a timeout, over the outstretched arm of the NBA's reigning two-time Most Valuable Player, Stephen Curry.
3. The Story Arc Behind the Arc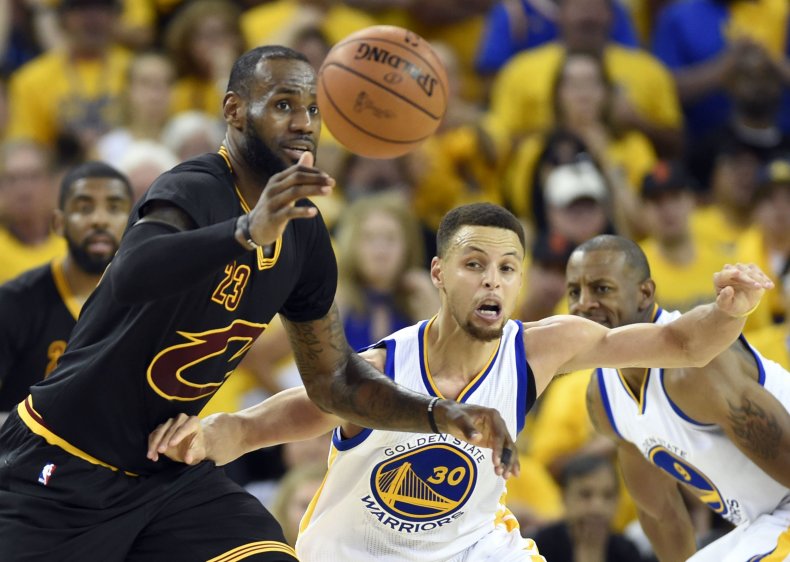 If Irving had missed his series' clinching-three, the NBA Finals' best shooter from behind the arc in terms of percentage would have been Curry (.400), who made twice as many threes, 32, as the most prolific Cav from that distance, J.R. Smith (16). And yet something always seemed to be splishing with the Splash Brothers, Curry and Klay Thompson, this series.
Thompson was the series' second-most prolific three-point shooter, burying 21.
Statistically, the Warriors shot slightly worse from beyond the arc in the Finals than they had during the regular season. However, in their final three losses, the Dubs averaged 14.7 threes per game, or 1.6 more than their season average. They made more threes than they averaged while they were losing.
The difference is that in the final three games, 48 percent of Golden State's shots were launched from beyond the arc. During the regular season, the Dubs attempted just 36 percent of their shots from outside the three-point line. Also, when it counted most, Cleveland connected on its last two threes (its last three if you include Festus Ezeli's foul of James that led to a trio of made free throws), while the Warriors bricked their last six.
Golden State had no inside game in their final three outings, which leads us to.…
4. No Bogut, No Green, No Ring
In their final three games, the Warriors never had both center Andrew Bogut and power forward Draymond Green on the court simultaneously (and they'll get no empathy from Cleveland fans, who will immediately note that Kyrie Irving missed the final five games of the 2015 Finals between these two and Love missed all of it, both due to injuries). Green's absence was self-inflicted, a one-game suspension due to a dust-up with James near the end of Golden State's Game 4 victory in Cleveland. Bogut suffered a sprained knee while blocking J.R. Smith's layup attempt early in the third quarter of Game 5.
The Warriors trailed only by three when Bogut limped to the locker room, but his absence appeared to rattle the Dubs and embolden Cleveland. Also, for as much praise as the Warriors received for having a deep bench, neither Festus Ezeli nor Anderson Varejao were up to the challenge of replacing Bogut. Their ineffectiveness compelled Warriors coach Steve Kerr to play small. In Games 6 and 7, the Warriors were outrebounded by nearly 10 boards per game.
5. What Is Love?
Before Game 7, it sure looked as if Kevin Love would be playing his final game as a Cavalier. After a formidable Game 1, in which the three-time All-Star scored 17 points and grabbed 13 rebounds, he averaged five and three, respectively, in the next five games. As ESPN pushed the "Kevin Love Needs To Play Better" narrative, one had to wonder why. The Cavs had unearthed a better role player at that spot in 35 year-old Richard Jefferson.
Love led the Cavs in rebounding in Game 7 with 14 boards and even appeared to be enjoying himself. He has three years remaining on his deal in Cleveland, and he has his ring. Will he be content as a relative role player on this team or would he rather fill a void elsewhere (such as Los Angeles, where he played collegiately for UCLA)?
6. Minute by Minute
In the last four games of the NBA Finals, James averaged just below 45 minutes per game. He wound up playing 46 more minutes, or nearly an entire game, more than Curry did. Cavs coach Tyronn Lue was criticized early for putting so many minutes on James's shoulders (and legs), but as the series continued, James only seemed to get better.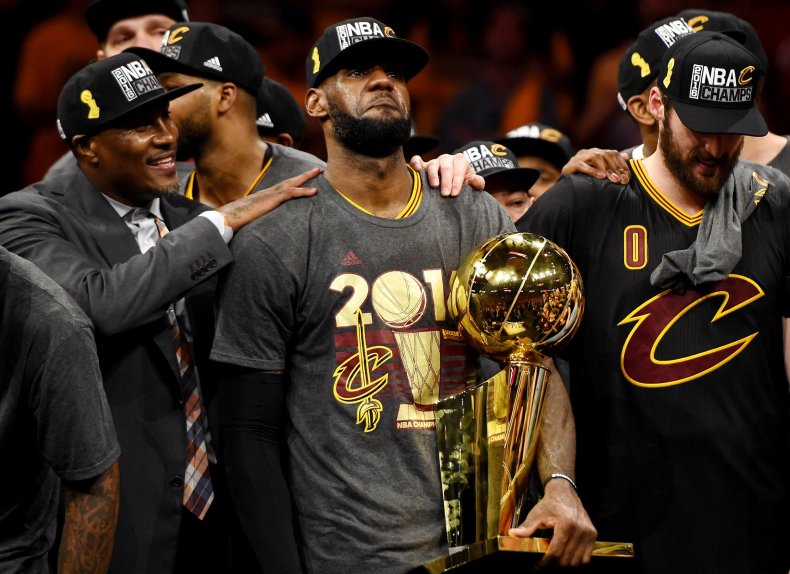 7. Board-Certified
James led all players in points, assists, rebounds, steals and blocked shots (conversely, he also led in turnovers). Still, an unheralded Cavs hero would be center Tristan Thompson, whose 71 rebounds were more than any of his counterparts. Thompson also committed just three turnovers all series, the fewest of any player who saw a minimum of 100 minutes of action.
8. The Bieber Brawl
What really happened following Game 3 at Quicken Loans Arena? Did Justin Bieber really get in a fight, or was this just a zany stunt related to the previous weekend's release of Pop Star, the Andy Samberg film loosely based on Bieber's life? And should Cleveland now be known as Belieberland?
9. Bulls Still Bullish on Bulls
Because Golden State failed to put Cleveland away, their win total for the season of 88—regular season and playoffs combined—only ties that of the 1996 Chicago Bulls for most in a season. The Bulls, meanwhile, won an NBA championship and lost six fewer games (88-12 versus 88-18). The Warriors lost as many games in the postseason, nine, as they did in all of the regular season. They will be remembered as an offensive tour de force that captivated basketball fans and set numerous records, but not as champs.
10. Would LeBron Leave?
While James has a lucrative lifetime contract with Nike, his deals with the Cavaliers are for one year only, with a player option to leave after each season. The King could make his exodus from Cleveland once again if he so chooses, and one wonders if the Los Angeles Lakers' next coach, Luke Walton, considered making a postgame overture to James on Sunday evening.
From a tax sense, a return to Florida makes sense for James. From a hype standpoint, "LJ in LA" would do wonders for the league, one of its most storied franchises, and even for LeBron's lifestyle. From a pure hoops perspective, though, he'd do best to remain in Believeland. Irving is one of the three or four premier players in the league under age 25, and the pair have now established a trust not seen on a championship side since Michael Jordan and Scottie Pippen were winning rings for the Chicago Bulls.
James could go anywhere, and he will be courted by the Miami Heat and the Lakers. However, with a core of himself, Irving and selfless low-post stud Tristan Thompson, the Cavs will continue to own the Eastern Conference while being a destination spot for ring-less free agents.
Uncommon Knowledge
Newsweek is committed to challenging conventional wisdom and finding connections in the search for common ground.
Newsweek is committed to challenging conventional wisdom and finding connections in the search for common ground.
About the writer
John Walters is a writer and author, primarily of sports. He worked at Sports Illustrated for 15 years, and also at NBC Sports where he won two Sports Emmys for his on-air writing at the Athens and Beijing Olympics. He has also worked at AOL Fanhouse and The Daily, as well as waited at a popular Manhattan steakhouse. Walters is the author of The Same River Twice: A Season With Geno Auriemma and the Connecticut Huskies. He is the founder of mediumhappy.com, a pop culture blog that he updates daily. He holds a B.A. from the University of Notre Dame, where he studied pre-med and rowed crew.