After eluding hundreds of searchers for two weeks by hiding out in wooded areas, escaped Pennsylvania murderer Danelo Souza Cavalcante was captured Wednesday.
"Shortly after 8 a.m., our suspect was captured," Governor Josh Shapiro, backed by officers from the state, county and federal governments, said during a news conference. "Thank God there were no injuries to law enforcement or the public."
Shapiro said no shots were fired during the capture.
Here is everything we know about Cavalcante's movements since his conviction and escape from Chester County Prison in West Chester, Pennsylvania, on August 31.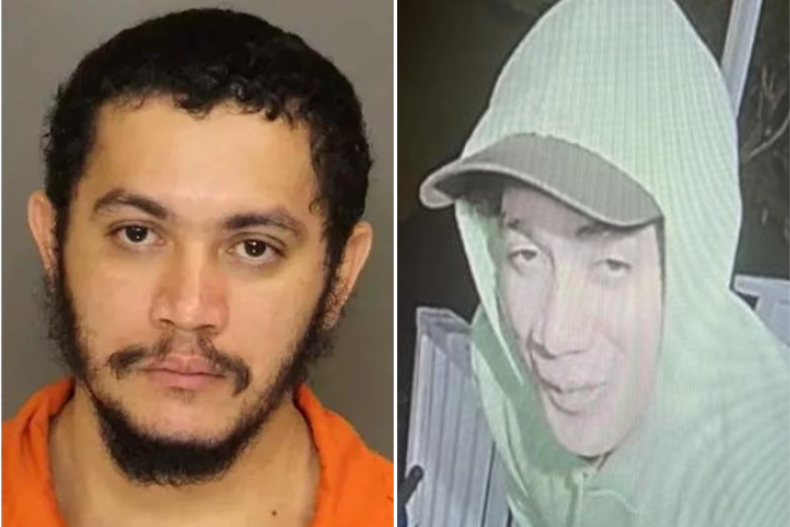 August 16: The Conviction
Cavalcante is convicted of and sentenced for first-degree murder of his former girlfriend, Deborah Brandão. The killing took place in 2021 and, according to the Chester County District Attorney's Office, the crime carries a mandatory life sentence without parole in Pennsylvania. Cavalcante is also wanted in Brazil in connection to a 2017 homicide case, according to the U.S. Marshals Service.
August 31: The Escape
Cavalcante escapes from Chester County Prison in southeastern Pennsylvania at 8:51 a.m. by crab-walking up between two walls that were topped with razor wire, then jumping from the roof and running away. Cavalcante had been awaiting transfer to state prison after being sentenced.
September 1: First Sighting
The first known sighting of Cavalcante after his escape happens the next day not far from the prison. Resident Ryan Drummond says he saw the fugitive inside his home in Pocopson Township.
September 2: Another Sighting
Cavalcante is spotted early the next morning at about 1:43 on a residential doorbell camera in Pocopson, about 1.5 miles from the prison, officials said. He is wearing a white T-shirt, white sneakers and a backpack.
September 4: Sighting at Longwood Gardens
According to Lieutenant Colonel George Bivens, deputy commissioner of operations for the Pennsylvania State Police, Cavalcante is recorded twice on a private trail camera set up at Longwood Gardens, about 5 miles southwest of the prison—first at 8:21 p.m. walking north in the gardens and then by the same camera at 9:33 p.m. walking south. He is wearing a backpack and a hooded sweatshirt.
September 7: Reward Increases
The total reward for information that leads to the capture of Cavalcante is increased to $20,000.
September 9: Cavalcante Escapes Search Perimeter
Cavalcante allegedly steals a white Ford work van from Baily's Dairy, about three-quarters of a mile from the perimeter around Longwood Gardens, according to Bivens.
Cavalcante is then seen on a video doorbell camera at 9:52 p.m. in East Pikeland Township, more than 20 miles from Longwood Gardens, at a residence that belongs to a man who once worked with Cavalcante.
Cavalcante, who was previously bearded, is now spotted clean-shaven and wearing a green hooded sweatshirt over a dark baseball hat, and is seen driving the white Ford van. The former colleague is not home but speaks with Cavalcante via the video doorbell, Bivens says.
At about 10:07 p.m., Cavalcante shows up at another former work colleague's home in nearby Phoenixville.
September 10: Abandoned Van Located
The stolen van is found abandoned with no fuel at 10:40 a.m. in a field behind a barn in East Nantmeal Township, according to Bivens. The search then shifts to this area, in the northern part of Chester County.
September 11: Cavalcante Steals Rifle
According to police, at about 10 p.m., a shirtless Cavalcante allegedly steals a .22-caliber rifle with a scope and flashlight from a resident's garage on Coventryville Road in East Nantmeal. The homeowner, who was in the garage at the time, fires several shots at Cavalcante with a pistol, but Cavalcante flees and is not believed to be harmed.
"Cavalcante was always considered dangerous, but he's now armed and extremely dangerous," Bivens said. "He's killed two people previously. I would suspect that he's desperate enough to use that weapon."
September 12: Last Known Sighting
Cavalcante is believed to be within a perimeter in the South Coventry Township area: Routes 23 & 100, Fairview & Nantmeal Roads, and Iron Bridge & County Park Roads.
September 13: Cavalcante Captured
Pennsylvania State Police post on the social media platform X, formerly Twitter, that Cavalcante is in custody.
According to the Associated Press, authorities used thermal imaging from aircraft to pinpoint a possible location and then used ground forces to capture Cavalcante.