Cave Fire Photos Out of Santa Barbara Show Flames that Forced Evacuations, Cut Power and Threaten Homes
Photos of the Cave Fire in Santa Barbara, California, showed the reality of the devastation after the blaze left residents without power and forced others from their homes.
The fire erupted Monday afternoon in the Los Padres National Forest, near the community of Painted Cave. In the hours since it broke out, it's burned through 4,000 acres, according to the Santa Barbara County Fire Department, and strong winds have pushed the fire toward thousands of homes.
Wind is a dangerous weather condition for wildfires because it can cause flames to spread rapidly and will create additional fires if the wind carries embers away from the original blaze. On Tuesday morning, winds in Santa Barbara's mountains were forecast to be 15 to 25 miles per hour and increase to 20 to 30 miles per hour in the evening.
Santa Barbara County Fire Department Public Information Officer Mike Eliason posted multiple photos of the firefighters' efforts to his Twitter page. Some images showed the flames burning through land on the hills of the Los Padres National Forest, while others gave people a glimpse into the life of a firefighter.
Firefighters from multiple agencies were called in to fight the blaze. In one image, the flames are seen approaching a home as a firefighter stands nearby with a hose aimed at the blaze.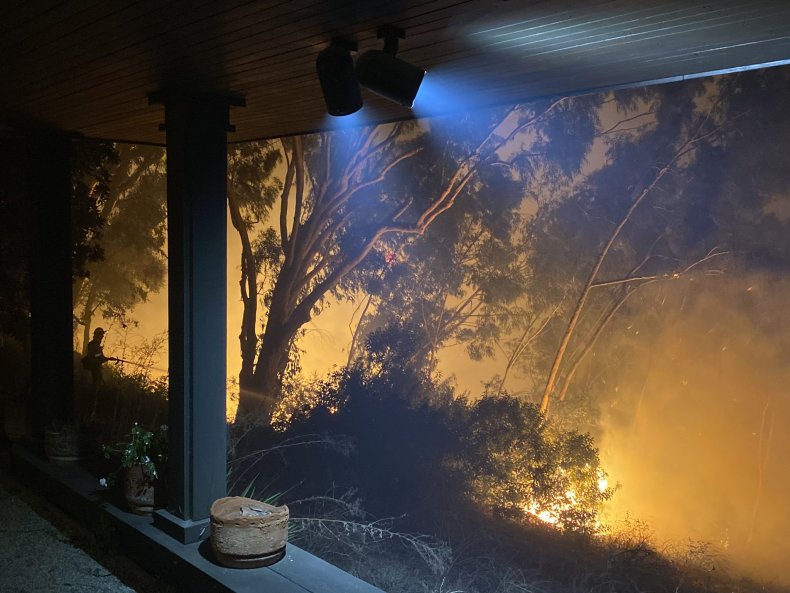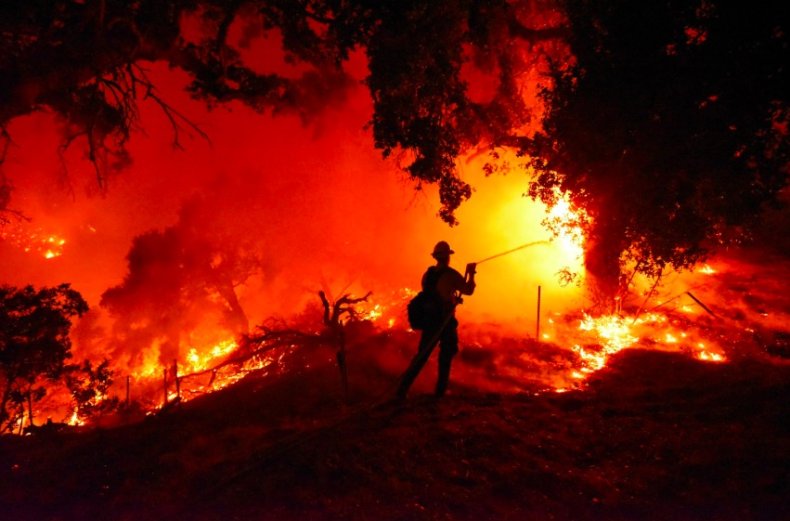 Eliason's images also showed the impact bulldozers and helicopters have on firefighting efforts. Bulldozers create containment lines for fast-moving fires by removing flammable brush, grass and trees that could provide fuel for the flames, according to Time. The task of operating a bulldozer can be unpredictable, and it's considered particularly dangerous when fighting fires.
"We understand that our bodies are going to get beat up. There's a chance of becoming maimed, badly scarred or not making it. It's one of those things that we took on," Douglas Dolezel, a bulldozer operator for the Sacramento Fire District, told Time. "But when the end comes and you've saved somebody's house or saved someone's farmland or helped a citizen, that's what it really comes down to. It's just about helping your fellow human."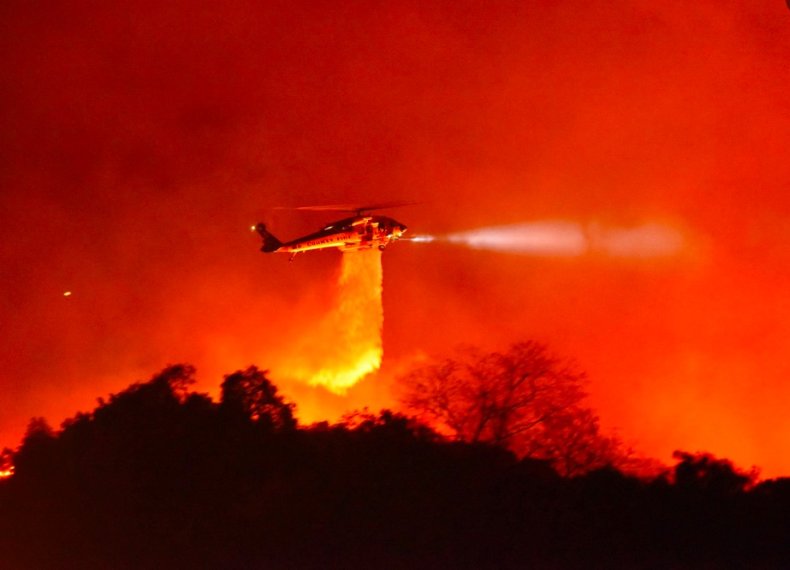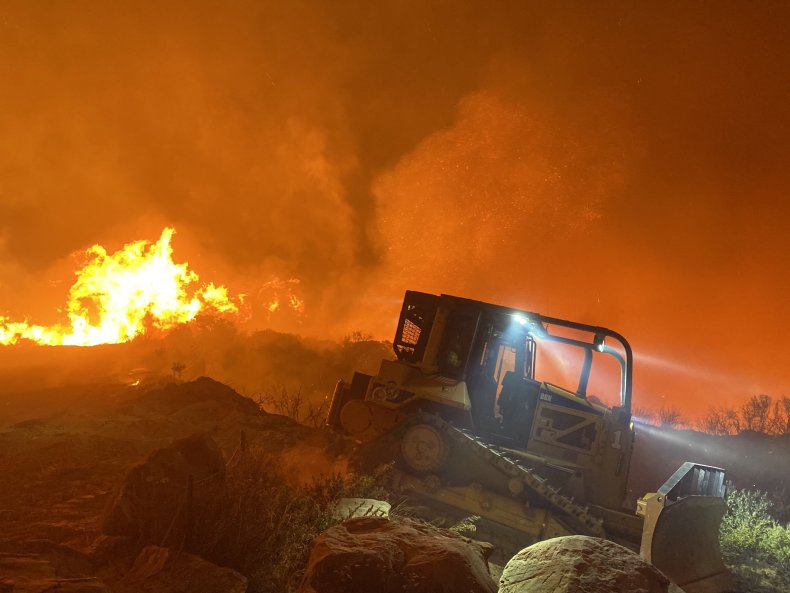 On Monday night, Santa Barbara County proclaimed a local emergency because the fire was advancing toward "major population areas" in Santa Barbara and Goleta.
"The Cave Fire is causing conditions of extreme peril to the safety of persons and property within Santa Barbara County," the proclamation said. "These conditions are beyond the control of the services, personnel, equipment and facilities of the combined forces of the county's Operational Area to combat."
Along with enabling local governments to deploy all available resources for fire control, the proclamation also helped facilitate state funding and the issuing of a state of emergency proclamation by Governor Gavin Newsom.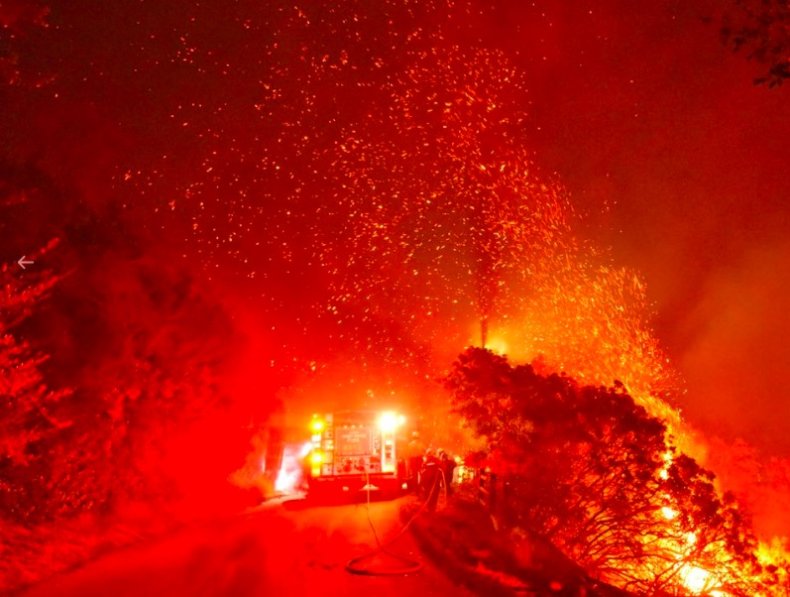 The Santa Barbara County Ready website reported that people in the county's south, along Highway 154, experienced power outages that were caused by the fire, not a utility's Public Safety Power Shutoff. During times when there's a high risk of fires, utility companies will turn off power to reduce the threat.
Given the fire's behavior and its ability to spread, an evacuation order was in place for everyone within the boundaries of Ontare Road and Fairview Avenue and north of Cathedral Oaks.
An evacuation warning was also in place for the area north of Foothill Road from Ontare Road to Gibraltar Road, the area west of Highway 154 to El Sueno, and below Cathedral Oaks to Calle Real.
Officials established a shelter at the Goleta Valley Community Center, and small animals were welcomed at the Goleta Animal Shelter. Residents could bring large animals to the Earl Warren Showgrounds.